What a Lemonade Ad Can Teach About BPD Symptoms
Recently, I saw an ad that seemingly contradicted itself. "Strawberry lemonade forever" was proudly displayed above a picture of the product, with the notice that it was available "for a limited time only". So which is it? Strawberry lemonade forever? Or for a limited time only?
This is "black and white" thinking, or as philosophers like to say, the either-or fallacy. The belief that there are only two options, when, in reality, there are more than two options, is a symptom of borderline personality disorder.
Rigid Thinking A Source of Great Distress for People with BPD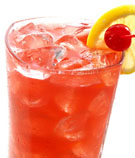 People with a diagnosis of borderline personality disorder (BPD) often cannot integrate more than one side of a situation. One week's perfect therapy may be next week's torture, rather than therapy being a helpful yet difficult process.
Why is this? An annoyed psychiatric nurse/Army lieutenant once told me: "With you, it's either feast or famine." I knew better than to share the answer that popped into my head: "That's what my life has been."
Evidence suggests that BPD may be a type of post-traumatic stress disorder caused by traumatic childhood events. PTSD is best described as "I jumped out of my skin and kept on jumping." While re-integrating body and mind is possible, the disconnection between them causes a major problem for a person with BPD.
Dialectical Behavioral Therapy (DBT) creator, Marsha Linehan, told Time Magazine: "Borderline individuals are the psychological equivalent of third-degree-burn patients. They simply have, so to speak, no emotional skin. Even the slightest touch of movement can create immense suffering."
Why do people with BPD experience such pain? When a person with BPD first jumps out of his/her skin, time stops emotionally. She is trapped in the moment and no longer growing or developing. Meanwhile, time moves on for every other aspect of existence, and she never develops the emotional maturity needed to respond to what's happening elsewhere. She is not failing to use appropriate coping skills--said skills were never developed. She is often left with a child's view of the world—it's either all good or all bad.
Part of healing begins by learning to see all sides of the situation. For example, both of the lemonade ad's statements could be right. The name of the product could be "Strawberry Lemonade Forever", while the product could be available "for a limited time only". Or the promotion for a temporary product may be a poor reference to the Beatles (maybe "nothing is real" didn't test too well in the focus groups). Realizing there are multiple options allows a person with BPD to understand the world around him/her, and respond accordingly.
APA Reference
Oberg, B. (2010, October 12). What a Lemonade Ad Can Teach About BPD Symptoms, HealthyPlace. Retrieved on 2023, December 8 from https://www.healthyplace.com/blogs/borderline/2010/10/what-a-lemonade-ad-can-teach-about-bpd-symptoms
Author: Becky Oberg
The lemonade ad is a perfect example of DoubleSpeak as found in George Orwell's 1984 - "war is peace," "freedom is slavery" - I'm quoting. We've adopted DoubleSpeak into our media, politics and advertising. Maybe, even our laws. However, on the good side, the BPD symptoms are also traits of a sensitive writer/artist. I understand that substance abuse can be a problem, however, the artist often sees both sides of an issue - it's a natural part of being able to write characters and form stories with meaning. F. Scott Fitzgerald often talked about this trait in artists, seeing both sides at once. You should try writing fiction occasionally. You'd be good at it. Looking forward to reading more! Glad I found you.
Very shortly this website will be famous amid all blogging and site-building visitors, due to it's good articles
hi, it was really hard to find this article,
just to be on the right channel, i had to fight...
thank you, you could help to save from crazyness
i could not sleep, wondering, why people think,
i'm not a Bpd, just because, i can have more that those symptom, but i have Bpd and other trouble,
that is why it is difficult for the diagnostic,(french word,sorry)
i thanks B.B. here for what he has done for us.
i will come to have some confort here,
desperate french woman
Wow! Loved this! It really opened up some thinking for me. Gah! I was just having a crisis due to black and white thinking last night!!! Thank you for this article. I am not diagnosed with BPD.. but, BP 1. However, I think I share some symptoms from both.
Im 20 years of age and having suffered a very traumatic childhood i developed PTSD. I never really knew any different, The pain is constantly there and i live everyday in fear. Recently i was told i could have BPD.. Im not a 100% of what this means... And stupidly thought when asked if i see things in black and white i thought they meant the actual colour as in i only see black and white. I really dont understand how im suppose to deal with this. My emotions are way out of control, I get extremely upset and angry and feel like a little child not getting her own way! Can anyone help me i need someone to talk to.. :/
Very well said. I completely identify with the points you made in this article but have a tough time articulating this to people. But you summed it up beautifully. Thank you.
I have PTSD and DID, and do not have or fit BPD. I think in systems, am a natural sociologist, take in and juggle vast angles in all my work and life. I know many with PTSD who do not at all develop strict black and white thinking and most people with autism have this black and white thinking but don't have BPD. So it is unhelpful to promote BPD as PTSD... it may be that it is how some personalities react to PTSD but it does a disservice to all those who don't respond to PTSD that way, creates stereotypes we then have to go on challenging. Ironically, it is an example of the same black and white thinking you're writing of. So maybe the answer is that those predisposed to BPD can have this set in motion when those same people develop co-occuring PTSD.
hello. i've just read your post and to be honest it has made an impression on me. having personally experienced the borderline label and the often heart wrenching experience of "being borderline", i agree with you in regards to the impact trauma has on one's world view. but at the same time, i've asked myself many times whether what i'm feeling is shaped, in terms of language, not by own experience of pain, or inadequacy, or loss, but by the numberless articles i read in regards to what borderline is. at one point, i stopped existing and i became Borderline. it took so much time to reclaim myself back again, but now i'm no longer Borderline. i feel intensely, i can't stop crying when i'm afraid of losing someone close, i find it difficult to understand and to express my own trauma, with which "being borderline" helped to some extent - it got me talking about trauma, but it wasn't about me. i don't know if this makes sense, i hope it does. i remember how important the borderline label was for me, because it gave validation for the pain i had gone through, that no one would acknowledge. but somehow, lost in the statistics and the recovery rates, the symptoms and the perfect clinical portrait of a damaged me, i drowned. i became so hopeless, so desperate. i totally lost myself. the most fierce moment of despair that i'd felt before that, could not compare to this new feeling, of having lost hope, of turning into Borderline. i have a long way to go, but i am committed to not looking at myself through the lens of the DSM ever again. that's not me. we all have our own language and understanding, no symptom list will ever be as good as that. i'm not perfect, i have things i need to work on. i need to grow. but we all do, not because we're pathological in any way, but we are a work in progress.
i respect your perspective and i just thought i'd also add mine.
Thank you for sharing your perspective. Good luck with your treatment.
people with borderline personality disorder see ones and 0s either good or bad i still work that way something is either good or it is bad nothing inbetween
Terrific work! This is the type of information that should be shared around the web. Shame on the search engines for not positioning this post higher!
Hi, good post. I have been pondering this topic,so thanks for sharing. I'll likely be coming back to your posts. Keep up the good work
My dad has been writing a book precisely on point with this blog, I have emailed him the web address so perhaps he could pick up a couple pointers. Fantastic Job.
BMI Calculator...
All I can say is keep it up. This blog is so necessary in a time when everyone just wants to talk about how many people someones cheated on their wife with. I mean, thanks for bringing intelligence back to the web, its been sorely missed. Great stuff. ...
BMI Calculator...
Aw, this was a really quality post. In theory I'd like to write like this too - taking time and real effort to make a good article... but what can I say... I procrastinate a lot and never seem to get something done....
Thanks. I'm a bit of a procrastinater myself, but working on deadline does wonders for that. Maybe you just haven't found your motivation yet? It sometimes takes time. Keep trying.
Leave a reply