In Crisis? Here Are 3 Crisis Chat Lines to Try
I have a confession to make--I am almost incapable of calling a crisis hotline, no matter how bad I feel. I flip open my cell phone, stare at the screen, flip it shut, flip it open again, start to dial the number, stop and flip it shut, on it goes. It can take me up to half an hour to call a crisis hotline. I have no clue why I do this.
And I'm not the only person who does this. According to IMAlive.org, more than 30 percent of people who call a crisis hotline hang up as soon as they hear a voice. Maybe you're one of these people. Did you know you have the option to chat online about your problem?
CrisisChat.org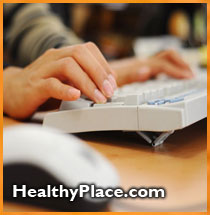 According to the web site, Lifeline Crisis Chat is a free service for "Anyone who is depressed, despairing, going through a hard time and just needs to talk, including people who are thinking about suicide. A chat visitor does not have to be thinking about suicide to use crisis chat. Any life issue, whether it be depression, family issues, relationship problems, and financial issues, among others, may be discussed on Lifeline Crisis Chat. Chat specialists are here to listen and support you through whatever difficulties you may be having." Lifeline Crisis Chat staff and volunteers attend between 30 to 60 hours of training before responding to calls.
According to the web site, Lifeline Crisis Chat does collect non-identifying demographic information such as age, gender (and has the option to click transgender or questioning), issue and zip code. You do not have to use your real name. In the case of imminent danger to self or others (such as you have the gun in your hand and are going to use it or have already overdosed), the specialist may ask for your contact information. It is up to you to decide whether or not to give it. Emergencies requiring that type of intervention are rare; although about half the people using the chat service are suicidal, only one out of every 200 to 300 chats results in help being called.
Lifeline Crisis Chat is available only in the U.S. and its territories, and open from 2 p.m. to 2 a.m. Hours may expand if funding improves. The site also has a library, including links to information about borderline personality disorder.
IMAlive.org
IMAlive.org is a virtual crisis center. One hundred percent of the counselors are trained and certified in crisis intervention. All volunteers use the pseudonym Alex. Like Lifeline Crisis Chat, it is free.
IMAlive.org recommends using broadband as wi-fi and smartphones can cause connectivity problems.
"IMAlive provides crisis intervention services via online chat," reads the site's description on CrisisChat.org. "Their services are available on weekdays starting at 7pm Eastern Time and running to 10:30 or 12:30 pm, depending on the day."
IMAlive.org is partnered with The Kristin Brooks Hope Center (founders of 1-800-SUICIDE), To Write Love on Her Arms (a support network for people struggling with depression, addiction, self-injury and suicide), PostSecret (a site that lets you anonymously post your secrets on a homemade post card), and the QPR Institute (which "offers comprehensive suicide prevention training programs, educational and clinical materials for the general public, professionals, and institutions.").
NewHopeNow.org
NewHopeNow.org is sponsored by the Crystal Cathedral. According to the web site, the New Hope Crisis Counseling Center was established in 1968 as the first 24-hour suicide prevention and telephone counseling center sponsored by a church. In 1997, the free chat service was established--making it the first service of its kind in the world. The counselors are trained and supervised by a minister and a clinical psychologist. Although Christian-based, the service is open to anyone.
The chat service is designed to be, according to the web site, "a light that never goes out, an eye that is never closed, an ear that is never shut, a heart that never grows cold." It is open 24/7.
Why chat should be an option
Chat is not only a good option for people who can't or won't call a crisis hotline, but a good way to get help quickly. I've had problems with my mental health center's crisis hotline not calling me back, and this is a guaranteed way to get someone to listen. While at peak times a counselor may be unavailable, keep trying. You deserve the help.
APA Reference
Oberg, B. (2013, June 4). In Crisis? Here Are 3 Crisis Chat Lines to Try, HealthyPlace. Retrieved on 2023, June 4 from https://www.healthyplace.com/blogs/borderline/2013/06/in-crisis-here-are-three-chat-lines-to-try
Author: Becky Oberg
who do you call when crisis chat mocks you and hangs up on you?
who do you call when the people you ask for help yell at you?
An actual chat site that works would be most appreciated. Have been trying to connect on all three of these for hours with no luck
CrisisChat.org does NOT work! IMAlive.org is offline at all hours of the day and night!
Of the 3 chat lines mentioned: CrisisChat does not actually have ANY chat; NewHopeNow.org does not exist; and IMAlive.org takes several minutes to reply, and usually ignores every question asked.
Crisis chat never answers requests to chat. Neither does IMAlive. These are wastes of time!!
i 45 years old I am a exotic dancer/prostitute and i think im pregnant. I have bipolar depression and want to kill myself, i need serious help.
Really need some one to talk
I been married for 11 years. Have 3 boys from my first marriage. I currently live with my husband, youngest son 16 and middle son 23. My Mother in law staying temporally with us. She was suppose to stay 3 to 4 weeks and it bin 9 Months.
I been diagnosed with restless legs, sleep apnea, Sjogren syndrome, fibromyalgia , chronic Migraines, rheumatoid arthritis, asthma, I had multiples TIA's and a stroke. I had brain surgery for 2 coiled brain aneurysm, I also suffer from anxiety and depression.
Right now I am appealing for my disability.
My older son is 24 and has asthma, migraine and daily headaches, my youngest son is 17 and also suffers from migraine. My middle one is 23 and got disable at 16 because of chronic cluster headaches and seizures. In the pass 2 yrs he been admitted at the behavioral hospital 3 times and been diagnosed with Bipolar Schizophrenic. He had episodes with psychosis, hallucinations and gets delusional. He was baker act 2 weeks ago and spend 6 days at the behavioral center but has not being well. He refuses to take medications, still very delusional, very aggressive, he verbally abuse us every day. Wants to smoke marijuana all day. He believes there is nothing wrong with him. He is not sleeping well.
I see him as a patient. Nothing he says I take it personal. I don't let his words heart me because I understated he is not on his right state of mind and needs treatment. What it hurts me the most is seen him go thru these episodes.
It is stressful, very stressful to deal with him on a daily basis. I find help with a Mobile Crisis Team, they do home visit and home evaluations and if he needs to be baker act they will and they are going to visit me tomorrow. I hope he is willing to be seen because so far he refuses all help I offered.
In the other hand it had affect my marriage because me and my husband are not always on the same page. My husband argues a lot with him because my son verbally abuses him and gets aggressive, I tried to educate my husband and tried for him to understand that my son is going thru a fare up crisis, I also explained to his Mom. They try to ignore him but at the same time they get argumental with him. Sometimes I feel that instead of helping they are putting more stress to the situation and more stress on me.
I'm finding my self to be anger at everyone because nobody knows exactly how I feel as a mother. I get mad when everyone's pointing at me all the time for stuff that he do or say when they really not doing anything to help. They want me to make him go see a Doctor or take his pills when he is 23 yrs old and I can't force him to do so. I tell him he will do better if he sees a doctor or if he takes his medication but he thinks there is nothing wrong with him. He says I'm the one sick and I'm the one who needs to be Baker act.
Sometimes I fill like disappearing.
Very depressed today had an altercation with a fellow employee he had every right to be in my face yelling at me I take total responsibility for what happened and I did apologize to him he won't even acknowledge me today I feel threatened by him he had known to be violent so I'm scared of him he was the last employee I could talk to so I'm on my own now I feel isolated under a dr's care though ,been hospitalized 8 times in 20 years ,2 suicide attemptsi work 14 hour days to keep from thinking about taking my life again everyone seems to have their own selfish agenda such as life
Glad I have found this tonight been having some big stuff going on real sad!!
I guess I'll have to wait to chat about suicidal thoughts until after 2am. Some of us have kids,really do feel f*ing suicidal but know enough that we still have to wake up tomorrow and do this shit all over again.
I need to talk to someone feeling down and out thinking tried hanging myself the other night and my bf walked in just in time to take the rope off my neck I was already turning blue shortly after the rope was removed I started throwing up blood in need of someone to talk to
Thank you for this info, I have it bookmarked :-)
Thank you for more options Ms Becky.
Leave a reply