Families Dealing with Mental Illness Left to Cope Alone
A Cause of Sandy Hook School Shooting?
The obituaries in my local paper still contain too many heartbreaking attempts to sum up the life of a six-year-old. My friends continue to tearfully share personal connections to the heartbroken families in Newtown, where less than one week ago lives were tragically ended - and countless more changed - forever.
As we continue to cry out:
Why? how? And how we prevent this from happening again?
The voices of reason speak out: Better Gun Control. Fewer violent video games. A shift in media coverage to stop sensationalizing violence. More enforcement of mandated treatment for those who need it. And - a cause we have felt personally ever since Ben's diagnosis of schizophrenia - more help and services for those with mental health issues, and for their families.
Who will listen? Who will act?
We must. All of us. Pick a cause and advocate. Fight back. Speak out. Insist upon change. And don't let these issues fade.
[caption id="attachment_1247" align="alignleft" width="170" caption="All "Mom's" fault? Where was the help?"]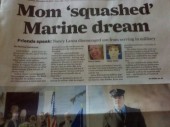 [/caption]
My "cause of choice" is from the family perspective, because that's what I know best. Our family story is what we use to advocate for change, but it cannot stop there. So I blog, I speak, I make phone calls, I appear in the media whenever possible.
But, as recently happened, the role of the family in treatment is often overlooked.
How I Almost Got on Nightline
When I was interviewed for To the Contrary last year on PBS, I was told that they had almost cancelled our interview because they had already "done mental illness." Several months ago, I was tapped to appear on the Dr. Drew's show on HLN to talk about conservatorship and how it helped our family - but was bumped by Hurricane Irene.
And, this week, Nightline called to possibly book me for my perspective on the family issues surrounding the Newtown school shooting - but they, too, reconsidered. Sure, Ben did not want to appear with me - he is not ready for that, and I must respect his journey - but even after I found another parent/child combo willing to speak, they dropped the story.
Families Lost in Crisis and Confusion
I recently received a letter from a reader, desperately trying to help her son, who has schizophrenia and was arrested for property destruction. She quoted a letter she had written to a a NAMI contact, asking for help:
I don't know how many times my son has to go back to jail for the judge to order him into a forced treatment. I just finished reading the book Ben Behind his Voices and I feel I am not doing enough to help my son like Randye Kaye did. I want to ask for custody of my son so I can commit him to hospitalization that's what he needs. My son is not a criminal he is mentally ill.
I am going to his court hearing tomorrow and start sobbing in the court house - then maybe the judge will do something this time.
I did everything I could last time writing letters to the judge, the appointed lawyer the magistrate. I talked to the jail doctor, to the jail director, and nobody seam to hear me. I am out of ideas on what to do. My heart is broken.
Her story could be Nancy Lanza's story. Her story could have been mine, in different circumstances.
Families Forced to Manage Alone with Mental Health Issues
We got lucky. Ben has a sweet nature. His delusions are about writing the poem that will cause world peace. We are lucky. We found help - after a long search. And, as Ben gets older, that search never ends. But who was helping the Lanzas, especially after Adam reached "legal age" to not qualify for - or to refuse - treatment?
Once again, families are left holding the bag. As, I suspect, was Nancy Lanza, forever now know as "late mother of the shooter."
Others see a mother blind to the tendencies of her son. I see, possibly, a confused mother trying to hold on to whatever hope she can, without the guidance to look deeper into the dangers of his condition.
[caption id="attachment_1248" align="alignright" width="170" caption="Addressing Legislators - Don't Slash Mental Health Budgets in CT!"]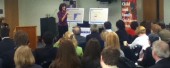 [/caption]
I, too, am a mother in Connecticut. I, too, had to kick, scream and fight to get services for my son Ben, especially after he became a legal adult. I had to "make him homeless" by refusing to let him back home after hospitalization - so that agencies would be "forced" to find him the help his family could not possibly provide.
Nancy Lanza, I suspect, could not take that heartbreaking step. The state was all too willing to let her take this on all alone. She was not trained to do it alone. No one is.
Spread the word. Families can be of help - but only if they get the support, education, services and respect that they - and their loved ones living with any sort of disability (from Down's Syndrome to autism, from Alzheimers to mental illness, from PTSD to schizophrenia) - deserve.
APA Reference
Kaye, R. (2012, December 20). Families Dealing with Mental Illness Left to Cope Alone, HealthyPlace. Retrieved on 2023, March 30 from https://www.healthyplace.com/blogs/mentalillnessinthefamily/2012/12/families-left-to-cope-alone-a-cause-of-sandy-hook
Author: Randye Kaye
Thanks Randye, well atriculated.
Leave a reply