Decreasing Dissociation in DID By Increasing Awareness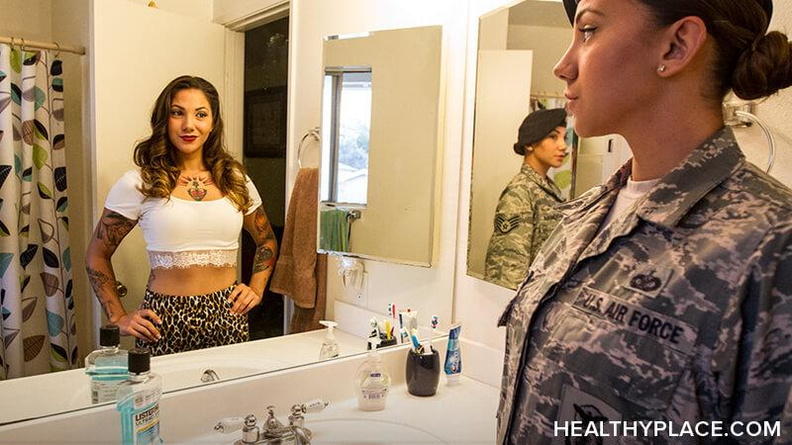 Decreasing dissociation in dissociative identity disorder (DID) relies on actively increasing awareness of the world around us. Dissociation is the process by which we separate ourselves from our experiences, memories, bodies, and very selves. When we're dissociating, we're disengaged from some or all of our own reality.
It's not inherently a bad thing; I truly believe dissociation serves a valuable purpose, and not just in traumatic circumstances. But there's no doubt that the chronic, severe dissociation intrinsic to dissociative identity disorder is problematic, disruptive, even at times actively destructive. By increasing awareness, by being more fully present in our bodies and minds, we can mitigate the damaging effects of dissociation.
Decreasing Dissociation Is a Natural Byproduct of Increasing Awareness

I used to approach decreasing dissociation by actively trying not to dissociate. To quote The Sound of Music, that's like trying to keep a wave upon the sand for those of us with DID. In fact, I now believe that trying not to do something - whether it be dissociating, binging on food or alcohol, getting angry, self-injuring, etc. - is rarely effective. Resistance, as they say, is futile.
At first this realization left me feeling defeated and at the mercy of my disorder. Then I discovered that merely by actively increasing awareness, I could decrease my dissociation without fighting it. While increasing awareness does require some effort, dissociation decreases naturally as a result of mindfulness.
If one is tense, one simply observes one's tension. You will never understand yourself if you seek to change yourself. The harder you try to change yourself the worse it gets. You are called upon to be aware. - Awareness, by Anthony de Mello
Decreasing Dissociation Simply by Increasing Awareness
Mindfulness doesn't appear to come naturally to anyone, whether they have DID or not. Increasing awareness, therefore, does require some effort. When I engage in the following activities regularly, I see a marked increase in self-awareness, a more profound connection with my system, and a decrease in dissociation:
Exercise - Moving my body, particularly when I'm not distracted by anything else, calls my attention to my breathing, the feeling of my muscles contracting and expanding, the thump of my heartbeat. Exercise brings me into my body and the present moment.
Subjective Units of Distress Scale (SUDS) - Anxiety, pain, depression, dissociation - pick something that you struggle with, take a few minutes out of every hour (give or take), and rate its severity at that moment on a scale from 0 to 10. Without even trying, you'll begin to notice patterns.
Physical/Emotional Check - I learned this one in an inpatient program. About every waking hour, I ask myself for a one-word description of how I'm feeling physically and emotionally. (Fine and okay are not acceptable answers.) This simple task creates a connection with my body and mind.
Increasing Awareness Eases the Symptoms of DID
It sounds elementary, I know. But that's the beauty of it. Rather than wasting energy fighting dissociation, we can decrease its severity simply by increasing awareness. Give it 90 days. If you don't find that the symptoms of dissociative identity disorder are less intrusive and more manageable I'll be surprised.
Follow me on Twitter!
APA Reference
Gray, H. (2011, March 10). Decreasing Dissociation in DID By Increasing Awareness, HealthyPlace. Retrieved on 2019, October 19 from https://www.healthyplace.com/blogs/dissociativeliving/2011/03/increasing-awareness-decreasing-dissociation
Author: Holly Gray