Do Pets Help Anxiety and Depression from DID?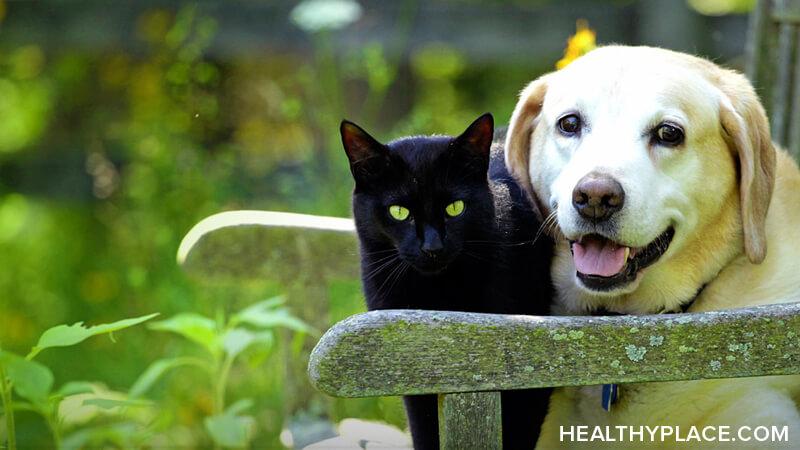 Can a pet relieve the depression and anxiety of dissociative identity disorder (DID)? Let's imagine this: picture yourself in the middle of a panic attack. Your heart is racing, your mind is juggling a million thoughts, and no one can calm you down. Then, you reach for something soft, cuddly, and receptive to your need for comfort. This is what it feels like to turn to a pet for the anxiety and depression associated with DID.
Managing DID Anxiety and Depression with a Pet
There are several mental health conditions linked to DID, such as both depression and anxiety. While medications can help relieve some of these ailments, many people often go without them, some of whom have no other choice.
When you're feeling depressed or anxious as a result of a condition such as DID, you can quickly feel like you're stranded on a desert island with no resources. This is where thinking outside of the box comes in handy. While psychiatric medications can be beneficial in numerous ways, they aren't the only option available to you when you're experiencing something like panic.
Pets, whether they be a dog, cat, or even a hamster, can instantly help you calm down when the world is swirling around you. Most importantly, pets can be key to getting grounded. Once your mind is in a more stable place, you can collect yourself and shed your anxiety or depression.
Finding Comfort for Anxiety and Depression in Dogs
I grew up with dogs, so I knew that in my adult life, it would be important to me to have one in my household as a part of my family. Little did I know that as I embarked on my healing journey, my own pet would come in handy during my most critical moments.
When I pet my dog in the middle of an anxiety-ridden episode, I can stop my mind from racing. Instead, I remember all of the things I love about my pet; and taking my mind off of the panic does wonders for calming down.
The same can be said about depressive episodes I face while living with DID. If I'm ever feeling low, I know that all I need to do is turn to my dog for affection, and my heart sings.
Some people have similar results with animals such as cats, and even small pets, such as fish, can be calming and relaxing (even if you can't actually pet them). It's all about finding what the animal means to you and remembering that during your most critical moments.
How do pets help your anxiety and depression? Share your thoughts in the comments
APA Reference
Vermes, K. (2020, July 28). Do Pets Help Anxiety and Depression from DID?, HealthyPlace. Retrieved on 2023, December 2 from https://www.healthyplace.com/blogs/dissociativeliving/2020/7/do-pets-help-anxiety-and-depression-from-did
Author: Krystle Vermes
I'm so sorry Margie.... I know what you are going through... I've been there and there is no pain like it.... I think it's fair to give yourself time to grieve ur beloved dog.... I got a myself a puppy about 6 months after my loss of my first dog that was therapeutic to me... I did get another girlie because they are very loving dogs that will be attached at ur hip and I love that... They ha e different personalities but mAny commonalities as well... Many breeds losses certain traits and our family have fallen in love with the girlie as my personal companion and pigs as our family dog cause they r just big goofballs.... I also love farm animals and this last year was gifted sheep i got attacked her to at my unc!we farm and a senior pony... Having them count on me daily for their care has been a true godsend because it gets me up a d out of bed and I'm finally happy to do it... It's been my dream to buy a hobby farm and run it as a non profit for mental health warriors to come heal with the love of farm animals allow them to volunteer to do chores if they would like etc to help get them routine in a joyful way etc.... I pray for that day
Hi! I lost my Norfolk terrier called Cookie on January 14th 2019. He was 14 years old and died of cancer and hemmorage.
I can't get over it. He's left a big void and I feel I cannot love another animal. He was my first and last dog. He accompanied my depressive periods and got me out. I had to walk him 4 times a day which did me good. He understood how to bring me warm cuddles. No man ever did that for me. I'm 61 and don't have the energy to wake up early anymore and a dog needs to go out as I don't have a garden.
My grief is immense.
I feel so deeply sad when I think about him! I feel like I won't ever get over it.
I'm on disability and have lost my rhythm.
I've been admitted to a private psychiatric clinic today in the French Alps but even if the landscape is amazing with view of the Mont-Blanc, I feel empty.
My eldest daughter who has Bipolar like me has given birth in April during the covid and is still in a psychiatric hospital with her baby. It's sad for me. My other daughter moved to Australia for two years. Previously, she lived in London for 10 years so I didn't see her very much. I divorced in 2017. I was diagnosed with Bipolar 1 in 2015 only.
Since then I lost my husband, my job and loads of friends...
I created a Facebook page with my daughter who lives in SE FRANCE STRASBOURG. It's called Bipolar On Air to inform people about Bipolar disorder and de stigmatized mental illnesses.
My daughter fights the stigma on her YouTube channel called Les petites vidéos de Millie. I'm French but my daughters are French and British as their dad is British.
My mum was schizophrenic and my grandmother who raised me was maniaco-depressive.
I never knew my biological father and had a step dad.
They're all dead now.
Life is kind of hard at times as I get really bad mood deregulation with alcohol problems and hypersexuality.
I find Bipolar is not understood. My friends do not understand...
Only my dog gave me the energy to carry on the battle! Pets understand without words... ❤️❤️❤️ Agnès
I'm so sorry to hear about your loss. Pets have an incredibly special role in each of our lives, and they often give us the courage to carry on, even when times are difficult. I hope that you find peace, and thank you for reading.
Leave a reply