Cutting Comments: Funny In The Head Goes To The Barbershop
"How drunk do you have to be before cutting your own hair starts to seem like a good idea?" Taz Mopula
Long ago, I had a hypothetical girlfriend we'll call Prunella Entwhistle. Indeed, it was so long ago I was not yet sober and still cheerfully diving headfirst into debauchery as one might leap into a swimming pool. This was during that blissfully ignorant period in my life when I believed that, as a result of facing down bipolar disorder and defeating it, I had become bulletproof.
By then I'd recovered from several devastating battles with the terrifying illness referred to at the time as manic depression. I had even written a memoir (Invisible Driving) that chronicled my ordeal. Having walked through fire and survived, I bristled with self-satisfied cockiness and swaggered through life like a cowboy breaking in new jeans.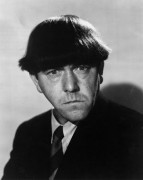 Prunella and I occupied a modest bungalow where we impersonated adults. I had a mediocre job at an unspeakably dull corporation, and Prunella worked as a sales clerk at the gift shop of a prestigious art museum where she devoted her hours to making personal calls and stealing earrings. We were all about phun, or what we thought of as phun, and hopping the Oblivion Express. Very dry martinis, fine imported wine, and the wackiest tobacco on the planet; this was the formula and it functioned with awe-inspiring inevitability.
One Friday evening found us merrily ingesting intoxicants, becoming increasingly boisterous as we did. Prunella and I were sitting in the kitchen after dinner (after all, you need food in your stomach if you want to drink as much and as long as possible). She looked at me and, with that charmingly demented enthusiasm and confidence that were her signature, said, "You need a haircut. I'll do it."
Every life has critical moments which, like hinges holding large, creaky doors, mark fundamental endings and beginnings. Should I tell you now that Prunella's infectious optimism was almost always groundless, and that she instinctively returned to dark alleys and dead end streets with a degree of reliability that might have brought envy to the swallows of Capistrano? Shall I tell you now that it is my nature to trust, even in the complete absence of justification?
Mental illness and intoxicants are like the two bad kids at the back of the classroom. They gravitate towards each other, they are a natural fit, but it is best to separate them. Mental illness alone spells bad decisions, throw in alcohol and you guarantee stupidity.
I knew I was in terrible trouble when Prunella stepped back to admire her handiwork and exploded into hysterical laughter. On Tuesday, I finally got to my barber for damage control. During the intervening eternity I resembled Moe, of the Three Stooges, and felt like him, too.
APA Reference
McHarg, A. (2011, September 14). Cutting Comments: Funny In The Head Goes To The Barbershop, HealthyPlace. Retrieved on 2023, September 24 from https://www.healthyplace.com/blogs/funnyinthehead/2011/09/cutting-comments-funny-in-the-head-goes-to-the-barbershop
Author: Alistair McHarg