Coping - and Hoping - with Mental Illness Reality
First of all: a very Happy New Year to you! May your 2012 be filled with possibility, community, love and peace.
2011 was an amazing year for our family. Inside our walls, it brought changes that were both discouraging (Ben's reduction in services, leading to a relapse that could have been avoided - down the chute in Chutes and Ladders) wonderful (eventual return to medication, and restoration of baseline; back to good grades at school and a job!!), and challenging (family role upped to that of unofficial supervisors of Ben's official caseworkers - don't get me started). As I often remind myself, it is what it is. This is what we must do right now to keep Ben healthy and productive.
It is not, nor can it be, a forever choice to drive him to work or school every day, to personally make sure he takes his meds after eight years of having that taken care of in the group home where he is no longer allowed to live ("too functional" --- yeah) But for now, it is what we must do, and the results are more than worth it.
[caption id="attachment_551" align="alignright" width="170"]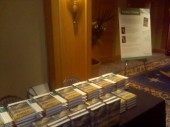 book signing and presentation at APNA[/caption]
Ben's pride in his work, feeling useful, being valued with teamwork and a paycheck" yes. Priceless. For the first time in over a decade, Ben paid for his own Holiday presents to the family in 2011. The stress of his excitement to give gifts to us actually created some stress for him, but still worth it all.
My son has a life.
Professionally, outside our walls, 2011 brought opportunities I could only dream about 12 months ago: the publication of Ben Behind His Voices, hardcover and audiobook; the opportunity to be part of this insightful team of bloggers on healthyplace.com; the chance to reach others in person as author/speaker/advocate for mental illness issues. For this, I am so grateful - and hope the outreach continues to grow in 2012 as more discover this blog, our memoir, and the messages we believe in so strongly.
Thank you, dear reader, for being a part of it all, and for sharing with others to spread the word! I hope you'll continue to read, learn, follow, tweet, share, and comment on this and the other blogs on healthyplace.com. And, of course, I welcome your comments on Ben Behind His Voices. One goal is to reach more Universities and Colleges this year. I have already been invited to speak at Arizona State and University of Mount Union in Ohio, to help reduce stigma re mental illness by the increased understanding that comes with putting a human face to the issues of mental illness in the family.
[caption id="attachment_547" align="alignleft" width="128"]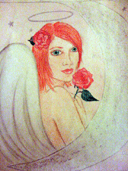 Just Winging It[/caption]
One of the most emotional interviews I did recently was with Victoria Rose De Angelis, for the Spiritual Journeys Radio Network. Victoria has a son with schizoaffective disorder, and we it was much more of a Mom-to-Mom conversation than an "interview" : you can hear the it here (click on the Dec. 14 and it will play) "Just Winging It" Dec 14 2011
We talked about synchronicity, faith, hope, education, medication, judgment, teamwork, patience, siblings, labels, NAMI F2F, and coping with the changes that mental illness brings to the whole family.
One thing that came as a surprise to me, later in the interview, was that Victoria quoted one of Ben's poems (they are part of the book). (Her daughter, Bella, wrote a poem to her brother that I feature in an earlier blog post about siblings.) This is the one she chose, written by Ben in 2004 as he began his recovery journey. By printing it here, I give Ben the chance to speak to you as we kick off 2012.
Spirit is wounded so the body is aching
healing's occuring and are you partaking?
For the ups are blooming
Desiring your hands to catch the tears for memory's sake
Shattering the mask fake
Truth meets the eyes hoping for some kind of recognition
And for the masquerade to end
Bringing forth a new kind of freedom...Unity
We wish you blooming, the unity of community, new discoveries and the power that love brings in 2012. Happy New Year!
APA Reference
Kaye, R. (2012, January 5). Coping - and Hoping - with Mental Illness Reality, HealthyPlace. Retrieved on 2022, June 28 from https://www.healthyplace.com/blogs/mentalillnessinthefamily/2012/01/coping-and-hoping-with-mental-illness-reality
Author: Randye Kaye