Mental Health Crisis Intervention Training: Thank You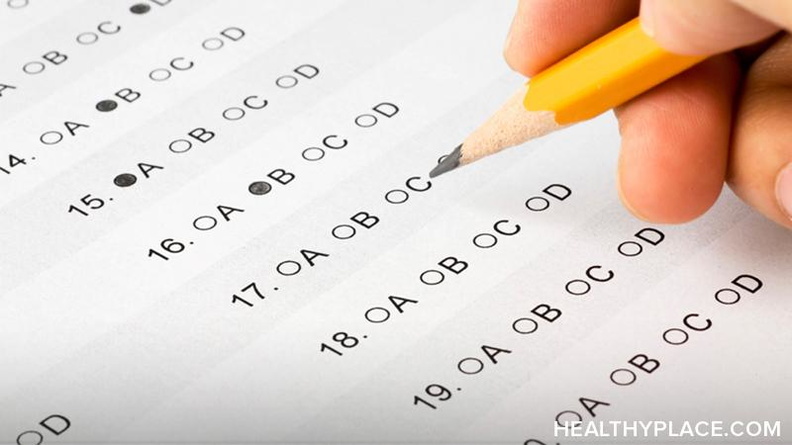 When my son, Ben, was in the first stages of recurring psychosis from schizophrenia, we were waiting for him to get "sick enough" to finally earn a bed in a psychiatric unit (don't get me started on this). During that period, we had many encounters with our local police officers while Ben, and the rest of the family, were in crisis.
I am so happy that these officers were trained in mental health crisis intervention. I am thankful for their kindness and empathy toward Ben, Ali and me which made our traumatic situation more bearable. Even more importantly, their CIT (Crisis Intervention Training) made it possible to avoid the trauma-upon-trauma pile-up of emotions that could have escalated the crisis instead.
Lucky for us, we did not have to experience needless "super-escalation." Our town's officers were either CIT-trained, or listened to the feedback and tips of those on the force who were.
Positive Effects of Mental Health CIT
Crisis Intervention Training not only saves lives, it also helps those experiencing the crisis internally. And it soothes their mothers - that, I can tell you first-hand.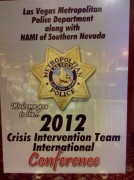 I have just returned from the CIT International Conference, where I met so many who are passionate about their crisis and mental health work. Though I came there to teach about the family view, I learned so much more than I offered.
Who was there? Police officers, mental health workers, detectives, police chiefs, psychiatric nurses, psychiatrists, corrections officers, security guards, consumers, and family members like David Kaczynski, who spoke about his sibling experience as "brother of the unabomber" - though that relationship had so much more to it. David's love for his brother was clear, as was his agony over his brothers' illness: schizophrenia.
Our Experience with Crisis Intervention Training
In 2003, my son Ben was hospitalized five times - and before that, there had been several crises that I had hoped would have that result, so we could finally get help. Yeah, I know - wishing your child is "sick enough to be hospitalized"? If you've been there, you know what I'm talking about.
One of those crises ended with Ben's being led to an ambulance - in handcuffs. This happened just as his little sister drove up from a high school rehearsal. Not a pretty sight. I was in shock. Ben was confused but thankfully cooperative, as the police officer had treated him like the human being he is. He saw, thanks to his mental health CIT training, the person underneath the symptoms - and the love behind my own shock.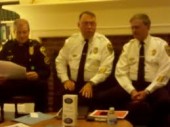 This officer was always polite and calm with Ben, looked him in the eyes, even joked with him - all the while being clear that a trip to the hospital "to help you" was imminent. He took the time to explain the need for handcuffs to me - even to apologize. Because of this extra moment, I was reassured that the handcuffs were only necessary as a way to get the ever-necessary 72-hour-hold for Ben - and assured that there was no criminal charge involved.
We are lucky that Ben has never - knock wood - been arrested for crisis behaviors that, if misunderstood, might have resulted in a criminal record.
To those who have taken the time to learn and choose Crisis Intervention Techniques over "Power" actions that are also an option, I thank you. Your kindness and willingness to empathize has made all the difference for this family.
Here's a radio news story on CIT in Connecticut (my home state) from NPR affiliate WSHU.
APA Reference
Kaye, R. (2012, August 26). Mental Health Crisis Intervention Training: Thank You, HealthyPlace. Retrieved on 2023, December 2 from https://www.healthyplace.com/blogs/mentalillnessinthefamily/2012/08/crisis-intervention-training-thank-you
Author: Randye Kaye
My son has schizophrenia. He is 41 years of age and was diagnosed 12 years ago. He has always been noncompliant with his treatment plan and it has been 3 years now since he has taken any medications. He is also a street drug user at times. It is difficult and very hard on this mom. But I remain hopeful. In my area there are no NAMI support groups and our mental health is limited.
My 42 year old brother is very sick. He clearly has schizophrenia. In the last month, he has been in jail for breaking into a home to seek warmth. He is afraid of going back to his home because he feels it is haunted. He has been living in his car. We have tried to take him to a hospital emergency room, but as soon as he sees the hospital he runs away. He has never been seen by a psychiatrist because he refuses and we can't make him go. He's a good man that is very very sick. What can we do to have him checked out. Maybe meds would help him, but he refuses to seek help. WHAT CAN WE DO??.?
Hi Nick - this is SO difficult, I know. Best first step is to check about your state laws re involuntary commitment, (begin with your state NAMI chapter for referrals and ideas), and then see if you can get conservatorship for at least some rights. An excellent book with more specific ideas is called "Defying Mental Illness" - and, emotionally, Xavier Amadors; "I am not Sick, I don't need Help" is also excellent.
Have you gone to any NAMI support meetings? This is where I began to learn what I could - and could not - do to support my son and help him along the road to recovery. Not an easy road, but it helped to know what the steps were, and are.
Hope that helps, as a start - this website is also full of excellent info, and I recommend other resources in my book Ben Behind His Voices. But talking to others going through it is most helpful, I find.
hang in there.
Best,
Randye
Indeed mental disorders exhibit a complex and intrigued medico-social problem. So,it is welcome any help from formal and non-formal institution that may contribute in treatment and management of patient with mental illnesses. As regards to above-mentioned Crisis Intervention Training (CIT)workout it could to say that its activity is crucial in appropriate and at the right moment treatment process of mentally ill patient. Beside this helpmate action, these parapsychiatric organizations provide a support for families of mentally ill patient in critic moment of the chronic course to psychotic disorders. Yours and many others experiences of families with mentally ill member testify this veracity. My suggestion is to promote and affirm this kind of psychiatric helping around all the world.
Leave a reply