Moms with Mental Illness: Is Summer Making Your Kids Crazy?
Moms with mental illness, is summer making your kids crazy? It feels like that at my house. The same kids who were tired of getting up early and not having enough time to play during the school year are now complaining that they're bored. They're whining about chores. They're crying. They're throwing fits. They're fighting with each other. And as much as I have tried to structure our days, plan fun activities, and keep my wits about me (Summer Survival Guide for Moms with Mental Illness), as a mom with mental illness, I'm struggling to stay sane while summer is making my kids crazy.
Moms with Mental Illness: Summer Makes Kids Crazy Because Every Week Looks Different
Summer is a time of chaos, really. No matter how hard I try to structure our summer (Fun Has Its Limits), it still seems to take on a life of its own. Between family weddings, business trips, vacations, and sports camps, every week is different from the last. And in the middle of all of that chaos, my kids have a hard time knowing what to expect. When they don't know what to expect, things can get a little crazy. Attitudes slide; frustration sets in. Pretty soon, asking them to do a simple chore erupts into World War III. And I start to lose my sanity.
Moms with Mental Illness, We Can Adjust Our Expectations
To avoid losing my sanity, as a mom with mental illness, I'm adjusting my expectations a bit. I'm giving up on all the extras I thought I would accomplish this summer. My book won't be finished. My closets most likely won't get cleaned out. I've given up on keeping up with the dishes, and even bought some paper plates to make our days at home easier.
I'm taking stock of what's working and what's not, and tweaking the system. And I'm accepting the fact that in this constantly changing summer season, my kids are going to struggle at times. Unless we're willing to give up a lot of fun times with friends and family, our schedule is going to ebb and flow. That's just the way we roll during the summer. So even when we're transitioning from one fun thing to the next, I'm going to expect my kids to have some transition pains.
But the one thing I'm not letting go of is rest time. We are going to keep taking naps, no matter what. I need the break; my kids need the break. Rest is essential to all of our sanity (Moms with Mental Illness: Prioritize Naptime This Summer).
Summer Makes Kids Crazy, So Moms with Mental Illness Need to Stay Sane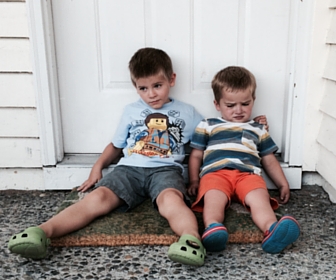 When things go crazy and tantrums are being thrown and there is mutiny over chores, I put up a good front. I fight the good fight and try not to get down in the mud with my kids. And then I go and hide somewhere for a while.
Yes, I just admitted to hiding from my children.
It has done wonders for my stress levels. My husband often finds me in my bed reading a book and eating a cookie or two while my kids continue to whine and moan over picking up their room and emptying the dishwasher. I can only take so much of the whining and moaning. So I hide from my kids and take a break, all in an effort to not go crazy.
I also try to arrange play dates, for my kids and myself. Getting my kids out of the house to run around in a park nearby can do wonders for their stir-craziness. Sometimes when they're misbehaving, they just need to be let loose for an hour of freedom (The Need for Play). Making our hour of freedom a play date means even more fun for my kids and myself. Sometimes sitting with a girlfriend while our kids play gives me a chance to vent and feel like a grownup for a moment. Sometimes I need a friend to talk to as much as my kids need a chance to play.
If You're a Mom with Mental Illness and Summer is Making Your Kids Crazy, You're Not Alone
If summer is making your family crazy, take a deep breath and remind yourself that you're not alone. Mental illness or not, being home with your kids during the summer is challenging. Be willing to look at your schedule and expectations and see what is working and what is not. Make changes; be flexible. You can do this, Mama. Soon they'll be back to school and you will miss them. At least, that is what I'm telling myself.
For more encouragement for moms with mental illness trying to make the most of this summer with your kids, watch this:
Connect with Taylor on Facebook, Twitter, Pinterest, and her blog.
APA Reference
Arthur, T. (2016, July 27). Moms with Mental Illness: Is Summer Making Your Kids Crazy?, HealthyPlace. Retrieved on 2023, October 4 from https://www.healthyplace.com/blogs/mentalillnessinthefamily/2016/07/moms-with-mental-illness-is-summer-making-your-kids-crazy
Author: Taylor Arthur
Taylor, thank you for being so honest about giving ourselves a break! I have a "Summer to-do list" hanging on my fridge that I filled out mid-June, right after school. Guess how many things I've checked off? Big, fat ZERO! :) I agree that the built-in structure that's in place during the school year, when removed, can cause chaos in all our schedules. While I'm not ready, as a teacher, for the kids to go back to school, I am ready for the bickering and boredom to be over. I'm trying to remind my kids and myself that it is not my job to entertain them day in and day out! I'd love to find some tips to help the kids find fun things to do within the constraints of our yard. We live on a busy road and I never feel safe letting them ride their bikes around the block, like I'd did when I was a kid.
Keep fighting the good fight! Your honesty and humility are refreshing and encouraging to all mamas out there who put on that mom guilt every day, like a wool jacket in...summer ;)
Leave a reply