How to Tell If This Person is 'The One'
Anyone who has been in a serious relationship for a while asks the question, "Is this person 'the one'?" While there are comprehensive instruction manuals on how to assemble everything from IKEA furniture to videos on how to properly apply smoky eye shadow, no one provides us with a guideline on the important things in life; like how to choose a partner.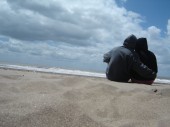 Marriage Material
But anyone knows that picking the right partner is a bit trickier than picking out a couch for your living room. Well actually, according to one pearl of wisdom from Sam Halpern who became popular from the quotes his son Justin posted about him on Twitter, you should "pick your furniture like you pick a wife: It should make you feel comfortable and look nice, but not so nice that if someone walks past it they want to steal it."
This probably sounds cliché and cheesy, but for me when I began dating my now-husband, things felt differently from the start and after about a month of dating, I found myself thinking that I could marry this guy. While I am happily married, I know that the love bug bites everyone differently and there is no universal formula or trick that works better than listening to your heart and good old gut instinct.
How Do You Pick the Right Partner?
Here are some things to keep in mind while you dissect everything about this person in an attempt to figure out if he or she is for keeps:
Remember that marriage is definitely a leap of faith. Your relationship is essentially one long interview, and you are making what should be an informed decision about whether this 'candidate' is right for you. If you act only when 100% certain about the outcome of an event, you are probably missing out on a lot of good opportunities in life.
Make sure you are on the same page about major issues such as having (or not having) kids, life goals, expectations, and finances. It's surprising how many couples never have these serious talks before they take the plunge.
Ensure you have gotten into at least one major argument with your partner. How you and your partner resolve issues and treat one another is a good indicator of how you will do so in the future.
See your partner at his or her ugliest. By ugliest I mean not just superficially (i.e. messy hair and sans make-up), but at his or her worst—worst temper tantrum, worst stressful situation, worst everything. If you still like this person after all that, it's a good sign.
Ask yourself if this person truly makes you feel comfortable and good about you.
What scares most people is the word 'forever.' Nearly everyone enters into a marriage with the intent for it to last a lifetime, but in all honesty most people can't picture their life 50 years from now, let alone forever. Try breaking 'forever' into a shorter time frame; if you can see yourself living happily with this person for the next 10 years, chances are you are making the right choice.
APA Reference
Fung, T. (2010, September 22). How to Tell If This Person is 'The One', HealthyPlace. Retrieved on 2023, December 8 from https://www.healthyplace.com/blogs/theunlockedlife/2010/09/how-to-tell-if-this-person-is-the-one
Author: Theresa Fung