When Your Social Life Hurts Your Wallet
In the past few years, my life has changed a lot. I went from being a single full-time working professional with disposable income to being a married mother with a whole lot more financial responsibilities. My husband and I were one of the first from our group of friends to settle down and have kids; which means that many of our friends are still having a great carefree social life that often includes spending more money than we would like.
My Free Spending Days Are Over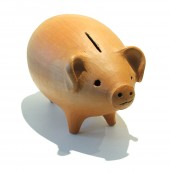 Back in the day, I would spend freely on sushi dinners and fancy lattes without a second thought. Now my penchant for sushi has been replaced with French fries and I brew my own coffee at home, thank you very much. We often choose to skip out on dinners at restaurants with friends in favor of meeting up afterwards. And we don't even think of going out for a movie unless it's at the cheap theaters. Of course, now we have a built-in excuse for not going out: our baby.
Different Stages for the Same Ages
There was a time when things were more homogeneous amongst people in their twenties and thirties. In my parents' generation, by 25 most people were married, owned their own homes, and had, or were about to start their families. Nowadays twenty and thirty somethings run the gauntlet from singletons living on their own, singletons living with their parents, students, successful working professionals, underemployed/overeducated saplings, to married parents. No wonder why we all have different expectations of what is considered 'affordable' fun.
Great Social Life on a Budget
But no matter what your income level or stage in life, nothing beats the company of good friends. Here are a few budget-friendly ideas on ways to spend your weekends with friends and family:
Forget about going out for dinner—have a potluck instead. Or if you have a hankering for a meal at a restaurant, check out their lunch menu instead. Restaurants often have similar items on their lunch menu at more affordable prices.
Rent movies. If you get a group of friends together, this is a much more economical way to catch a flick. Most public libraries also let you rent movies free of charge if you have a membership.
Host a cards or games night and have everyone bring a game, and split the cost of pizza and drinks.
Invite friends over for coffee or tea to catch up instead of going to the coffee shop.
Plan outdoor activities such as a picnic or BBQ at a park, biking, or walking.
Check out free local festivals and carnivals.
Take advantage of free admission days in town. My husband and baby just went to one of these 'free' days and had a great time swimming, checking out a museum, and creating watercolor paintings.
Have a bonfire, roast marshmallows and reminisce about old times.
Scrimping and saving doesn't have to cramp your social life if you plan ahead and budget properly. Of course it also helps when you have friends that are understanding of your financial constraints and plan events that would be affordable for everyone.
APA Reference
Fung, T. (2010, September 29). When Your Social Life Hurts Your Wallet, HealthyPlace. Retrieved on 2023, December 7 from https://www.healthyplace.com/blogs/theunlockedlife/2010/09/when-your-social-life-hurts-your-wallet
Author: Theresa Fung