3 Tips for Setting Boundaries for Your Mental Health
Here's what's happening on the HealthyPlace site this week:
---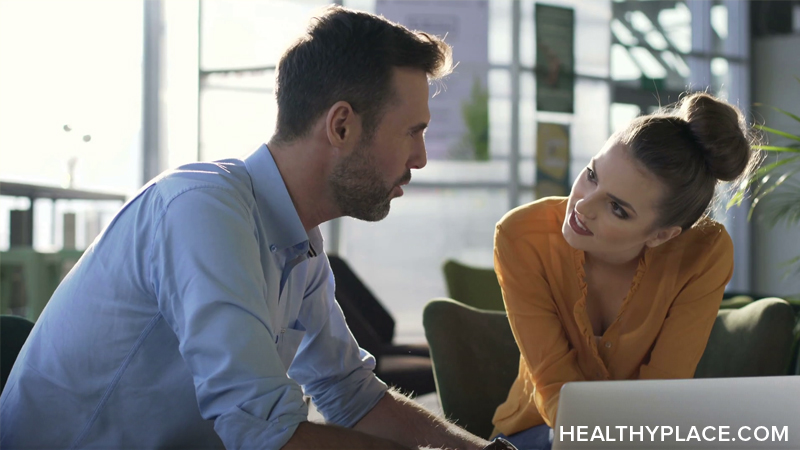 3 Tips for Setting Boundaries for Your Mental Health
Setting boundaries is vital for your mental health. A boundary is a division between you, your sense of self, and others in your world. Without boundaries, you can quickly become overstimulated and overwhelmed by the opinions of others.  
When you don't establish boundaries, people can swoop in and take over, manipulating you and influencing you in unwelcome ways. Boundaries are necessary for healthy relationships, mental health, and life satisfaction and happiness.
Creating and maintaining boundaries for your mental health and sense of self isn't easy, especially if you've never been taught how to do it. These tips will help you set and maintain boundaries:
Know your own needs. What will help you be mentally healthy right now? Return to this question often, for the answer will fluctuate.  
Learn how to listen closely to what others say, and ask the same in return. Open communication is an effective way to establish needs and then make action plans to respect those needs with boundaries.
Imagine someone you care about. How do you want him or her to be treated? How would you help her set boundaries for herself? Now put yourself in her place and treat yourself accordingly.
Setting boundaries isn't always easy but practicing these steps will help you stand up for yourself and your mental health.
Related Articles Dealing with Boundaries
Your Thoughts
Today's Question: How has having poor boundaries affected you? We invite you to participate by sharing your thoughts, experiences, and knowledge on the HealthyPlace Facebook page and on the HealthyPlace Google+ page.
From the HealthyPlace Mental Health Blogs
On all our blogs, your comments and observations are welcomed.
Feel free to share your thoughts and comments at the bottom of any blog post. And visit the mental health blogs homepage for the latest posts.
------------------------------------------------------------------
From HealthyPlace YouTube Channel
I'm Hannah. I Have Bipolar 2
Bipolar and Therapy: Believe Me, It's Helpful
When you live with bipolar disorder, going to therapy consistently is necessary but not always easy. It is difficult to find a therapist you not only feel comfortable with, but someone you can trust with some of the most personal parts of your life. It is like telling a stranger your deepest secrets and hoping they don't use it against you. This is the type of mentality I had for years, but that was until I found the right therapist. (Watch Hannah)
------------------------------------------------------------------
Most Popular HealthyPlace Articles Shared by Facebook Fans
Here are the top 3 mental health articles HealthyPlace Facebook fans are recommending you read:
If you're not already, I hope you'll join us/like us on Facebook too. There are a lot of wonderful, supportive people there.
------------------------------------------------------------------
Mental Health Quote
"Having Bipolar Disorder means waking up not knowing whether Tigger or Eeyore will be making your decisions for you."
Read more bipolar quotes.
------------------------------------------------------------------
That's it for now. If you know of anyone who can benefit from this newsletter or the HealthyPlace.com site, I hope you'll pass this onto them. You can also share the newsletter on any social network (like facebook, stumbleupon, or google+) you belong to by clicking the links below. For updates throughout the week, circle HealthyPlace on Google+, follow HealthyPlace on Twitter or become a fan of HealthyPlace on Facebook. Also, check out HealthyPlace on Pinterest and share your mental health pins on our Share Your Mental Health Experiences board.
APA Reference
Peterson, T. (2018, July 2). 3 Tips for Setting Boundaries for Your Mental Health, HealthyPlace. Retrieved on 2023, October 1 from https://www.healthyplace.com/other-info/mental-health-newsletter/3-tips-for-setting-boundaries-for-your-mental-health
Last Updated: July 3, 2018