4 Signs Anxiety is Starting to Take Over Your Life
Here's what's happening on the HealthyPlace site this week:
---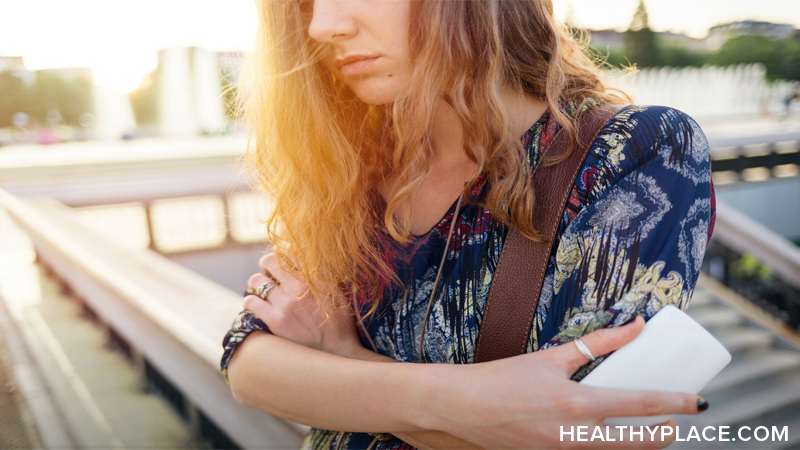 4 Signs Anxiety is Starting to Take Over Your Life
Anxiety has a way of insidiously creeping in until you're constantly agitated. But how do you really know if anxiety has begun to take over your life or if you're just overanalyzing it? Knowing signs of an anxiety take-over can help you know if you need anxiety help or if you can let this worry go.
4 Signs that Anxiety is Taking Over Your Life
The fear of anxiety causes anxiety. You have anxiety about your anxiety. Your old anxieties are still hanging around, and you worry about them like you always have done. But now, you worry about the fact that you're worrying.
Worrying is consuming a lot of time. You might find yourself standing in an aisle at the grocery store fretting about nutrition labels (maybe you even look up sketchy ingredients on your phone and get caught in link-clicking stress). Maybe you worry that buying packaged snacks makes you a horrible parent. Whatever it is, anxiety is slowing you down.
You no longer do what you used to enjoy because you're driven to tend to your anxieties.
You find yourself constantly asking people, "Do you think I worry too much."
If you find that anxiety is controlling you more and more, don't add it to your worries. Use the insight as a way to take steps to reduce your anxiety.
Related Articles Dealing with Increasing Anxiety, Mental Illness
Your Thoughts
Today's Question: If you've had anxiety take over your life, what signs and symptoms did you notice? We invite you to participate by sharing your thoughts, knowledge, and experiences on the HealthyPlace Facebook page.
From the HealthyPlace Mental Health Blogs
On all our blogs, your comments and observations are welcomed.
Feel free to share your thoughts and comments at the bottom of any blog post. And visit the mental health blogs homepage for the latest posts.
------------------------------------------------------------------
Most Popular HealthyPlace Articles Shared by Facebook Fans
Here are the top 3 mental health articles HealthyPlace Facebook fans are recommending you read:
If you're not already, I hope you'll join us/like us on Facebook too. There are a lot of wonderful, supportive people there.
------------------------------------------------------------------
Mental Health Quote
"People are not addicted to alcohol or drugs, they are addicted to escaping reality."
Read more addiction quotes.
------------------------------------------------------------------
That's it for now. If you know of anyone who can benefit from this newsletter or the HealthyPlace.com site, I hope you'll pass this onto them. You can also share the newsletter on any social network (like facebook or stumbleupon) you belong to by clicking the links below. For updates throughout the week, follow HealthyPlace on Twitter or become a fan of HealthyPlace on Facebook. Also, check out HealthyPlace on Instagram, YouTube and Pinterest, where you can share your mental health pins on our Share Your Mental Health Experiences board.
APA Reference
Peterson, T. (2019, September 9). 4 Signs Anxiety is Starting to Take Over Your Life , HealthyPlace. Retrieved on 2023, December 11 from https://www.healthyplace.com/other-info/mental-health-newsletter/4-signs-anxiety-is-starting-to-take-over-your-life
Last Updated: September 10, 2019