Balanced Mental Health to Nurture Your Whole Self
What's going on at HealthyPlace this week?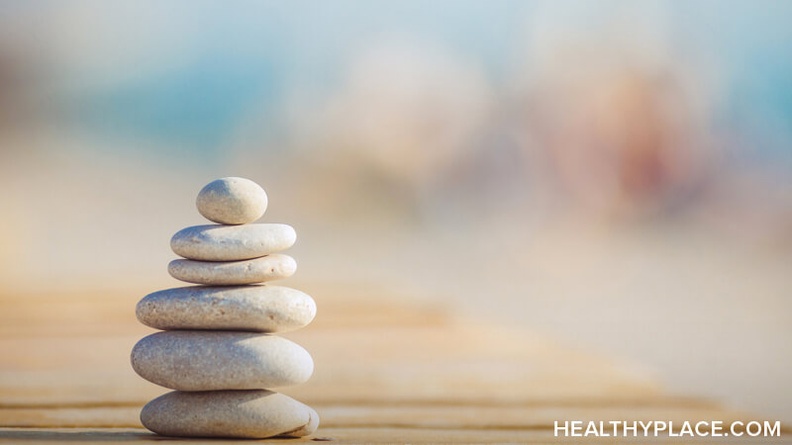 Focusing on our mental health is incredibly important, and the fact that mental health is increasingly in the spotlight is a very good thing. Sometimes, though, it's easy to become unbalanced in our focus. In wanting to boost mental health, we can end up neglecting other aspects of ourselves and our lives.
Quite likely, you care about your home and value having a roof over your head. Imagine that the roof of your house or building became your sole focus, and every day you went up there to tend to it, spending the entire day repairing little areas that became damaged by the night's weather, removing debris, and cleaning it. You'd have one fantastic roof, but the rest of your home would fall into disrepair. Similarly, if we tend to only one aspect of ourselves, the rest of our being can suffer.
It can be difficult to listen to ourselves, though, especially when mental health challenges erode our self-confidence. Think of it as an ongoing adventure in self-discovery in which you gradually build the skills you need to listen to and honor yourself as your best mental health resource. Here are some tips for listening to and trusting yourself.
Create a balanced approach to mental health by intentionally nurturing your whole self:
The key to mental health and wellbeing is to actively care for your entire self and life experience. Start small, with one action step every day toward balanced wellbeing.
Recommended Video
The yin and yang of anxiety work together, so addressing one doesn't address the other. Learn more about the yin and yang of anxiety and how to treat them both. Take a look.
Mental Health and Wellbeing Articles
Today's Question: What is one positive activity that you do for yourself that helps your mental health and total wellbeing? We invite you to participate by sharing your thoughts, experiences, and knowledge on the HealthyPlace Facebook page.
------------------------------------------------------------------
From the HealthyPlace Mental Health Blogs
On all our blogs, your comments and observations are welcomed.
Feel free to share your thoughts and comments at the bottom of any blog post. And visit the mental health blogs homepage for the latest posts.
------------------------------------------------------------------
From the HealthyPlace YouTube Channel
Do you have thoughts of hurting yourself? Kim does even though she's been in self-harm recovery for some time now. Find out how she deals with thoughts of hurting herself in this video. Take a look.
Subscribe to the HealthyPlace YouTube channel
------------------------------------------------------------------
Most Popular HealthyPlace Articles Shared by Facebook Fans
Here are the top 3 mental health articles HealthyPlace Facebook fans are recommending you read:
If you haven't already, I hope you'll like us on Facebook too. There are a lot of wonderful, supportive people there.
------------------------------------------------------------------
Quote on Hurtful Relationships
"I am slowly learning that some people are not good for me, no matter how much I love them."
Read more quotes about abuse and toxic relationships.
------------------------------------------------------------------
That's it for now. If you know of anyone who can benefit from this newsletter or the HealthyPlace.com site, I hope you'll pass this onto them. Please share the newsletter on any social network you belong to. For updates throughout the week, follow us on Twitter, like us on Facebook, subscribe to our YouTube channel, or follow us on Instagram.
Thank you,
Deborah
Community Partner Team
HealthyPlace.com - America's Mental Health Channel
"When you're at HealthyPlace.com, you're never alone."
http://www.healthyplace.com
APA Reference
Peterson, T. (2022, January 18). Balanced Mental Health to Nurture Your Whole Self, HealthyPlace. Retrieved on 2023, December 2 from https://www.healthyplace.com/other-info/mental-health-newsletter/balanced-mental-health-to-nurture-your-whole-self
Last Updated: January 18, 2022