Mental Health First Aid: How to Handle a Mental Health Emergency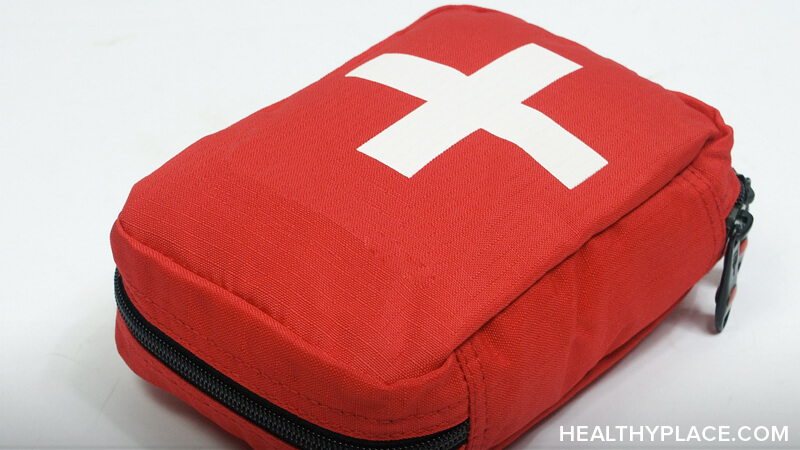 Mental Health First Aid is training on how to handle a mental health emergency. Mental health emergencies can happen at any time and to anyone. Examples might be a person who is suicidal, a person experiencing a panic or anxiety attack, a person experiencing trauma, an incident of self-harm or a person who is psychotic. Emergency mental health needs can be handled by the average individual until professional, trained, emergency personnel, such as paramedics, arrive.
If you have been trained in cardiopulmonary resuscitation (CPR) you recognize the importance of helping someone having a medical crisis through First Aid. Why would a mental health emergency be any less important to train for?
The National Mental Health First Aid course is primarily managed and supported by the National Council for Behavioral Health.
Emergency Mental Health First Aid Course Topics
The first thing you learn in Mental Health First Aid is about mental illness. This is known as "mental illness literacy." You cannot help someone until you understand what he or she might be going through. For a mental health emergency, courses teach about:
Mental Health First Aid courses are based on the notion that people can and do get better from these illnesses.
Mental Health First Aid Action Plan
Once you learn about the basics of mental illness, you will learn about a mental health first aid action plan that will allow you to:
Access the situation for risk of harm or suicide – look for signs of suicidal thoughts or behaviors.
Listen nonjudgmentally – listening and having a meaningful conversation is a skill and can be very powerful.
Give reassurance and information – communicate that people can and do get better from mental illness and do not blame the person for the situation. Offer information and resources to help educate and support the person.
Encourage appropriate professional help – it's critical that anyone experiencing a mental health emergency contact professional help such as a doctor, psychologist or social worker.
Encourage self-help and other support strategies – self-help strategies can be employed to take control over wellness such as participation in a peer support group and healthy lifestyle choices such as exercise.
These five steps are represented by the acronym "ALGEE" and are applied to all mental health emergency situations.
In an emergency mental health course, you will be able to use role-play scenarios and exercises to help practice what you learn in the course.
Finding a Mental Health First Aid Course
Remember, Mental Health First Aid's steps are just as rigorous as first aid steps for any other type of medical emergency and you need training in order to execute them properly.
Find a Mental Health First Aid course being held near you here.
APA Reference
Tracy, N. (2019, November 15). Mental Health First Aid: How to Handle a Mental Health Emergency, HealthyPlace. Retrieved on 2023, December 6 from https://www.healthyplace.com/other-info/mental-illness-overview/mental-health-first-aid-how-to-handle-a-mental-health-emergency
Last Updated: October 23, 2019