Disaster Mental Health after Hurricane Harvey
Here's what's happening on the HealthyPlace site this week:
---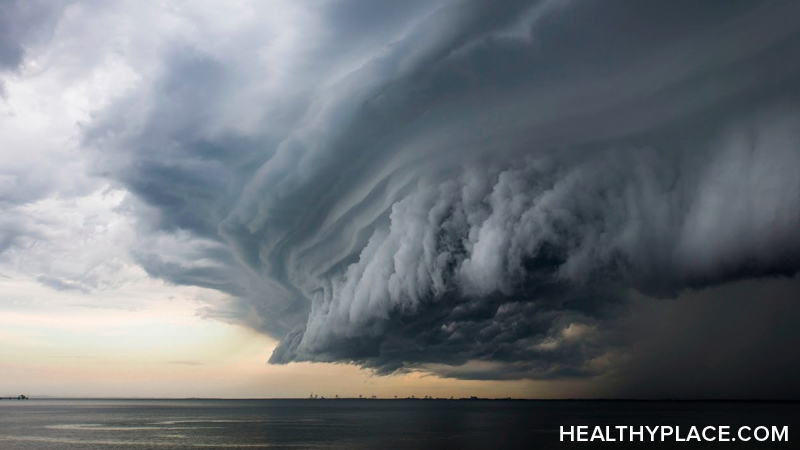 Disaster Mental Health after Hurricane Harvey
Are you overwhelmed by Hurricane Harvey's attack on Texas? If you're overwhelmed, take a deep breath and let yourself feel the way you feel. Natural disasters cause, among other things,
Destruction
Death
Loss and grief
Homelessness
Fear, anxiety, depression, acute stress disorder, and possibly, later, PTSD
Anger and irritability
Constant thoughts of the disaster, including both daytime thoughts and nightmares
Frustration over how to care for children, self, and others
When the world has been turned upside down, how do you possibly straighten things out and take care of your mental health? How do you cope with a traumatic event like Harvey? The American Red Cross's Disaster Mental Health Service shares these tips:
Make safety your priority. Remove yourself from dangerous situations, possibly seeking shelter in approved locations.
Maintain your physical health by eating as healthy as possible, staying hydrated with safe water, and resting.
Stay connected to family and friends. Mutual support is important.
If necessary, contact volunteers who can help you get your medication.
Set priorities, little action steps to take rather than trying to tackle a huge problem at once.
Be patient with yourself and others. This is unusual, and emotions and tempers will flare.
In addition to the Red Cross, SAMHSA (Substance Abuse and Mental Health Services Administration) offers information, resources, and helplines: Hurricanes and Tropical Storms.
Related Articles Dealing with Disaster
Your Thoughts
Today's Question: If you are experiencing the ongoing effects of Hurricane Harvey or have lived through other natural disasters, what did you do to take care of your mental health during the event? We invite you to participate by sharing your thoughts, experiences, and knowledge on the HealthyPlace Facebook page and on the HealthyPlace Google+ page.
---
---
From the HealthyPlace Mental Health Blogs
On all our blogs, your comments and observations are welcomed.
Feel free to share your thoughts and comments at the bottom of any blog post. And visit the mental health blogs homepage for the latest posts.
------------------------------------------------------------------
From HealthyPlace YouTube Channel
How My Depression Started
How does depression start? How did your depression start? Mine started 15 years ago. I was just a teenager trying to figure out how to fit in. It was an awkward time for me. I was a young Filipino girl in an upper-class white private school.
------------------------------------------------------------------
Most Popular HealthyPlace Articles Shared by Facebook Fans
Here are the top 3 mental health articles HealthyPlace Facebook fans are recommending you read:
If you're not already, I hope you'll join us/like us on Facebook too. There are a lot of wonderful, supportive people there.
------------------------------------------------------------------
Mental Health Quote
"It's hard to get rid of the demons inside you because they were holding you when nobody else did."
Read more mental health quotes.
------------------------------------------------------------------
That's it for now. If you know of anyone who can benefit from this newsletter or the HealthyPlace.com site, I hope you'll pass this onto them. You can also share the newsletter on any social network (like facebook, stumbleupon, or google+) you belong to by clicking the links below. For updates throughout the week, circle HealthyPlace on Google+, follow HealthyPlace on Twitter or become a fan of HealthyPlace on Facebook. Also, check out HealthyPlace on Pinterest and share your mental health pins on our Share Your Mental Health Experiences board.
back to: HealthyPlace.com Mental-Health Newsletter Index
APA Reference
Peterson, T. (2017, September 4). Disaster Mental Health after Hurricane Harvey, HealthyPlace. Retrieved on 2023, December 2 from https://www.healthyplace.com/other-info/mental-health-newsletter/disaster-mental-health-after-hurricane-harvey
Last Updated: September 6, 2017