How to Manage Fear in The Face of Riots and COVID-19
Here's what's happening on the HealthyPlace site this week:
---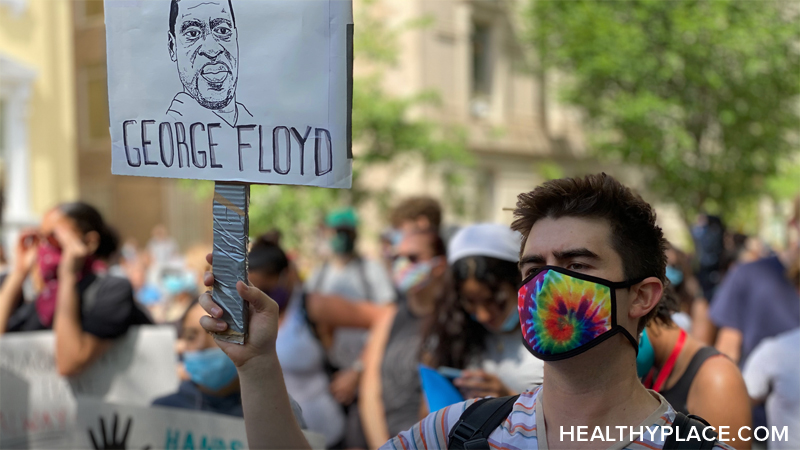 How to Manage Fear in The Face of Riots and COVID-19
Right now, we are facing huge stressors that are largely out of our control. The worldwide pandemic caused by the outbreak of a new coronavirus has led to social isolation and economic upheaval. The tragic death of George Floyd at the hands of police on May 25 sparked ongoing riots throughout the U.S. The dreadful act of racism, violence, destruction, and threats to our health and wellbeing combine to cause extreme stress, anxiety, and fear in many people. If you are facing strong negative emotions and thoughts, rest assured that these are normal in the face of severe stressors.
These tips, adapted from the American Psychological Association, can help you cope with acute stress, traumatic stress, heightened anxiety, and fear.
Acknowledge your feelings, and allow yourself to experience them. It's okay to have intense, negative reactions. Accepting the full range of your feelings rather than resisting or denying them allows you to move past them.
Develop and use healthy coping strategies. Find support (a therapist, a support groups, and friends or loved ones willing to listen are all helpful), follow a regular daily routine and sleep schedule, eat healthy foods, and exercise; these activities support physical and mental health.
Counter the negative with realistic, positive perspectives. Every day, seek out the good in yourself, others, and the world. Identify things big and small for which you are grateful. Find the people doing good deeds (including simply smiling at others from afar). Remember, too, to minimize your exposure to news and social media.
Do something active. Action is empowering and helps beat stress, anxiety, and fear. Reach out to a neighbor to see how you can help them during this time, or volunteer with an organization you believe in.
Trauma, stress, anxiety, and fear are real. Use the above strategies to manage what you can control so you can be mentally healthy despite what is out of your control.
Source:
Managing your distress in the aftermath of a shooting. (n.d.). American Psychological Association. Retrieved May 2020 from https://www.apa.org/topics/mass-shooting
Related Articles Dealing with Traumatic Stress, Acute Stress, Anxiety, and Fear
Your Thoughts
Today's Question: With COVID-19 and the killing of George Floyd and the resulting protests, these are very anxiety provoking times. How are they affecting your mental health and what things are you doing to help your mental health during these tumultuous times? We invite you to participate by sharing your thoughts, experiences, and knowledge on the HealthyPlace Facebook page.
From the HealthyPlace Mental Health Blogs
On all our blogs, your comments and observations are welcomed.
Feel free to share your thoughts and comments at the bottom of any blog post. And visit the mental health blogs homepage for the latest posts.
------------------------------------------------------------------
Most Popular HealthyPlace Articles Shared by Facebook Fans
Here are the top 3 mental health articles HealthyPlace Facebook fans are recommending you read:
If you're not already, I hope you'll join us/like us on Facebook too. There are a lot of wonderful, supportive people there.
------------------------------------------------------------------
Mental Health Quote
"Trauma creates changes you don't choose. Healing is about creating change that you do choose."
Read more mental health quotes.
------------------------------------------------------------------
That's it for now. If you know of anyone who can benefit from this newsletter or the HealthyPlace.com site, I hope you'll pass this onto them. You can also share the newsletter on any social network (like facebook or stumbleupon) you belong to by clicking the links below. For updates throughout the week, follow HealthyPlace on Twitter or become a fan of HealthyPlace on Facebook. Also, check out HealthyPlace on Instagram, YouTube and Pinterest, where you can share your mental health pins on our Share Your Mental Health Experiences board.
APA Reference
Peterson, T. (2020, June 2). How to Manage Fear in The Face of Riots and COVID-19, HealthyPlace. Retrieved on 2023, December 8 from https://www.healthyplace.com/other-info/mental-health-newsletter/how-to-manage-fear-in-the-face-of-riots-and-covid-19
Last Updated: June 2, 2020