Mental Illness Decimates Self-Image, Sense of Self-Worth
Here's what's happening on the HealthyPlace site this week:
---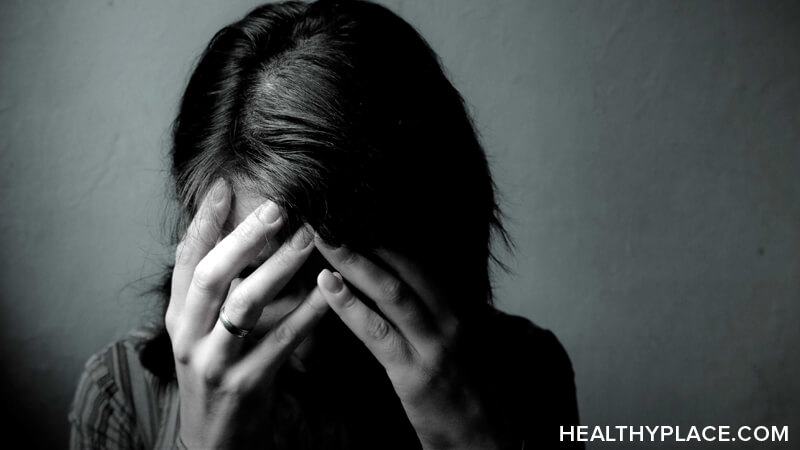 Mental Illness Decimates Self-Image, Sense of Self-Worth
Mental illness can destroy your self-image. You see, a tragic effect of mental illness is how it can make you feel about yourself. Living with mental illness affects the way you think, how you feel about yourself, others, and your life, and the things you believe you can and can't do. A relentless bully, mental illness damages self-esteem and sense of self-worth. The more you listen to its loud (albeit false) accusations of your inherent value, the more your self-image and sense of self-worth takes a hit.
Mental illness distorts thinking. This means that the negative thoughts you have about yourself aren't accurate. In reality, you are a complete person, not an illness. You have strengths and positive traits. It's hard, but you can come to see them and believe in yourself.
Start by acknowledging it and know that it may take some time to fully believe it.
Spend time identifying your positive traits and qualities. Catch yourself doing little things you're proud of, reflect on your traits in a journal, and/or keep a running list of your positive qualities that you add to regularly.
Do something every day to use one of your positive qualities.
Be kind to yourself. You're not your mental illness, and with persistence, your voice will be much louder than that of your illness.
Source:
Suicide rising across the US. (2018). Centers for Disease Control. Retrieved from https://www.cdc.gov/vitalsigns/suicide/
Related Articles Relating to Your Worth, Self-Esteem, and Mental Illness
Your Thoughts
Today's Question: What helps you believe in your worth when mental illness fills you with negative self-talk? We invite you to participate by sharing your thoughts, experiences, and knowledge on the HealthyPlace Facebook page.
------------------------------------------------------------------
advertisement
Is Anxiety in Bipolar Troubling You or a Loved One? Read on.
Half of those with bipolar disorder also have an anxiety disorder and anxiety can worsen the prognosis of bipolar. This means if you have bipolar disorder or love someone who does, you need to understand anxiety too. Check out this webinar by bipolar expert Natasha Tracy to get all your questions answered.
Get details here.
------------------------------------------------------------------
From the HealthyPlace Mental Health Blogs
On all our blogs, your comments and observations are welcomed.
Feel free to share your thoughts and comments at the bottom of any blog post. And visit the mental health blogs homepage for the latest posts.
------------------------------------------------------------------
Most Popular HealthyPlace Articles Shared by Facebook Fans
Here are the top 3 mental health articles HealthyPlace Facebook fans are recommending you read:
If you're not already, I hope you'll join us/like us on Facebook too. There are a lot of wonderful, supportive people there.
------------------------------------------------------------------
Mental Health Quote
"Healing doesnt mean the damage never existed. It means the damage no longer controls our lives."
Read more mental health quotes.
------------------------------------------------------------------
That's it for now. If you know of anyone who can benefit from this newsletter or the HealthyPlace.com site, I hope you'll pass this onto them. You can also share the newsletter on any social network (like facebook or stumbleupon) you belong to by clicking the links below. For updates throughout the week, follow HealthyPlace on Twitter or become a fan of HealthyPlace on Facebook. Also, check out HealthyPlace on Instagram and YouTube.
APA Reference
Peterson, T. (2020, August 18). Mental Illness Decimates Self-Image, Sense of Self-Worth, HealthyPlace. Retrieved on 2023, September 30 from https://www.healthyplace.com/other-info/mental-health-newsletter/mental-illness-decimates-self-image-sense-of-self-worth
Last Updated: November 22, 2020