Verbal Abuse by Others or Yourself Devastates
Here's what's happening on the HealthyPlace site this week:
---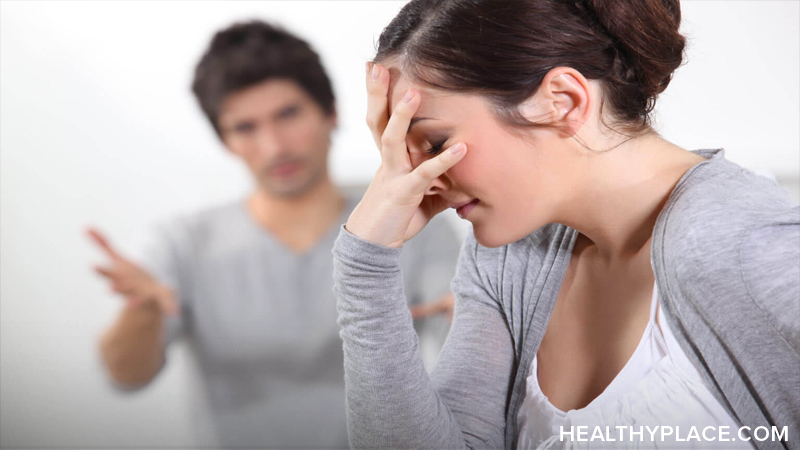 Verbal Abuse by Others or Yourself Devastates
Words matter. Words and actions can build up, or they can strike down. Words spoken harshly, with the intention of hurting someone, are abusive.
Verbal abuse comes from different sources, such as:
a partner
a boss
a coworker
a "friend"
a parent
family members
a teacher
oneself
Verbal abuse is dangerous and can shred self-esteem. It can lead to mental illnesses like anxiety, depression, eating disorders, or PTSD. Often, verbal abuse from someone who is supposed to love you and treat you kindly is confusing and makes you constantly question and blame yourself. You learn to hate things you think you did or the way you are.
Sadly, many people turn verbal abuse against themselves. Instead of treating themselves with kindness and self-compassion, they say hurtful things to themselves harshly. Have you found yourself saying things like:
I'm stupid
I'm worthless
I don't deserve love
Bad things are my fault
These are examples of verbal abuse turned inward, and like cruel words from others, they destroy self-esteem, lead to the same illnesses mentioned above, and deepen struggles.
The first steps in your journey to kind treatment is to be aware of verbally abusive words from any source and open yourself to the realistic possibility that they are untrue. Slowly, you can rise out of the hurt.
Related Articles Dealing with Verbal Abuse
Your Thoughts
Today's Question: As a victim of verbal abuse from others or yourself, how did it hurt you, and how are you healing? We invite you to participate by sharing your thoughts, knowledge, and experience on the HealthyPlace Facebook page and on the HealthyPlace Google+ page.
From the HealthyPlace Mental Health Blogs
On all our blogs, your comments and observations are welcomed.
Feel free to share your thoughts and comments at the bottom of any blog post. And visit the mental health blogs homepage for the latest posts.
------------------------------------------------------------------
From HealthyPlace YouTube Channel
I'm Hannah. I Have Bipolar 2
3 Ways to Talk about Bipolar Disorder with Family, Friends
Talking about bipolar disorder to family and friends is a process that requires patience. It's a topic that is rarely discussed within families, and not your typical dinner conversation. However, I believe that if those closest to us can absorb knowledge about bipolar disorder in a way that's comfortable for them, it makes discussing it easier for everyone. (Watch Hannah)
------------------------------------------------------------------
Most Popular HealthyPlace Articles Shared by Facebook Fans
Here are the top 3 mental health articles HealthyPlace Facebook fans are recommending you read:
If you're not already, I hope you'll join us/like us on Facebook too. There are a lot of wonderful, supportive people there.
------------------------------------------------------------------
Mental Health Quote
"Self-care is how you take your power back."
Read more mental health quotes.
------------------------------------------------------------------
That's it for now. If you know of anyone who can benefit from this newsletter or the HealthyPlace.com site, I hope you'll pass this onto them. You can also share the newsletter on any social network (like facebook, stumbleupon, or google+) you belong to by clicking the links below. For updates throughout the week, circle HealthyPlace on Google+, follow HealthyPlace on Twitter or become a fan of HealthyPlace on Facebook. Also, check out HealthyPlace on Pinterest and share your mental health pins on our Share Your Mental Health Experiences board.
back to: HealthyPlace.com Mental-Health Newsletter Index
APA Reference
Peterson, T. (2018, May 14). Verbal Abuse by Others or Yourself Devastates, HealthyPlace. Retrieved on 2023, September 21 from https://www.healthyplace.com/other-info/mental-health-newsletter/verbal-abuse-by-others-or-yourself-devastates
Last Updated: June 5, 2018