Don't Get Mad; How Anger Disrupts Mental Health
HealthyPlace Mental Health Newsletter
Here's what's happening on the HealthyPlace site this week: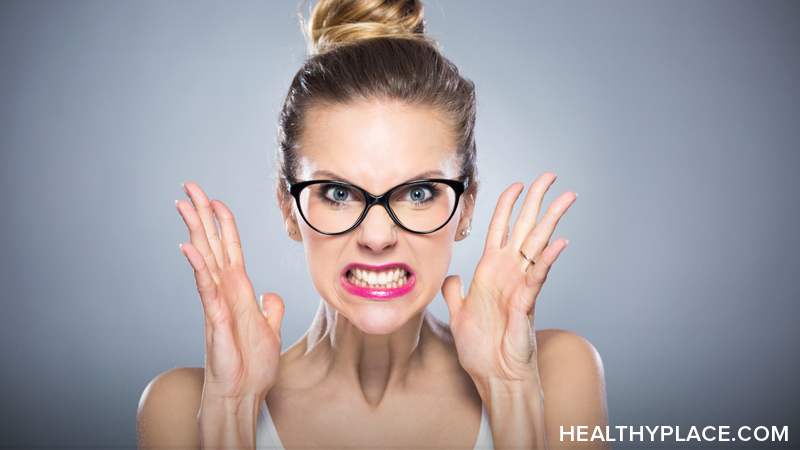 Don't Get Mad; How Anger Disrupts Mental Health
Anger is a normal human emotion that can disrupt mental health. Anger, part of the fight-or-flight system, can serve a protective function. Feeling angry fuels aggression and motivates us to fight. Stressful situations; perceived embarrassment, humiliation, or bullying; substance use; and some mental illnesses (such as mood disorders, trauma- and stressor induced disorders, and some personality disorders) cause people to experience strong feelings of anger.
Anger, unfortunately, interferes in relationships, school, and employment. It often leads to isolation and loneliness, which can be frustrating and fuel more anger. Additionally, anger disrupts mental health by diminishing the sense of happiness and overall life satisfaction.
Controlling Anger: Think Before You Act
An effective way to prevent anger from interfering in life is to think differently about situations and people that trigger anger (how to control anger). You can't control how others act, but you can control how you react. Determine what's important to you in your relationships, and speak and act to enhance what's important. When your instinct is to lash out in anger, stop for a moment, breathe deeply, call to mind your values, and choose your actions and reactions accordingly. You'll find yourself acting on anger less and preserving what you love, including your mental health, more.
Related Articles Dealing with Anger and Mental Health
Your Thoughts
Today's Question: What keeps you from lashing out in anger when getting mad feels natural? We invite you to participate by commenting and sharing your feelings, experiences and knowledge on the HealthyPlace Facebook page and on the HealthyPlace Google+ page.
---
---
Share our Stories
At the top and bottom of all our stories, you'll find social share buttons for Facebook, Google+, Twitter, Pinterest and other social sites. If you find a particular story, video, psychological test or other HealthyPlace feature helpful, there's a good chance others in need will too. Please share.
We also get many inquiries about our linking policy. If you have a website or blog, you can link to any page on the HealthyPlace website without asking us beforehand.
Most Popular HealthyPlace Articles Shared by Facebook Fans
Here are the top 3 mental health articles HealthyPlace Facebook fans are recommending you read:
If you're not already, I hope you'll join us/like us on Facebook too. There are a lot of wonderful, supportive people there.
------------------------------------------------------------------
From the HealthyPlace Mental Health Blogs
On all our blogs, your comments and observations are welcomed.
On all our blogs, your comments and observations are welcomed.
Feel free to share your thoughts and comments at the bottom of any blog post. And visit the mental health blogs homepage for the latest posts.
------------------------------------------------------------------
Stand Up for Mental Health
Thousands Have Joined the Stand Up for Mental Health Campaign
But we still need you. Let others know there's no shame in having depression, anxiety, bipolar disorder, trichotillomania, OCD, ADHD, schizophrenia or any other mental illness.
Join the Stand Up for Mental Health campaign. Put a button on your website or blog (buttons for family members, parents, mental health professionals and organizations too). We also have covers for Facebook, Twitter and Google+.
------------------------------------------------------------------
Latest Mental Health News
These stories and more are featured on our mental health news page:
Watching Food Commercials Changes Children's Brain Activity, Influencing Their Food Decisions
Schizophrenia Symptoms Eased With Aerobic Exercise
Financial Worries Linked To Mental Health Issues Among University Students
Activating Dopamine Neurons Could Turn Off Binge-Like Eating Behavior
Correcting Metabolic Deficiencies May Improve Depression Symptoms
'Feeling Full' Hormone Increase In Seniors May Explain 'Anorexia Of Aging'
Longer Duration Of Untreated Childhood Schizophrenia-Spectrum Psychosis Predicts Poorer Outcomes
Children Can Benefit When Adoptive, Biological Parents Share Adoption Stories
That's it for now. If you know of anyone who can benefit from this newsletter or the HealthyPlace.com site, I hope you'll pass this onto them. You can also share the newsletter on any social network (like facebook, stumbleupon, or digg) you belong to by clicking the links below. For updates throughout the week:
back to: HealthyPlace.com Mental-Health Newsletter Index
APA Reference
Peterson, T. (2016, August 17). Don't Get Mad; How Anger Disrupts Mental Health, HealthyPlace. Retrieved on 2023, December 11 from https://www.healthyplace.com/other-info/mental-health-newsletter/don-t-get-mad-how-anger-disrupts-mental-health
Last Updated: August 17, 2016