Join the Stand Up for Mental Health Campaign
Get Your Stand Up for Mental Health Buttons Below
Join us and help spread the word about the Stand Up For Mental Health campaign and let others with a mental health condition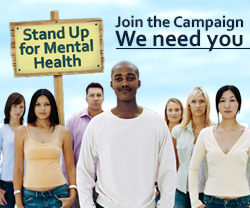 know they are not alone and don't have to hide in shame.
Select the banner category for your, or your loved one's, specific condition. (There are also special buttons for mental health professionals, parents of children with a mental health disorder and the general public.) Simply copy the code below the image you want and paste it into your website or blog page wherever you want it to appear. The button/banner sizes are: 180x150, 300x250. (Go here for images for social sites, like your Facebook or Google+ page.)
After it's on your page, email us at standup AT healthyplace.com and we'll add your information to the list of sites, blogs and people who have joined the Stand Up for Mental Health campaign. We need:
Your name
The name of your website or blog
The URL to your website or blog homepage where the banner or button appears
If you need assistance with anything, please email us at the address above. You can also spread the word about the Stand Up For Mental Health campaign via our special email form.
On behalf of the millions with anxiety, depression, bipolar disorder, adhd, ocd, eating disorders, personality disorders, schizophrenia and other mental health disorders, thank you for joining us and standing up for mental health.
Let your friends and others know via email that you've joined the Stand Up for Mental Health campaign.
next: Mental Illness Stigma Stories
~ stigma videos
~ all stand up for mental health articles
APA Reference
Gluck, S. (2015, January 15). Join the Stand Up for Mental Health Campaign, HealthyPlace. Retrieved on 2023, December 4 from https://www.healthyplace.com/stigma/stand-up-for-mental-health/join-the-stand-up-for-mental-health-campaign
Last Updated: July 5, 2016