Negative Mental Illness Terms: Think Before You Speak
HealthyPlace Mental Health Newsletter
Here's what's happening on the HealthyPlace site this week:
Negative Mental Illness Terms: Think Before You Speak
In the today's world, people tend to say phrases that may be hurtful; many times, without even thinking about it. Sometimes, these phrases target specific populations – like those struggling with mental illness. Statements such as, "You're acting bipolar" is one phrase that seems to be greatly overused. Other sayings such as, "You're so gay" and "That's retarded" are also just as hurtful and need to be recognized and stopped.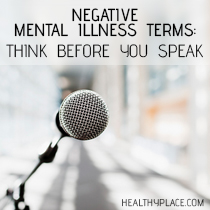 Why are these negative mental illness sayings thrown around with such ease? (Worst Thing To Say To A Person With Bipolar Disorder) It may be due to the lack of knowledge about mental illness. In addition, kids and teens have become so numb to the words they utter, they are ignorant about the ramifications. When someone struggling with bipolar disorder hears - "he's been so bipolar lately" - that comment may send them into a depression and lead to fear about ever opening up about their demons.
These derogatory comments minimize mental illness. It's crucial to think before you speak. And if you hear someone spewing those phrases or comments, maybe next time you'll think about pointing that out.
Articles Related to Mental Illness Terms
Your Thoughts
Today's Question: What effect do comments such as, "You're so bipolar" or "You're so gay" or "You're so retarded" have on you? We invite you to participate by commenting and sharing your feelings, experiences and knowledge on the HealthyPlace Facebook page and on the HealthyPlace Google+ page.
------------------------------------------------------------------
Share our Stories
At the top and bottom of all our stories, you'll find social share buttons for Facebook, Google+, Twitter, Pinterest and other social sites. If you find a particular story, video, psychological test or other HealthyPlace feature helpful, there's a good chance others in need will too. Please share.
We also get many inquiries about our linking policy. If you have a website or blog, you can link to any page on the HealthyPlace website without asking us beforehand.
---
---
Most Popular HealthyPlace Articles Shared by Facebook Fans
Here are the top 3 mental health articles HealthyPlace Facebook fans are recommending you read:
If you're not already, I hope you'll join us/like us on Facebook too. There are a lot of wonderful, supportive people there.
------------------------------------------------------------------
From the HealthyPlace Mental Health Blogs
On all our blogs, your comments and observations are welcomed.
Feel free to share your thoughts and comments at the bottom of any blog post. And visit the mental health blogs homepage for the latest posts.
------------------------------------------------------------------
Stand Up for Mental Health
Thousands Have Joined the Stand Up for Mental Health Campaign
But we still need you. Let others know there's no shame in having depression, anxiety, bipolar disorder, trichotillomania, OCD, ADHD, schizophrenia or any other mental illness.
Join the Stand Up for Mental Health campaign. Put a button on your website or blog (buttons for family members, parents, mental health professionals and organizations too). We also have covers for Facebook, Twitter and Google+.
------------------------------------------------------------------
Latest Mental Health News
These stories and more are featured on our mental health news page:
Laugh It Off. How Humor Heals
Illinois Counties At High Risk For Self-Inflicted Injuries Among Youth
Study Finds Mental Health Providers Not Well Prepared To Care For Military Veterans
Exercise Protects Against Depression - But How?
Therapeutic Advances Or Fads In Psychotropic Drug Prescribing?
PTSD Toll On Civilians Ignored By Federal Legislation
How Memory Is Processed 'May Influence Risk Of PTSD'
Can Depression And Guilt In Preschool Years Change The Brain?
That's it for now. If you know of anyone who can benefit from this newsletter or the HealthyPlace.com site, I hope you'll pass this onto them. You can also share the newsletter on any social network (like facebook, stumbleupon, or digg) you belong to by clicking the links below. For updates throughout the week:
APA Reference
Staff, H. (2014, November 17). Negative Mental Illness Terms: Think Before You Speak, HealthyPlace. Retrieved on 2023, December 9 from https://www.healthyplace.com/other-info/mental-health-newsletter/negative-mental-illness-terms-think-before-you-speak
Last Updated: November 21, 2014