New Abuse Information on HealthyPlace
HealthyPlace Mental Health Newsletter
Here's what's happening on the HealthyPlace site this week:
We've Re-Energized Our Abuse Information Community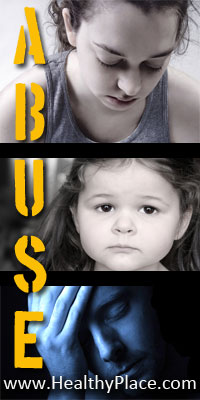 Our new re-energized Abuse Information Community launched today. We have a lot of new content about all aspects of abuse, not only in children but adults too. You'll find written content, videos on abuse issues and online abuse tests that help clarify symptoms of abuse you may be dealing with. Come take a look.
Psychological Abuse of Children Just As Harmful As Other Forms of Abuse
It's interesting how things coincide with each other. A new report from the American Academy of Pediatrics concludes that constantly threatening, belittling or ignoring children can be as damaging to their mental health as child physical abuse or sexual abuse of a child. And the effects can be just as long-lasting. Researchers estimate about 8% of women and 4% of men have experienced significant psychological abuse in childhood.
A Sample of Stories You'll Find in Our New Abuse Community
------------------------------------------------------------------
Share our Stories
At the top and bottom of all our stories, you'll find social share buttons for Facebook, Google+, Twitter, Pinterest and other social sites. If you find a particular story, video, psychological test or other HealthyPlace feature helpful, there's a good chance others in need will too. Please share.
We also get many inquiries about our linking policy. If you have a website or blog, you can link to any page on the HealthyPlace website without asking us beforehand.
------------------------------------------------------------------
Most Popular HealthyPlace Articles Shared by Facebook Fans
Here are the top 3 mental health articles HealthyPlace Facebook fans are recommending you read:
If you're not already, I hope you'll join us/like us on Facebook too. There are a lot of wonderful, supportive people there.
---
continue story below
---
Mental Health Experiences
Share your thoughts/experiences with any mental health subject, or respond to other people's audio posts, by calling our toll-free number (1-888-883-8045).
You can listen to what other people are saying by clicking on the gray title bars inside the widgets located on the "Sharing Your Mental Health Experiences" homepage, the HealthyPlace homepage, and the HealthyPlace Support Network homepage.
If you have any questions, write us at: info AT healthyplace.com
------------------------------------------------------------------
From the HealthyPlace Mental Health Blogs
We are welcoming Shawn Maxam to HealthyPlace.com. Shawn has a new blog titled "The Bipolar Griot." He'll be sharing his experiences in managing bipolar disorder as well as addressing mental health issues facing people in the Black community. You can read more about Shawn here and drop a comment on his board. (and yes, he explains the term "griot" in his video)
Your comments and observations are welcomed.
Feel free to share your thoughts and comments at the bottom of any blog post. And visit the mental health blogs homepage for the latest posts.
Surviving a Long-Lasting Battle with Severe Depression on HealthyPlace TV
Amy Kiel has struggled w/ major depression for 20 years; including two suicide attempts and trying multiple depression treatments. It's also been tough on her two children.
On this edition of the HealthyPlace Mental Health TV Show, Amy discusses her battle with depression and how she's managed to survive through it all.
Is Your Child A Bully? Helping Kids Become More Accepting of Others
We talk a lot about bullying and helping your kids manage bullies, but what if your child is a bully? The Parent Coach, Dr. Steven Richfield, has helpful ideas for parents dealing with a child bully and how to address those types of behaviors.
That's it for now. If you know of anyone who can benefit from this newsletter or the HealthyPlace.com site, I hope you'll pass this onto them. You can also share the newsletter on any social network (like facebook, stumbleupon, or digg) you belong to by clicking the links below. For updates throughout the week:
APA Reference
Staff, H. (2012, July 31). New Abuse Information on HealthyPlace, HealthyPlace. Retrieved on 2023, November 28 from https://www.healthyplace.com/other-info/mental-health-newsletter/new-abuse-information-on-healthyplace
Last Updated: September 4, 2014