How to Offer Mental Health Support to Someone Who Rejects It
HealthyPlace Mental Health Newsletter
Here's what's happening on the HealthyPlace site this week:
How to Offer Mental Health Support to Someone Who Rejects It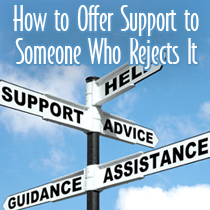 You've tried to offer mental health support to a loved one or family member, but they keep rejecting it. Now what do you do?
Why Would Someone Reject Mental Health Support?
When someone is going through a mental health struggle, he or she may feel embarrassed or insecure about their battle. Many people who are newly diagnosed with a mental illness, or are dealing with new moods and emotions, may grow angry when others try to show mental health support (Mental Illness and Anger). It is absolutely normal for the struggling individual to close others out, but sometimes, loved ones may feel helpless because they don't know how to reach that person to show support (Isolation: A Double-Edged Sword For The Mentally Ill).
Start with Small Doses of Mental Health Support
You do not want to overwhelm someone with support and advice if they are not ready to embrace it yet. Instead, find small, non-intrusive ways to show them you care. You can do this in ways that are not obviously focused on the mental illness at hand.
Plan a Relaxing Activity. By planning a day or an activity to do with the person struggling, the individual will be able to step away from their frustrations and focus on something else. Make sure the activity is relaxing, calming and, of course, fun for everyone involved.
Buy a Helpful Book or Movie. When you purchase a book or movie that has a positive message or involves a character similar to the person you know, that person will be able to take the positive message with them without having to talk about his or her own struggles.
Mail a Fun Care Package. In the day of constant email and messaging, getting actual mail can be extremely exciting. Send your loved one a package filled with fun ways to de-stress not involving their mental illness in any way. You can easily find low-cost items that will brighten your loved one's day and remind them to keep their chin up.
One final note, and this may be the most significant insight I can share with you - while you may want to talk with the person about their mental illness, they may not be ready to or feel like it, or they may not want to discuss it with you. This can be downright frustrating and angering. That's why you may want to consider a therapist for yourself. You'll have someone to share your feelings with and a professional who can provide some guidance.
Articles on Supporting Loved Ones with a Mental Illness
Your Thoughts
Today's Question: What effective ways have you found to support a family member or loved one with mental illness? We invite you to participate by commenting and sharing your feelings, experiences and knowledge on the HealthyPlace Facebook page and on the HealthyPlace Google+ page.
------------------------------------------------------------------
Share our Stories
At the top and bottom of all our stories, you'll find social share buttons for Facebook, Google+, Twitter, Pinterest and other social sites. If you find a particular story, video, psychological test or other HealthyPlace feature helpful, there's a good chance others in need will too. Please share.
We also get many inquiries about our linking policy. If you have a website or blog, you can link to any page on the HealthyPlace website without asking us beforehand.
---
---
Most Popular HealthyPlace Articles Shared by Facebook Fans
Here are the top 3 mental health articles HealthyPlace Facebook fans are recommending you read:
If you're not already, I hope you'll join us/like us on Facebook too. There are a lot of wonderful, supportive people there.
------------------------------------------------------------------
From the HealthyPlace Mental Health Blogs
On all our blogs, your comments and observations are welcomed.
Feel free to share your thoughts and comments at the bottom of any blog post. And visit the mental health blogs homepage for the latest posts.
------------------------------------------------------------------
Stand Up for Mental Health
Thousands Have Joined the Stand Up for Mental Health Campaign
But we still need you. Let others know there's no shame in having depression, anxiety, bipolar disorder, trichotillomania, OCD, ADHD, schizophrenia or any other mental illness.
Join the Stand Up for Mental Health campaign. Put a button on your website or blog (buttons for family members, parents, mental health professionals and organizations too). We also have covers for Facebook, Twitter and Google+.
------------------------------------------------------------------
Latest Mental Health News
These stories and more are featured on our mental health news page:
Despite Federal Law, Some Insurance Exchange Plans Offer Unequal Mental Health Coverage
Men Are 'More Narcissistic And Entitled Than Women'
Psychedelic Drug Use 'Does Not Increase Risk For Mental Health Problems'
Genesight Multi-Gene Test More Predictive Of Antidepressant Response
A Photograph May Distort Or Even Push Out Our Actual Memory Of An Event, Studies Suggest
Caring Youth-Parent Relations Can Be Vital To Preventing Adolescent Suicide Attempts
Study: Identifying Mentally Ill 'Frequent Fliers' First Step To Reducing Police Contact
That's it for now. If you know of anyone who can benefit from this newsletter or the HealthyPlace.com site, I hope you'll pass this onto them. You can also share the newsletter on any social network (like facebook, stumbleupon, or digg) you belong to by clicking the links below. For updates throughout the week:
APA Reference
Aline, J. (2015, March 9). How to Offer Mental Health Support to Someone Who Rejects It, HealthyPlace. Retrieved on 2022, September 30 from https://www.healthyplace.com/other-info/mental-health-newsletter/how-to-offer-mental-health-support-to-someone-who-rejects-it
Last Updated: March 10, 2015