Sociopaths and Psychopaths! Do You Know One?
HealthyPlace Mental Health Newsletter
Here's what's happening on the HealthyPlace site this week:
Sociopaths and Psychopaths! Do You Know One?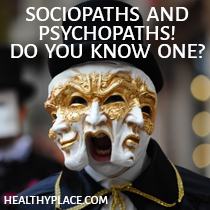 Sociopath. Psychopath. These terms often evoke chills, shudders, and goosebumps. A great many people equate these individuals with psychopathic serial killers. While it's true that the majority of serial killers are psychopaths and sociopaths, not all psychopaths and sociopaths are serial killers. In fact, most aren't. Perhaps a better way to conceptualize them is soul killers. They control. They manipulate. They consume their victims' resources, be those resources financial, emotional, relational, or all of these and more. When a sociopath or a psychopath has taken everything he or she can from someone, this power-hungry, self-centered person moves on to the next victim.
Sociopaths and Psychopaths Can Destroy Your Life
Sociopaths and psychopaths are indeed frightening. They're made even more so by the fact that they're difficult to spot (Signs of a Sociopath and Signs of a Psychopath). These men and women function very well in society—some sociopaths are extremely high functioning—and they know what they need to do to fit any situation. Like talented actors and actresses, they can disguise the fact that they're playing a role in order to manipulate. Psychopaths and sociopaths are contributing members of society. They're spouses and parents, boyfriends or girlfriends, employees or bosses. And they're power-hungry takers. Sociopaths and psychopaths are complex. HealthyPlace has two new sections about them, each containing a wealth of information. Follow the below links to learn more.
Related Articles Dealing with Sociopaths and Psychopaths
Your Thoughts
Today's Question: What comes to your mind when you hear the words psychopath and sociopath, and what's been your experience in dealing with one? We invite you to participate by commenting and sharing your feelings, experiences and knowledge on the HealthyPlace Facebook page and on the HealthyPlace Google+ page.
---
---
Share our Stories
At the top and bottom of all our stories, you'll find social share buttons for Facebook, Google+, Twitter, Pinterest and other social sites. If you find a particular story, video, psychological test or other HealthyPlace feature helpful, there's a good chance others in need will too. Please share.
We also get many inquiries about our linking policy. If you have a website or blog, you can link to any page on the HealthyPlace website without asking us beforehand.
Most Popular HealthyPlace Articles Shared by Facebook Fans
Here are the top 3 mental health articles HealthyPlace Facebook fans are recommending you read:
If you're not already, I hope you'll join us/like us on Facebook too. There are a lot of wonderful, supportive people there.
------------------------------------------------------------------
From the HealthyPlace Mental Health Blogs
On all our blogs, your comments and observations are welcomed.
Feel free to share your thoughts and comments at the bottom of any blog post. And visit the mental health blogs homepage for the latest posts.
------------------------------------------------------------------
Stand Up for Mental Health
Thousands Have Joined the Stand Up for Mental Health Campaign
But we still need you. Let others know there's no shame in having depression, anxiety, bipolar disorder, trichotillomania, OCD, ADHD, schizophrenia or any other mental illness.
Join the Stand Up for Mental Health campaign. Put a button on your website or blog (buttons for family members, parents, mental health professionals and organizations too). We also have covers for Facebook, Twitter and Google+.
------------------------------------------------------------------
Latest Mental Health News
These stories and more are featured on our mental health news page:
UGA Research Links Borderline Personality Traits With Lowered Empathy
Differences In Brain Structure And Memory Suggest Adolescents May Not 'Grow Out Of' ADHD
Acupuncture May Reduce High Blood Pressure
About 10 Percent Of Mothers Experienced Depression 2 Years After Hurricane Katrina, Study Shows
Goth Teens Could Be More Vulnerable To Depression And Self-Harm
UF Researchers Find Memory Problems In Some People With Parkinson's Disease
Link Found Between Throat Microbes And Schizophrenia
That's it for now. If you know of anyone who can benefit from this newsletter or the HealthyPlace.com site, I hope you'll pass this onto them. You can also share the newsletter on any social network (like facebook, stumbleupon, or digg) you belong to by clicking the links below. For updates throughout the week:
APA Reference
Peterson, T. (2015, August 31). Sociopaths and Psychopaths! Do You Know One?, HealthyPlace. Retrieved on 2023, December 2 from https://www.healthyplace.com/other-info/mental-health-newsletter/sociopaths-and-psychopaths-do-you-know-one
Last Updated: September 1, 2015