Binge Eating Disorder Gets Its Due
HealthyPlace Mental Health Newsletter
Here's what's happening on the HealthyPlace site this week:
Binge Eating Disorder Gets Its Due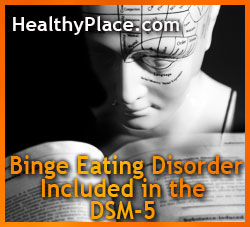 Binge Eating Disorder is included in the new DSM-5. It's been nearly 20 years since the DSM IV committee discussed binge eating disorder and the need for additional studies before it could be included in the DSM. Now, almost one thousand studies later, binge eating disorder is offically recognized as a psychiatric diagnosis.
The upside to the DSM-5 inclusion of binge eating disorder is that it will increase awareness of the illness among physicians and other healthcare professionals as well as the general public. There's a specific set of criteria that can be used to determine if someone meets the threshhold for being diagnosed with B.E.D. It might also affect whether insurance companies will pay for diagnosis and treatment. I say "might" because others with long recognized eating disorders, like anorexia and bulimia, many times have their insurance claims denied. Eating disorders are stubborn illnesses that require long-term treatment.
"You don't have any illness. Just quit eating so much."
There's also the issue of stigma. As everyone reading this newsletter knows, there's plenty of mental health stigma to go around for everyone, no matter what mental illness you have. When it comes to B.E.D., many people have a difficult time discerning the difference between binge eating disorder and overeating. Therefore, it may take a long time before the public "gets it".
Related Articles
Your Thoughts
Today's Question: Do you struggle with binge eating? For you, what is the most difficult part of dealing with binge eating? We invite you to participate by commenting and sharing your feelings, experiences and knowledge on the HealthyPlace Facebook page.
Help Spread Awareness of Mental Illness
Get Our Mental Health Blog Widget
Over 225 sites and blogs are helping spread awareness of mental illness. How about putting our mental health blogs widget on your website, blog or social page? The latest HealthyPlace blog headlines appear as soon as the articles are posted on our site. Just click "Get Widget" at the bottom of the widget, grab the embed code and paste it into your page. You'll also see embed links for Wordpress, Blogger, Linkedin and other social sites there.
As a bonus, put the blogs widget on your site or blog, email us (info AT healthyplace.com) with a page link where it appears, and we'll give a shoutout to your site, blog, or social site on our Facebook and Twitter pages.
------------------------------------------------------------------
Share our Stories
At the top and bottom of all our stories, you'll find social share buttons for Facebook, Google+, Twitter, Pinterest and other social sites. If you find a particular story, video, psychological test or other HealthyPlace feature helpful, there's a good chance others in need will too. Please share.
We also get many inquiries about our linking policy. If you have a website or blog, you can link to any page on the HealthyPlace website without asking us beforehand.
---
continue story below
---
Most Popular HealthyPlace Articles Shared by Facebook Fans
Here are the top 3 mental health articles HealthyPlace Facebook fans are recommending you read:
If you're not already, I hope you'll join us/like us on Facebook too. There are a lot of wonderful, supportive people there.
------------------------------------------------------------------
Mental Health Experiences
Share your thoughts/experiences with any mental health subject, or respond to other people's audio posts, by calling our toll-free number (1-888-883-8045).
You can listen to what other people are saying by clicking on the gray title bars inside the widgets located on the "Sharing Your Mental Health Experiences" homepage, the HealthyPlace homepage, and the HealthyPlace Support Network homepage.
If you have any questions, write us at: info AT healthyplace.com
------------------------------------------------------------------
From the HealthyPlace Mental Health Blogs
On all our blogs, your comments and observations are welcomed.
Feel free to share your thoughts and comments at the bottom of any blog post. And visit the mental health blogs homepage for the latest posts.
------------------------------------------------------------------
Stand Up for Mental Health
Don't Buy Into Mental Health Stigma
You don't have to tolerate mental health stigma in your life. Stand Up for Yourself. Stand Up for Mental Health.
Join the Stand Up for Mental Health campaign. Put a button on your website or blog (buttons for family members, parents, mental health professionals and organizations too). We also have covers for Facebook, Twitter and Google+.
Let others know there's no shame in having depression, anxiety, bipolar disorder, ADHD, schizophrenia or any other mental illness.
------------------------------------------------------------------
Latest Mental Health News
These stories and more are featured on our mental health news page:
How Meditation Might Boost Your Test Scores
The World's Most Helpful Guy Wants to Help You
Is Giving the Secret to Getting Ahead?
Our Inconsistent Ethical Instincts
Victim and Prosecutor Back Death Row Inmate's Bid for Resentencing
How to Talk to Our Mate
What Do Men Really Want?
Should Suicidal Patients At Emergency Departments Be Asked About Gun Access?
Wilderness Adventure Experiences To Improve Mental Health: How Safe Are They?
Only 1 In 10 Smokers With Poor Mental Health Prescribed A Smoking Cessation Medication
Compulsory Community Treatment For Mentally Ill Patients Does Not Reduce Rates Of Hospitalization
Children With Mentally Ill Parents Lack Support, UK
Cognition Unaffected By Substance Abuse in First-episode Schizophrenia
Cognitive Deficits Do Not Indicate Oncoming Manic Episode
Sexual Trauma Predicts Psychosis Transition
That's it for now. If you know of anyone who can benefit from this newsletter or the HealthyPlace.com site, I hope you'll pass this onto them. You can also share the newsletter on any social network (like facebook, stumbleupon, or digg) you belong to by clicking the links below. For updates throughout the week:
APA Reference
Staff, H. (2013, March 18). Binge Eating Disorder Gets Its Due, HealthyPlace. Retrieved on 2023, December 6 from https://www.healthyplace.com/other-info/mental-health-newsletter/binge-eating-disorder-gets-its-due
Last Updated: September 4, 2014