Male Domestic Violence Victims: Men Can Be Abused Too
Here's what's happening on the HealthyPlace site this week:
------------------------------------------------------------------
Facebook Live This Wednesday
Tonight, award-winning anxiety blogger, Tanya Peterson, joins us to share the challenges she's faced living with severe anxiety. And she has some anxiety management tips that may help you. Tanya will be answering your personal questions about anxiety. We start at 7p CT / 8 ET. I hope you'll join us and feel free to invite others. Our Facebook page is here.
------------------------------------------------------------------
---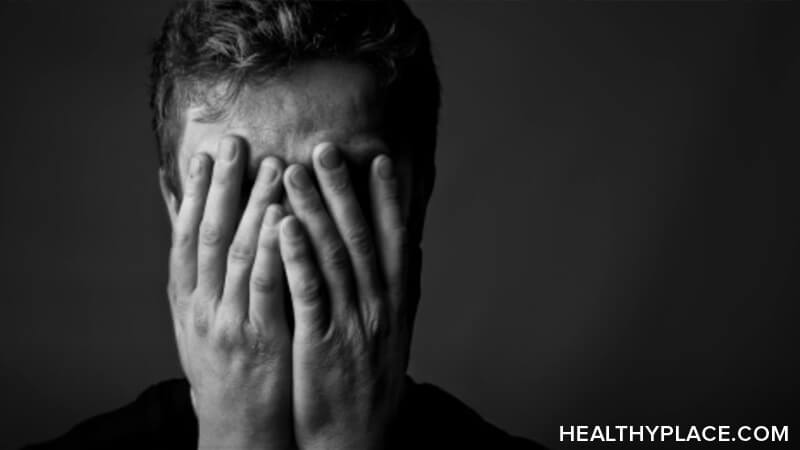 Male Domestic Violence Victims: Men Can Be Abused Too
It's officially known: Men can be on the receiving end of domestic violence (intimate partner abuse). Unfortunately, some people still deny that men can be victims of abuse, making it very difficult for men to be taken seriously.
In truth, both men and women face the same cycle of domestic violence that characterize these abusive relationships: threats, abuse, apologies and promises that it won't happen again. Also, abuse in all relationships can take many forms, including physical, verbal, emotional/psychological, threatening or stalking, and sexual. Women can and do inflict all types of abuse on their male partners.
One difference between men and women in abusive relationships is a chilling indication that men need help getting out of these relationships, too. According to MenWeb, men are almost twice as likely to have knives wielded against them or to be struck with hard objects.
Help for Male Domestic Violence Victims
If you are a man in a domestic violence situation, here are some tips for reaching out:
Don't take the blame. Abusers like to manipulate you by making you think you're the one at fault. That makes it hard to seek help.
Work past the shame by seeking help. Talk to someone you know and trust, your doctor, a counselor, etc.
Call the National Domestic Violence Hotline at 800-799-7233 for crisis intervention and referral to local resources.
Being a victim of abuse is not a sign of weakness. It means that your partner is abusive. No one deserves to be the receiver of abuse, woman or man.
Related Articles Dealing with Domestic Violence
Your Thoughts
Today's Question: : If you or someone you know has escaped an abusive relationship, what helped you/him/her do it? We invite you to participate by sharing your thoughts, knowledge, and experiences on the HealthyPlace Facebook page and on the HealthyPlace Google+ page.
---
---
From the HealthyPlace Mental Health Blogs
On all our blogs, your comments and observations are welcomed.
Feel free to share your thoughts and comments at the bottom of any blog post. And visit the mental health blogs homepage for the latest posts.
------------------------------------------------------------------
From HealthyPlace YouTube Channel
I'm Hannah. I Have Bipolar 2
Bipolar Disorder and Eating Disorders
Bipolar disorder and eating disorders are usually talked about separately. However, it's not unusual for people with bipolar disorder to develop an eating disorder. In this video, I open up about my bulimia and its impact on my life with bipolar 2 disorder. (Watch Hannah)
------------------------------------------------------------------
Most Popular HealthyPlace Articles Shared by Facebook Fans
Here are the top 3 mental health articles HealthyPlace Facebook fans are recommending you read:
If you're not already, I hope you'll join us/like us on Facebook too. There are a lot of wonderful, supportive people there.
------------------------------------------------------------------
Mental Health Quote
"When depression takes over and I can't push through it. I have to close my door and shut the world out. It's the only way I know how to survive."
Read more depression quotes.
------------------------------------------------------------------
That's it for now. If you know of anyone who can benefit from this newsletter or the HealthyPlace.com site, I hope you'll pass this onto them. You can also share the newsletter on any social network (like facebook, stumbleupon, or google+) you belong to by clicking the links below. For updates throughout the week, circle HealthyPlace on Google+, follow HealthyPlace on Twitter or become a fan of HealthyPlace on Facebook. Also, check out HealthyPlace on Pinterest and share your mental health pins on our Share Your Mental Health Experiences board.
APA Reference
Peterson, T. (2018, January 29). Male Domestic Violence Victims: Men Can Be Abused Too, HealthyPlace. Retrieved on 2023, December 8 from https://www.healthyplace.com/other-info/mental-health-newsletter/male-domestic-violence-victims-men-can-be-abused-too
Last Updated: January 31, 2018