Practice Guided Imagery for Self-Care, Mental Health
Here's what's happening on the HealthyPlace site this week:
---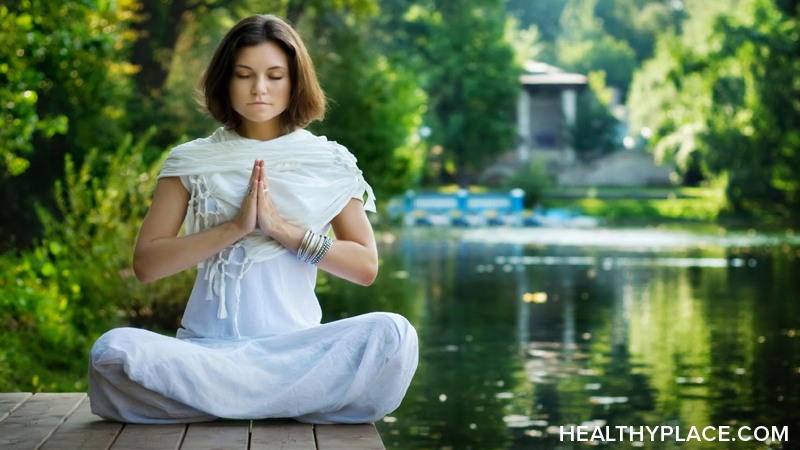 Practice Guided Imagery for Self-Care, Mental Health
Recall a fond memory. What do you see? Conjure details, textures, and colors. What do you smell? What sounds resonate in your mind? Breathe deeply, slowly, as you explore. When ready, open your eyes and smile.
This exercise, while abbreviated, illustrates the powerful self-care tool known as guided imagery. A form of meditation and mindfulness, guided imagery involves sitting or lying in a comfortable position and listening to a program (often an app or a podcast) that escorts you on a journey to relax and let go of physical tension, negative or racing thoughts, and roiling emotions.
As you settle in, a soothing voice, calming music, and/or peaceful nature sounds channel your thoughts and energy to a positive place you enjoy. Guided imagery reminds your brain and body of their natural state of calmness. Because brain and body react as if the imagery were real, guided imagery is effective for:  
Lowering anxiety
Calming panic attacks and preventing future episodes
Helping sleep
Reducing the effect of automatic negative thoughts
Inducing relaxation.
Guided imagery also enhances your mind-body connection so that each is more in tune with the other. As your awareness of your whole self increases, you'll be able to practice self-care in the moment with a quick, self-led, guided imagery session for your mental health.
Related Articles Dealing with Guided Imagery and Self-Care
Your Thoughts
Today's Question: If you've tried guided imagery, what has your experience been like? We invite you to participate by sharing your thoughts, experiences, and knowledge on the HealthyPlace Facebook page.
From the HealthyPlace Mental Health Blogs
On all our blogs, your comments and observations are welcomed.
Feel free to share your thoughts and comments at the bottom of any blog post. And visit the mental health blogs homepage for the latest posts.
------------------------------------------------------------------
From HealthyPlace YouTube Channel
I'm Hannah. I Have Bipolar 2
3 Reasons Why Staying on Bipolar Medication is So Hard
Why is it so hard to stay on bipolar medication? Here are the three main reasons. (Watch Hannah and subscribe to the HealthyPlace YouTube channel for more great mental health videos.)
------------------------------------------------------------------
Most Popular HealthyPlace Articles Shared by Facebook Fans
Here are the top 3 mental health articles HealthyPlace Facebook fans are recommending you read:
If you're not already, I hope you'll join us/like us on Facebook too. There are a lot of wonderful, supportive people there.
------------------------------------------------------------------
Mental Health Quote
"Knowing your own darkness is the best method for dealing with the darkness of other people."
Read more mental health quotes.
------------------------------------------------------------------
That's it for now. If you know of anyone who can benefit from this newsletter or the HealthyPlace.com site, I hope you'll pass this onto them. You can also share the newsletter on any social network (like facebook or stumbleupon) you belong to by clicking the links below. For updates throughout the week, follow HealthyPlace on Twitter or become a fan of HealthyPlace on Facebook. Also, check out HealthyPlace on Instagram, YouTube and Pinterest, where you can share your mental health pins on our Share Your Mental Health Experiences board.
APA Reference
Peterson, T. (2019, February 25). Practice Guided Imagery for Self-Care, Mental Health, HealthyPlace. Retrieved on 2023, December 9 from https://www.healthyplace.com/other-info/mental-health-newsletter/practice-guided-imagery-for-self-care-mental-health
Last Updated: March 2, 2019