Importance of Mental Health Awareness Efforts
HealthyPlace Mental Health Newsletter
Here's what's happening on the HealthyPlace site this week:
Mental Illness Awareness Weeks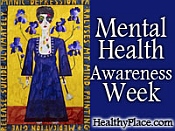 This week was designated "National Eating Disorders Awareness Week." Wednesday was also "Self-injury Awareness Day." Throughout the year, there are awareness days like this to help educate people about different aspects of mental illness and what it's like living with a mental illness.
Educating the general public is important. It makes people aware of these mental health conditions and, in turn, hopefully reduces stigma. It may also help someone recognize the warning signs of a mental illness they, or a loved one, have been experiencing; thus leading them to seek a professional diagnosis and treatment.
For our own community, I think these awareness days can serve an additional purpose. They remind us that mental illnesses are very real and require real treatment. It's also a reminder that we have to educate ourselves and our loved ones (supporters, caregivers) about these conditions so we can live the best lives possible.
Related Stories:
------------------------------------------------------------------
At the top and bottom of all our stories, you'll find social share buttons for Facebook, Google+, Twitter and other social sites. If you find a particular story, video, psychological test or other HealthyPlace feature helpful, there's a good chance others in need will too. Please share.
---
---
We also get many inquiries about our linking policy. If you have a website or blog, you can link to any page on the HealthyPlace website without asking us beforehand.
------------------------------------------------------------------
Most Popular HealthyPlace Articles Shared by Facebook Fans
Here are the top 3 mental health articles HealthyPlace Facebook fans are recommending you read:
If you're not already, I hope you'll join us/like us on Facebook too. There are a lot of wonderful, supportive people there.
------------------------------------------------------------------
Mental Health Experiences
Share your thoughts/experiences with any mental health subject, or respond to other people's audio posts, by calling our toll-free number (1-888-883-8045).
You can listen to what other people are saying by clicking on the gray title bars inside the widgets located on the "Sharing Your Mental Health Experiences" homepage, the HealthyPlace homepage, and the HealthyPlace Support Network homepage.
If you have any questions, write us at: info AT healthyplace.com
------------------------------------------------------------------
From HealthyPlace Mental Health Blogs
Your comments and observations are welcomed.
Feel free to share your thoughts and comments at the bottom of any blog post. And visit the mental health blogs homepage for the latest posts.
Managing the Effects of Anxiety
Our anxiety blogger, Jodi Aman, LCSW-R, wrote that anxiety has an insidious way of creeping into your head and filling it with all sorts of false beliefs. This week, Jodi is our guest on the HealthyPlace Mental Health TV Show. We're talking to her about how to manage the effects of anxiety. Take a look.
If you know of anyone who can benefit from this newsletter or the HealthyPlace.com site, I hope you'll pass this onto them. You can also share the newsletter on any social network (like facebook, stumbleupon, or digg) you belong to by clicking the links below. For updates throughout the week,
APA Reference
Staff, H. (2012, March 2). Importance of Mental Health Awareness Efforts, HealthyPlace. Retrieved on 2023, December 9 from https://www.healthyplace.com/other-info/mental-health-newsletter/importance-of-mental-health-awareness-efforts
Last Updated: April 12, 2017