Depression: How Are You Getting Over It?
HealthyPlace Mental Health Newsletter
Here's what's happening on the HealthyPlace site this week:
Depression: How Are You Getting Over It?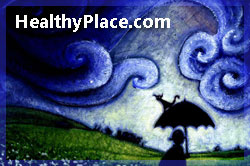 Unfortunately, if you're living with depression, at some time or another you've heard the phrase: "Just get over it." Most of the time, it has a very negative connotation. It's on the list of "worst things to say to someone with depression." But let's put a positive spin on that and let me ask you: what have you been doing to help treat your depression?
If your answer is "nothing" or "very little," I want to encourage you to consider taking some baby steps towards your own mental wellness. Maybe you can
sit outside in the sun for 30 minutes a day.
go for a 15-30 minute walk a few times a week
join a local NAMI or DBSA support group
improve your diet
get good sleep
None of these ideas cost money and, as you can see, they require very little effort. But it's a start on the road to depression recovery. And, in case you thought "I'll never get over this depression," you should know that the National Institute of Mental Health reports that 80% of those with major depression can be effectively treated if they get the right treatment. Start your depression wellness program today. For more depression treatment ideas, read the Gold Standard of Treating Depression special section on HealthyPlace.com (table of contents here).
On the HealthyPlace Facebook page, our "Question of the Day" is: What do you find to be the most effective depression treatment or method of relieving your depression? We invite you to participate by commenting and sharing your feelings, experiences and knowledge.
Related Depression Treatment Information
Help Spread Awareness of Mental Illness
Get Our Mental Health Blog Widget
Some 70 sites and blogs are helping spread awareness of mental illness. How about putting our mental health blogs widget on your website, blog or social page? The latest HealthyPlace blog headlines appear as soon as the articles are posted on our site. Just click "Get Widget" at the bottom of the widget, grab the embed code and paste it into your page. You'll also see embed links for Wordpress, Blogger, Linkedin and other social sites there.
As a bonus, put the blogs widget on your site or blog, email us (info AT healthyplace.com) with a page link where it appears, and we'll give a shoutout to your site, blog, or social site on our Facebook and Twitter pages.
---
continue story below
---
Share our Stories
At the top and bottom of all our stories, you'll find social share buttons for Facebook, Google+, Twitter, Pinterest and other social sites. If you find a particular story, video, psychological test or other HealthyPlace feature helpful, there's a good chance others in need will too. Please share.
We also get many inquiries about our linking policy. If you have a website or blog, you can link to any page on the HealthyPlace website without asking us beforehand.
------------------------------------------------------------------
Most Popular HealthyPlace Articles Shared by Facebook Fans
Here are the top 3 mental health articles HealthyPlace Facebook fans are recommending you read:
If you're not already, I hope you'll join us/like us on Facebook too. There are a lot of wonderful, supportive people there.
------------------------------------------------------------------
Mental Health Experiences
Share your thoughts/experiences with any mental health subject, or respond to other people's audio posts, by calling our toll-free number (1-888-883-8045).
You can listen to what other people are saying by clicking on the gray title bars inside the widgets located on the "Sharing Your Mental Health Experiences" homepage, the HealthyPlace homepage, and the HealthyPlace Support Network homepage.
If you have any questions, write us at: info AT healthyplace.com
------------------------------------------------------------------
From the HealthyPlace Mental Health Blogs
Your comments and observations are welcomed.
Feel free to share your thoughts and comments at the bottom of any blog post. And visit the mental health blogs homepage for the latest posts.
From Life of the Party to Get a Life on HealthyPlace Radio
Prior to being diagnosed with bipolar II and social anxiety, Stephanie was the life of the party. Since then, things have changed. Listen to our interview on how mental illness can effect your social life on HealthyPlace Radio.
That's it for now. If you know of anyone who can benefit from this newsletter or the HealthyPlace.com site, I hope you'll pass this onto them. You can also share the newsletter on any social network (like facebook, stumbleupon, or digg) you belong to by clicking the links below. For updates throughout the week:
APA Reference
(2012, November 6). Depression: How Are You Getting Over It?, HealthyPlace. Retrieved on 2023, October 4 from https://www.healthyplace.com/other-info/mental-health-newsletter/depression-how-are-you-getting-over-it
Last Updated: September 4, 2014