Avoidant Personality Disorder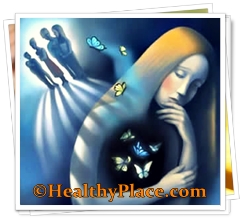 Avoidant Personality Disorder: What is Avoidant Personality Disorder? Definition, signs, symptoms, causes of Avoidant Personality Disorder.
Description of Avoidant Personality Disorder
People with an avoidant personality disorder are overly sensitive to rejection, and they fear starting relationships or anything new. They have a strong desire for affection and acceptance but avoid intimate relationships and social situations for fear of disappointment and criticism. The Merck Manual notes that unlike those with a schizoid personality, they are openly distressed by their isolation and inability to relate comfortably to others. Unlike those with a borderline personality, they do not respond to rejection with anger; instead, they withdraw and appear shy and timid. Avoidant personality is similar to social phobia, social anxiety.
Diagnostic Criteria for Avoidant Personality Disorder
A pervasive pattern of social inhibition, feelings of inadequacy, and hypersensitivity to negative evaluation, beginning by early adulthood and present in a variety of contexts, as indicated by four (or more) of the following:
avoids occupational activities that involve significant interpersonal contact, because of fears of criticism, disapproval, or rejection
is unwilling to get involved with people unless certain of being liked
shows restraint within intimate relationships because of the fear of being shamed or ridiculed
is preoccupied with being criticized or rejected in social situations
is inhibited in new interpersonal situations because of feelings of inadequacy
views self as socially inept, personally unappealing, or inferior to others
is unusually reluctant to take personal risks or to engage in any new activities because they may prove embarrassing
Associated Features of Avoidant Personality Disorder
Depressed Mood
Anxious/Fearful/Dependent Personality
Causes of Avoidant Personality Disorder
The cause of avoidant personality disorder is not clear but it may be the result of a combination of social, genetic, and biological factors. Avoidant personality characteristics usually appear in childhood with signs of excessive shyness and fear when the child confronts new people and situations. These characteristics are also developmentally appropriate emotions for children, however, and do not necessarily mean that a pattern of avoidant personality disorder will continue into adulthood. When shyness, unfounded fear of rejection, hypersensitivity to criticism, and a pattern of social avoidance persist and intensify through adolescence and young adulthood, a diagnosis of avoidant personality disorder is often indicated.
Many persons diagnosed with avoidant personality disorder have had painful early experiences of chronic parental criticism and rejection. The need to bond with the rejecting parents makes the avoidant person hungry for relationships but their longing gradually develops into a defensive shell of self-protection against repeated parental criticisms. Ridicule or rejection by peers further reinforces the young person's pattern of social withdrawal and contributes to their fear of social contact.
For comprehensive information on avoidant and other personality disorders, visit the HealthyPlace.com Personality Disorders Community.
Sources: American Psychiatric Association. (1994). Diagnostic and Statistical Manual of Mental Disorders, Fourth Edition. Washington, DC: American Psychiatric Association.
APA Reference
Writer, H. (2009, January 2). Avoidant Personality Disorder, HealthyPlace. Retrieved on 2019, October 19 from https://www.healthyplace.com/other-info/psychiatric-disorder-definitions/avoidant-personality-disorder
Last Updated: July 3, 2019