Obsessive-Compulsive Personality Disorder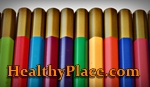 Full description of Obsessive-Compulsive Personality Disorder (OCPD). Definition, signs, symptoms, causes of Obsessive-Compulsive Personality Disorder.
Description of Obsessive-Compulsive Personality Disorder (OCPD)
About 16 million Americans, or 8-percent of the population, have Obsessive-Compulsive Personality Disorder, making it one of the most prevalent personality disorders in the U.S.
Rigid adherence to rules and regulations and an overwhelming need for order and personal control are the primary characteristics of obsessive-compulsive personality disorder. People living with OCPD are inflexible, perfectionists and unwilling to yield responsibilities to others. They are reliable, dependable, orderly, and methodical, but their inflexibility makes them unable to adapt to change. Because they are cautious and weigh all aspects of a problem, they have difficulty making decisions.
According to the Merck Manual, "people with an obsessive-compulsive personality are often high achievers, especially in the sciences and other intellectually demanding fields that require order and attention to detail. However, their responsibilities make them so anxious that they can rarely enjoy their successes." They are uncomfortable with their feelings, with relationships, and with situations in which they lack control or must rely on others or in which events are unpredictable.
Many people confuse Obsessive-Compulsive Personality Disorder (OCPD) with Obsessive-Compulsive Disorder (OCD). The two disorders are not related. People with OCD are often aware that their obsessions are abnormal, but are compelled to perform them anyway. People with obsessive-compulsive personality disorder, however, believe their need for strict order and rules is perfectly normal.
Diagnostic Criteria for Obsessive-Compulsive Personality Disorder (OCPD)
A pervasive pattern of preoccupation with orderliness, perfectionism, and mental and interpersonal control, at the expense of flexibility, openness, and efficiency, beginning by early adulthood and present in a variety of contexts, as indicated by four (or more) of the following:
is preoccupied with details, rules, lists, order, organization, or schedules to the extent that the major point of the activity is lost
shows perfectionism that interferes with task completion (e.g., is unable to complete a project because his or her own overly strict standards are not met)
is excessively devoted to work and productivity to the exclusion of leisure activities and friendships (not accounted for by obvious economic necessity)
is overconscientious, scrupulous, and inflexible about matters of morality, ethics, or values (not accounted for by cultural or religious identification)
is unable to discard worn-out or worthless objects even when they have no sentimental value
is reluctant to delegate tasks or to work with others unless they submit to exactly his or her way of doing things
adopts a miserly spending style toward both self and others; money is viewed as something to be hoarded for future catastrophes
shows rigidity and stubbornness
While a person may exhibit any or all of the above characteristics of OCPD, it is not diagnosed as a personality disorder unless the person has trouble leading a normal life due to these issues.
Causes of Obsessive-Compulsive Personality Disorder (OCPD)
OCPD often runs in families, leading researchers to believe there's a genetic component to Obsessive-Compulsive Personality Disorder. Parenting styles and family dynamics may also play a role in the development of OCPD. One theory suggests that as children, people with Obsessive-Compulsive Personality Disorder were consistently punished for negative behavior, failure, and rule-breaking, while receiving no praise for success and compliance. To avoid punishment, the child develops a habit of rigidly following rules that lasts into adulthood.
For comprehensive information on obsessive-compulsive and other personality disorders, visit the HealthyPlace.com Personality Disorders Community.
Sources: 1. American Psychiatric Association. (1994). Diagnostic and Statistical Manual of Mental Disorders, Fourth Edition. Washington, DC: American Psychiatric Association. 2. Merck Manual, Home Edition for Patients and Caregivers, last revised 2006.
APA Reference
Writer, H. (2009, January 2). Obsessive-Compulsive Personality Disorder, HealthyPlace. Retrieved on 2019, October 20 from https://www.healthyplace.com/other-info/psychiatric-disorder-definitions/obsessive-compulsive-personality-disorder
Last Updated: July 5, 2019