Schizoaffective Disorder and Dissociation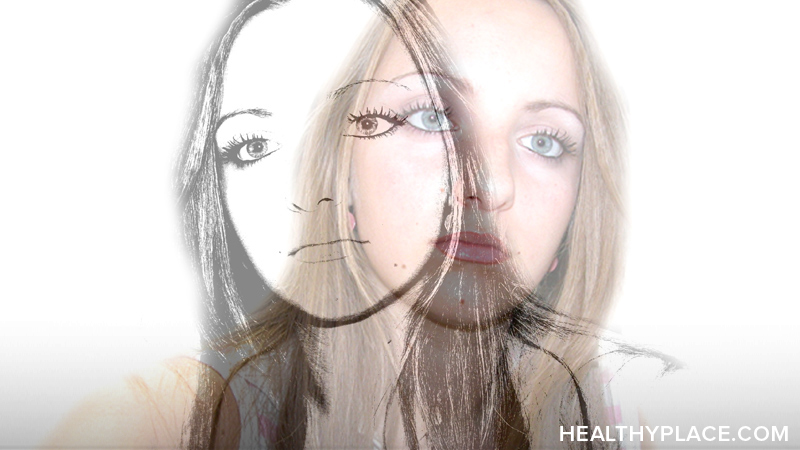 Read about my dissociation experience. Dissociation is something that comes with having schizoaffective disorder.
At times, particularly that summer of '85, I would have the experience that I was not participating in my own life anymore, that I was a detached observer of, rather than a participant in my life.
The experience was like watching a particularly detailed movie with really high-fidelity sound and a wraparound screen. I could see and hear everything going on. I guess I was still in control of my actions in the sense that some guy who everyone else referred to as "Mike" seemed to be speaking and doing stuff from the same point of view as I was watching from - but that person was definitely somebody else. I didn't have the feeling that the part of me who was called I had anything to do with it.
At times this was frightening, but somehow it was hard to get worked up about it. The person who was feeling and exhibiting the emotions wasn't the one called I. Instead, I just sat back and passively observed the goings-on of the summer.
There was a philosophical theory that I had long been interested in, that I think I first encountered in a science fiction story I read when I was young. Although I was originally fascinated with it in a conceptual and academic sort of way, solipsism took on terrible new importance to me that summer - I didn't believe anything was real.
Solipsism is the notion that you are the only being that exists in the Universe, and that no one else really exists, instead, it is a figment of your imagination. A related concept is the idea that history never happened, that one has just this instant sprung into being with one's lifetime of memories readymade without the events in them ever having actually occurred.
At first, I found this interesting to experience. I had always found ideas like this fascinating to discuss and debate with my schoolmates, and now I would talk about it with the other patients. But I found that it was no longer an interesting concept that I held at a distance, that instead, I was experiencing it, and I found that reality terrible indeed.
Also related to solipsism is the fear that everything one experiences is a hallucination, that there is some other objective reality that really is happening but which one is not experiencing. Instead one fears that one is living in a fantasy. And in fact, that is not far off from what many of the most ill psychiatric patients face. The concern I had is that (despite my experience of actually being in a psychiatric hospital) I wasn't really free to move around the ward and talk with the doctors and the other patients, but that I was actually strapped in a straightjacket in a padded cell somewhere, screaming incoherently with no idea of where I really was.
There. I told you this was creepy. Don't say I didn't warn you.
I once read somewhere that solipsism had been disproved. The book that claimed this didn't provide the proof though, so I didn't know what it was, and this bothered me tremendously. So I explained what solipsism was to my therapist and told him that I was upset to be experiencing it and asked him to prove to me that it was false. I was hoping he might give me a proof of reality in much the same way as we worked proofs in Calculus class at Caltech.
I was appalled at his response. He simply refused. He wasn't going to give me a proof at all. He didn't even try to argue with me that I was wrong. Now that scared me.
I had to find my own way out. But how, when I knew that I could not trust the things I heard, saw, thought or felt? When in fact my hallucinations and delusions felt much more real to me than the things that I believe now were really happening?
It took me quite a while to figure it out. I spent a lot of time thinking really hard about what to do. It was like being lost in a maze of twisty passages all alike, only where the walls were invisible and presented a barrier only to me, not to other people. There on the ward we all lived in the same place, and (for the most part) saw and experienced the same things, but I was trapped in a world I could find no escape from, that despite its invisibility was a prison as confining as Alcatraz Island.
Here is what I discovered. I'm not sure how I realized it, it must have been by accident, and as I came across it accidentally a few times the lesson began to stick. The things I felt, not with my emotions, but by touching them, by feeling them with my fingers, were convincingly real to me. I could offer no objective proof that they were any more real than the things I saw and heard, but they felt real to me. I had confidence in what I touched.
And so I would go around touching things, everything in the ward. I would suspend judgment on things that I saw or heard until I could touch them with my own hands. After a few weeks the feeling that I was just watching a movie without acting in it, and the concern that I might be the only being in the Universe subsided and the everyday world took on a concrete experience of reality that I had not felt for some time.
I wasn't able to think my way out of my prison. Thinking was what kept me imprisoned. What saved me was that I found a chink in the wall. What saved me was not thought but feeling. The simple feeling that there was one small experience left in my world that I could trust.
For years afterwards, I had the habit of dragging my fingers along walls as I would walk down halls or rapping my knuckles on signposts as I passed them on the street. Even now the way I shop for clothes is to run my fingers over the racks in the store, searching by touch for material that feels particularly inviting. I prefer coarse, robust and warm material, rough cotton and wool, dressing in long-sleeve shirts even when it is hot out.
If left to my own devices I would (and used to) buy clothes without any regard to their appearance. If my wife didn't help choose my clothes they would always be hopelessly mismatched. Fortunately, my wife appreciates my need for tactilely appealing clothes and buys me clothes that I find pleasant to wear and that she finds pleasant to look at.
The importance of touch comes out even in my art. A friend of mine remarked once about my pencil drawing - pencil is my favorite medium - that I "have a love of texture".
It is typical of schizophrenic thought that a simple but disturbing philosophical idea can overwhelm one. No wonder Nietzsche went mad! But I will explain later how studying philosophy can be comforting too. I will tell you how I found salvation in the ideas of Immanuel Kant.
APA Reference
Staff, H. (2007, March 5). Schizoaffective Disorder and Dissociation, HealthyPlace. Retrieved on 2023, November 30 from https://www.healthyplace.com/thought-disorders/living-with-schizoaffective-disorder/schizoaffective-disorder-and-dissociation
Last Updated: June 10, 2019