Schizophrenic Artist's Paintings 'Out of This World'
David Marsh credits schizophrenia for driving inspiration and controlling emotions
David R. Marsh's vivid imagination takes his art to another realm in "Out of This World," on exhibit through Aug. 9 at the Greensburg Art Center Gallery in Pittsburgh.
There are familiar planets and moonscapes, heavenly bodies that may or may not exist, and dinosaurs that march mightily into what may be his next fascinating focus. He created them with the typical artistic perception of what's real and a creative ability to imagine what isn't.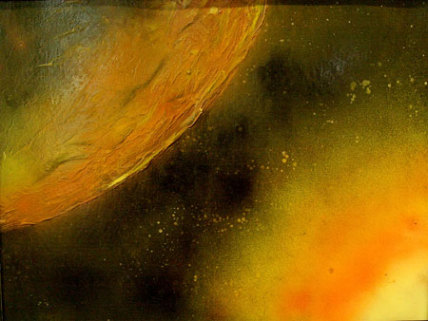 David Marsh's "Mercury"
Marsh additionally credits another personal trait with his driving inspiration: He has schizophrenia, and he's not uncomfortable talking about it or explaining the correlation between the mental illness and his need to paint.
"It helps me to get rid of my anger," he said. "And there are times when I don't get proper sleep."
He works boldly and quickly, a trait of his idol, Vincent van Gogh. And like the brooding Dutchman, Marsh also can create in the more traditional style, as seen in his realistic chalk drawing of "Falling Water."
But he chooses not to. Instead, he paints big and bright on canvas, boards or corrugated cardboard. Whatever works.
"Jamie Wyeth told me to paint on anything I can," he said.
Marsh, 52, has met some famous artists and traveled and studied around the country, including at the Art Institute of Pittsburgh and the Rocky Mountain Institute of Art, in Denver. His talent was evident at a very early age.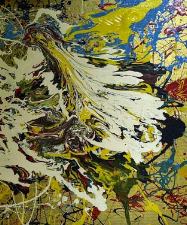 People couldn't believe how I could do trees when I was only four," he said. "They couldn't believe how I observed objects and observed people." He paints about 50 hours a week in his Hempfield Township home. So far this year, he has created about 100 paintings, and 32 are in the current exhibit. They are definitely different from most of the art at the center.
"I think they needed a change," Marsh joked about his show. "There were too many flowers."
Marsh's wit and the meaning of his art are at times veiled and enchanting and emerge in a delightful freshness. In a whimsical touch, the head of a goat is hidden in the brushstrokes of "Allosauri Feeding on Brachlosauri." In another, there's a frog lurking, if you can find it. In fact, there are frogs hidden in many of his paintings, but Marsh won't point them out.
"I put objects inside of objects, both in positive and negative places," he said. "Look for them."
Frogs hopped into his work from his childhood admiration of cartoon character J. Thaddeus Toad. The interest in dinosaurs was inspired when he tagged after his brother John in search of reptiles. Today, the prehistoric beasts are in his paintings, and are smoothed and pinched from clay into little sculptures that at the opening reception, he periodically rearranged for more entertaining interactions.
The paintings of outer space draw the viewer into an endless universe. In one, Mars hangs heavily in one corner while in the background, the burning sun casts a glow on the rugged red planet. The infinite black sky is pricked with tiny lights of countless stars, and there is an aura of ponderous silence.
"Venus" scorches with its sulphuric compounds, the polar ice caps are chilly on "Earth," and other paintings have Neptune and Saturn orbiting with their moons. Marsh captures the thrill of comets, the fleeting blaze of shooting stars, and the boundless extent of the universe.
He also creates cosmic fantasy, like the stark and cold "Ice Planet."
"I dream a lot and have visions," he said about how he imagines those places.
Other paintings have lumbering dinosaurs, and three are of ancient pyramids with some suggesting wedges of pizza.
"I was hungry when I painted them," Marsh said, jokingly.
An abstract has brilliant paint applied over lumps of acrylic caulking. In a more reflective mood, the watercolor "Princess in the Garden" captures memories of his late mother, Rebecca W. Marsh.
"I miss her," he said.
Flowers - not the kind that local patrons are used to seeing at the gallery - round out the exhibit in daring interpretations of "Zinnias," "Bouquet," "Pink Roses" and "Sunflowers."
Marsh's work hangs in private collections, and he has donated his work to charity, including for fundraising for mental health organizations. Prices for his paintings range from $100 to $500.
Source: Pittsburgh Tribune-Review
APA Reference
Gluck, S. (2003, July 17). Schizophrenic Artist's Paintings 'Out of This World', HealthyPlace. Retrieved on 2023, December 5 from https://www.healthyplace.com/thought-disorders/schizophrenia-articles/schizophrenic-artists-paintings-out-of-this-world
Last Updated: June 11, 2019