Real People: I Married A Schizophrenic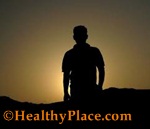 I met Michael while in a restaurant with my best friend. We'd both been through a bad time with relationships and had vowed we'd had enough of men, but when I saw Michael my good intentions went straight out the window!
He was sitting at a table with a mate and I could see him looking over. The next thing I knew, he'd picked up their table, carried it over and placed it next to ours. I laughed so much. Michael was lovely - so funny, outgoing and a bit of a party animal. When he kissed me, I turned to putty. We were meant to be together.
I was 23 at the time with a 17-month-old daughter, Kayleigh. Michael was wonderful with us both and 16 months after we met, we were thrilled when I became pregnant. In July 1995, Michael proposed. We began looking for a house and couldn't wait for the baby to arrive.
Symptoms of a Schizophrenic Began to Appear
But then Michael began to behave strangely. A few months earlier, he'd broken his leg, ending his dreams of becoming a semi-professional footballer. He was very low, and became depressed and withdrawn. Then he started having hallucinations.
He was in the bath one day when he started seeing black clouds around him and said the water had turned black. I knew something was terribly wrong and called a doctor, but she just said he was overworked and he would be fine after a good night's sleep.
A few hours later, I woke to find Michael was missing. So was Kayleigh. The police found him wandering the streets in his pajamas with Kayleigh in his arms. Then when he got home he refused to come inside, saying could I see the beautiful lights in the trees and growing more and more agitated.
He caused such a disturbance that the police came and took him to a secure psychiatric unit. The doctors felt it would be better if I didn't see Michael for a while. By now five months pregnant, I could feel our baby kicking, but Michael wasn't there to share it. It was dreadful.
Soon, Michael, a storeman, was let home at weekends. He was on 26 tablets a day and was a shadow of himself. He sat in a chair, rocking backward and forward.
I was scared of what the future held for us and when a community psychiatric nurse said he had schizophrenia, I was shocked. People think of schizophrenics as violent characters. But Michael was only a danger to himself.
In February 1996, our son Liam, who's now seven, was born. Michael was on so much medication he couldn't cry, and instead made a yelping noise, like a dog. I was desperate, but then Michael's firm got him into a private clinic and different medication worked wonderfully.
As he got better, we started to rebuild our lives. When I gave birth to our daughter Rhianna five years ago, Michael held my hand and, this time, he cried.
On Valentine's Day in 1998, we got married. It was a public statement of our love. We'd always been close, but everything we've been through has made us even stronger. Mike's doing well now - he's on just one tablet a day and all the symptoms have disappeared. We're soulmates and I never doubted for a second that we wouldn't pull through.
APA Reference
Gluck, S. (2007, March 3). Real People: I Married A Schizophrenic, HealthyPlace. Retrieved on 2023, June 7 from https://www.healthyplace.com/thought-disorders/schizophrenia-articles/real-people-i-married-a-schizophrenic
Last Updated: June 11, 2019