Pet Therapy for Depression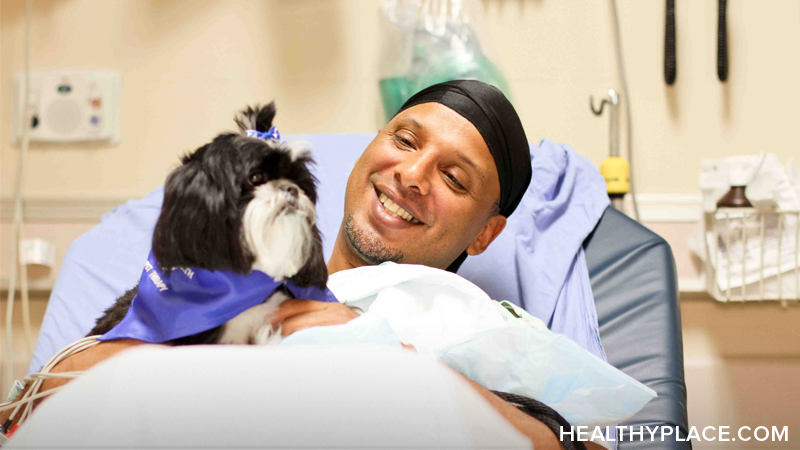 Overview of pet therapy as an alternative treatment for depression and whether pet therapy really works in treating depression.
What is Pet Therapy for Depression?
Owning a pet is promoted in the media as being good for health. Pet therapy is also used to help people living in nursing homes and other long-term care.
How does Pet Therapy work?
Having a close relationship with another person is thought to help depression. A relationship with a pet may have a similar effect.
Is it Pet Therapy for Depression effective?
Very few studies have been carried out on the effects of pet therapy on depression. Typically, these studies compare pet therapy with some other treatment or with no treatment. Most of them find no improvement in depression.
Are there any disadvantages to Pet Therapy?
Owning a pet is a long-term commitment. While pets can give affection and companionship, they require the same level of care in return.
Where do you get Pet Therapy?
Pet breeders, pet shops or the RSPCA.
---
---
Recommendation
There is no good evidence at present that contact with pets helps depression.
Key references Barker SB, Dawson KS. The effects of animal-assisted therapy on anxiety ratings of hospitalized psychiatric patients. Psychiatric Services 1998; 49: 797-801.
Zisselman MH, Rovner BW, Shmuely Y, Ferrie P. A pet therapy intervention with geriatric psychiatry inpatients. American Journal of Occupational Therapy 1996; 50: 47-51.
APA Reference
Staff, H. (2008, November 2). Pet Therapy for Depression, HealthyPlace. Retrieved on 2023, December 9 from https://www.healthyplace.com/alternative-mental-health/depression-alternative/pet-therapy-for-depression
Last Updated: July 11, 2016