About Aimée - Author of The Nitty Gritty of Anxiety Blog
My name is Aimée. The spelling is French and it means "Beloved" which is ironic considering how much I worry about others judging me. I grew up in a big family, in a little town right on Lake Erie, in Ohio, and currently live in Utah.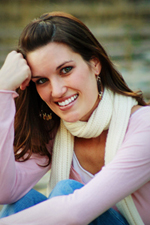 I fill many roles and titles in life. However, being the Executive Assistant to a very small, very busy little girl we'll call "Little P" remains my greatest calling. I'm VP of Home Operations alongside my biggest supporter, my hubby, "Mr. T". I also work 30 hours a week at home as a Customer Care Representative for a company that creates educational software for children. I am active in my church as an Activity Day Leader, working with 8-12 year old girls. My plate is full, but my cup runneth over.
I have struggled with anxiety for as long as I can remember. The earliest panic attack I recall happened in high school around the year 2000. However, I wasn't properly diagnosed with Social Anxiety until 2006. That's when I started the blog The Reality of Anxiety where I found that I love helping people cope and manage their anxiety by sharing tips that I have learned through my personal experiences.
APA Reference
White, A. (2010, January 15). About Aimée - Author of The Nitty Gritty of Anxiety Blog, HealthyPlace. Retrieved on 2023, December 8 from https://www.healthyplace.com/blogs/anxiety-panic/2010/01/about-aimee
Author: Aimee White
Thank you Aimee,
I found your writing and tips really helpful
Tony Poole
aimee
i love this picture of you - you're a gifted writer and am so glad I found you.
There's a tool that I want to tell you about called EFT - emotional freedom technique.
The basic idea is that we have limiting beliefs that impede our emotional growth - negative experiences, from childhood or just from yesterday, triggers, if you will. If we can accept these, and neutralize our emotional response to them, then we can live healthier day to day.
You basically just tap on certain points on the hand and face while saying some phrases. An example, "Even though I'm extremely anxious about leading the music at church, and it's a problem for me, I completely love and accept myself". Or, "Even though I have been diagnosed with social anxiety, I love and accept myself for who I am today, and I forgive myself for any role I took in creating this."
Anyway, I hope you will check it out. It is great because you can do it at home without much guidance at all, or if you prefer to you can seek out an EFT practitioner.
Hi!
Your moving with anxiety post helps me a lot. I have panic disorder and I am moving from the US to Australia for love. Knowing that someone else has gone through it/will go through it give me strength. Keep writing!
Wow thank you so much Patricia. That made my whole day! I hope I am able to help because no one should feel they have to battle this alone. Thank you for reading!
Hi Aimée, I really enjoy reading your posts. You are a very special person, beautiful and compassionate, who truly loves helping others. Thank you for sharing your life with us.
Leave a reply