When Doctors Don't Heal: Mental Illness and Physical Symptoms
After last week's post, Gus123 had this to say:
if a "regular doc" finds out one has a mental illness diagnosis, they will blame all one's ills on "imaginary" causes, discounting one's judgement and intellect, regardless of the true nature of thing.
He hit the nail on the head. A study revealed that almost half of all patients with schizophrenia reported that their family doctors took their physical symptoms less seriously when the doctors were aware of the patient's psychiatric diagnosis. My experience is that they do the same for patients with borderline personality disorder.
"We shouldn't have to beg to see the doctor."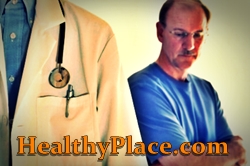 When I was at Richmond State Hospital in Richmond, Indiana, patients on my unit had a difficult time getting medical treatment. We brought it up in Resident Government, and Patient Tim said "We shouldn't have to beg to see the doctor." I agreed, and said "Just because we're psychiatric patients doesn't mean we don't get sick."
Things came to a head when Patient Eric's appendix ruptured. He was allegedly told he was drug-seeking, that he would be restrained if he kept asking for medical treatment, and forced to wait for five hours before seeing a doctor, who rushed him off to emergency surgery. Enraged, he threatened to sue, and discussed his situation in Resident Government. The unit director, Sheila, acknowledged this and told him to "consider [his] past" and "what people assume when a drug addict says they're in pain".
It's easy to write off Patient Eric. But I have no history of prescription drug abuse, and was denied medical treatment for back and foot pain for four months. At times the pain was so severe I could barely walk. I even considered going to the emergency room for treatment while on a weekend pass. I didn't get treatment until I was transferred to LaRue Carter; it took a week and he was able to lower the pain level enough to where I could function. But the damage remains: I now wear orthopedic supports, and often wonder if the damage to my back is permanent.
When you have to beg
Sometimes persistence is the only way to get medical treatment.
During one stay in Sub-Acute, I began to experience excruciating pain in my lower right side. I told the nurse, who told me to wait and see if it went away. When it didn't, I told her again, and she gave me 1000 milligrams of Ibuprofin. When that didn't work, I told her again. She told me to lie down with cold washcloths on my forehead and neck. When that made the pain worse, I told her a fourth time and received permission to go to the emergency room. The doctor there diagnosed me with a kidney infection, gave me medication and painkillers, then sent me back to Sub-Acute.
It took four times, but I finally got the treatment I needed.
Another option is to have a person without a psychiatric diagnosis serve as a mediator. This doesn't always work. When I was assaulted by another patient at LaRue Carter, I suffered a concussion. The ER doctor didn't even talk to the staff member who took me to the hospital, didn't run any medical tests and put me on a clear liquid diet for 24 hours. Fortunately, LaRue Carter staff filled in by waking me up every two hours to check my memory, arranging follow-up tests after I began hallucinating and convulsing, and were flexible about when I could rest.
Some doctors do understand
I'm blessed to have an understanding doctor who understands that even psych patients get sick. I know he has my back if I need specialized treatment for anything, like pain management (I knocked my spine out of alignment in a bus accident) or neurological testing (I've had dizzy spells, probably due to the medication. He understands that not all doctors can keep the stigma attached to mental illness from interfering with their medical judgment, and is willing to talk to specialists on my behalf. This makes it considerably easier to get medical treatment when I need it.
If you don't have such a doctor, talk to your psychiatrist about this problem. He or she may be able to refer you to a different, more understanding doctor. Or try to educate your doctor about stereotypes surrounding mental illness. If you aren't pleased with your treatment, get a second opinion. If you can't do that, try alternative medicine (after consulting with your psychiatrist to make sure it won't interfere with your medication). Or see a nurse practitioner at a walk-in clinic.
Don't let your diagnosis keep you from seeking medical treatment.
APA Reference
Oberg, B. (2011, July 12). When Doctors Don't Heal: Mental Illness and Physical Symptoms, HealthyPlace. Retrieved on 2023, October 4 from https://www.healthyplace.com/blogs/borderline/2011/07/when-doctors-dont-heal-mental-illness-and-physical-symptoms
Author: Becky Oberg
Among many life difficulties, mentally ill patient are to confront with ignorant view of nonpsychiatric medical staff toward them. The motives for this inhumane attitude of doctors are unreasoning and scornful as well, furthermore when it is well-known fact that the profession of medicine is century-old nobleman. Meanwhile, in daily medical practice, psychiatric patient didn't take necessary medical aid and treatment from nonpsychiatrist doctors and their associate medical staff. Hence, psychiatrist patient whose have got any medical problem didn't treating duly result to terminate as fatal case, such was an oln shcizophrenic old woman a few days ago. However, this undesirable phenomenon in medical service should to correct at once, because mentally ill patient as other humane creatures may to render ill from any somatic disease along their psychic illness. In this direction it is preferable to elucidate too much the nature of mental illness to medical staff. Otherwise medical service would be incomplete and delayed for mentally ill patient. By all means, this macabre trend in current medicine should to eliminate as soon as possible
I think advertisements especially ones made by celeberties cause more
harm than good in an attempt to be a cure all.I believe they should be
band.Let salesman,doctors study more than dispense a commerical advertised product
I can certainly relate to your article. Even though I've never been in an inpatient facility, I was humiliated when I saw my chart at the dentist's office. I had answered yes to the question, have you ever been seen by a therapist?
Without even knowing why I had been seen by a therapist, someone had written "Warning: psychiatric patient" in red ink on the outside of my chart. Talk about over-reacting! Needless to say, that office lost a dental patient that day.
I had a similar experience at a dentist's office. I can understand needing to know medications or certain medical conditions, but why do they need to know our psych histories? I changed dentists--the new one didn't ask.
Many doctors have limits on the number of people they will see with Medicare or medicaid. Patients are left with few choices. If you are interested in an interesting blog that combines a discussion of policy with personal stories about mental illness look at my blog Mental Health Resolution http://mentalhealthresolution.blogspot.com Thanks, Terry Garahan
Leave a reply