BPD and Romantic Relationships: If You Really Loved Me
Romantic relationships are difficult enough without mental illness entering the equation. But when one or both of the people involved has borderline personality disorder (BPD), relationships can become sheer hell. I live with BPD and was once in a romantic relationship with a man who had BPD and bipolar disorder; it was probably the biggest mistake I ever made. That said, I learned a lot from it.
With Borderline Personality Disorder - Be Prepared for Manipulation
Not only can people with BPD be manipulative, but they can be easily manipulated. My ex controlled my life, and I let it happen because I thought I was in love with him. He had a facial expression that caused me to give in every time. He also convinced me I was trying to manipulate him. He was a master con artist who referred to me as "the fiancee from hell"--and I believed it. I put up with a lot from him because he had me convinced I was the problem.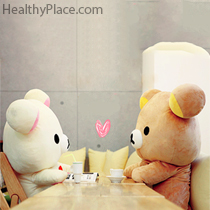 People with BPD may not always realize they're being manipulative. It may not even be their intention. I sincerely believe my ex was trying to meet his needs the only way he knew how. It is important to establish some rules if you're entering a relationship with someone with borderline personality disorder. Set healthy limits. Most people with BPD will initially be angry, but will eventually respect that.
For example, tell a person who self-injures that you will automatically take them to the hospital if they self-harm. Tell an alcoholic that you will not give them money for their addiction. Refuse to be taken advantage of. State clearly how you feel about a request. Be gentle, but firm. Let them know that while they are not responsible for their diagnosis and that they are not bad people, they are responsible for how they manage their symptoms.
When I broke off the relationship, he called me to blame me for his suicide attempt. I refused to talk to him and told him that unless he went back on his meds and back into therapy, it was over. He didn't respect that, so I got a restraining order against him. That got the message through to him.
You may need to take extreme action in a relationship with a person with borderline personality disorder. Know your limits, make them clear, then stick to them!
Remember, You're Dealing with a Sick Person
People with BPD often stopped developing emotionally in childhood. This carries over into adulthood as unhealthy coping skills such as substance abuse and self-injury. You are dealing with a sick person and should adjust your attitude accordingly. Be patient, but don't be a doormat.
My ex was fond of pointing out my symptoms while denying his. He eventually went off his medication, saying, "Medication don't do nothing Jesus can't." He denied he was sick and told me I was the one who was sick. He was fond of telling me, "If you don't calm down I'll have you I.D.ed!" (An I.D. is a 24-hour psychiatric hold.) Healthy relationships do not have this element of fear. Healthy relationships face conflict and work to overcome it. Thus, a relationship with a non-mentally ill person can be unhealthy, and a relationship with someone with a mental illness can be healthy. It all comes down to how you handle conflict.
Learn What You Can About Borderline Personality Disorder
If you're going to enter into a relationship with someone with BPD, learn what you can about the illness. HealthyPlace.com is an excellent resource with pages ranging from the symptoms of BPD to types of treatment to information about medication. Knowledge is power, and the more that you know, the more you'll be able to prepare for the highs and lows of the relationship.
You can also find Becky Oberg on Google+, Facebook and Twitter and Linkedin.
APA Reference
Oberg, B. (2014, June 10). BPD and Romantic Relationships: If You Really Loved Me, HealthyPlace. Retrieved on 2019, September 18 from https://www.healthyplace.com/blogs/borderline/2014/06/if-you-really-loved-me-bpd-and-romantic-relationships
Author: Becky Oberg