Does Borderline Personality Disorder Make You Codependent?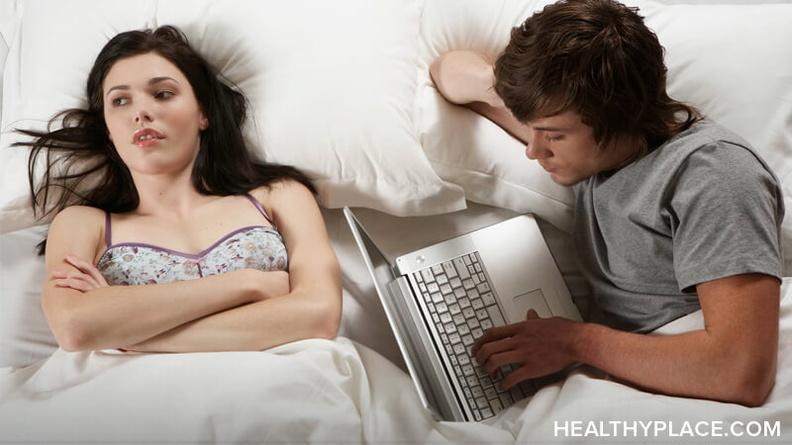 Codependency, like addiction, is a serious problem that can affect many people with borderline personality disorder (BPD). Codependency is a behavioral and psychological condition in which a person sacrifices his/her own wants and needs in order to maintain an unhealthy relationship. It is also called "relationship addiction." Codependency is probably due to the intense fear and frantic efforts to avoid abandonment common in BPD.
Codependency Means You Don't Tell Anyone
One feature of codependency is "family secrets." These secrets can be due to isolation, denial, and "don't talk" rules.
Isolation may be due to a belief that the family's image must be protected. This can lead to restricting contacts with "outsiders," such as clergy, social workers, and therapists. Isolation prevents help from arriving. When a family isolates, things are kept in the family even when there are obvious problems.
Denial is a refusal to admit a problem. If there is no problem, help is not needed. If help is not needed, there is no problem. Denial can also include minimizing the severity of a problem, such as "he only beats me one day a week, it's a problem when there's a daily beating."
"Don't talk" rules are another way of keeping family secrets. However, in this situation, it is understood within the family that certain issues are not discussed. This leads to the metaphor of an elephant in the room--there is a huge problem no one talks about because no one wants to be the one to bring it up, but everyone knows it is there and navigates around it. This also prevents help from arriving.
How Codependency Affects a Person With BPD
A person with BPD can be affected by codependency in many ways. Some examples are over-responsibility, manipulation and control, and resentment and self-pity.
Over-responsibility is taking responsibility for someone else's problems. A person who is over-responsible will blame him/herself for the actions, feelings and thoughts of others. He or she then becomes a victim of the problems that the other person's lack of responsibility creates. An example would be lending money (without any hope of getting it back) to an alcoholic boyfriend who drank his rent because "I've got to take care of him."
Manipulation and control stem from over-responsibility. When a person feels responsible for others, he or she will try to influence their behavior. Manipulation occurs when the person with BPD tries to influence another without letting him/her know, such as giving the silent treatment. Control occurs when the person with BPD lets the other know, such as "If you don't do this I'll do that."
Resentment and self-pity stem from over-responsibility and manipulation and control. Because the codependent person is doing so much for others (whether voluntarily or involuntarily), he or she can feel unappreciated, resentful, and self-pitying. He or she is likely to burn out eventually.
Are You Codependent With BPD?
I recently saw a questionnaire which I've adapted for people with BPD.
Do you have a hard time saying no to others, even when it's in your best interest to do so?
Are you always sacrificing your own needs for others?
Do you derive a feeling of self-worth from helping others?
Would you feel guilty or worthless if you stopped helping others?
Do you know how to have friendships that don't involve you in the "helper" role?
Would you still be friends with friends who no longer needed your help?
Do you feel resentful when others are not "grateful enough"?
Do you feel uncomfortable when you are receiving help, rather than giving it?
Do you think your friends have chaotic lives and drift from crisis to crisis?
Did you grow up in a chaotic family?
Did you think it was up to you to keep the family functioning when you were growing up?
Are many of your friends plagued with severe social or emotional problems?
Is it important for you to be "the dependable one"?
If you answered "yes" to a lot of these questions, you may have a problem with codependency.
A good therapist can help you work through codependency. There are also support groups such as Codependents Anonymous, and books such as Codependent No More by Melody Beattie.
There is nothing wrong with helping others. However, it's important to take care of yourself. If you have BPD, you have enough problems yourself--don't take on others' problems at the expense of your own health. Take care of yourself first--then you'll be able to help others in a healthy manner.
Photo credit: Adam Williams, Creative commons license
APA Reference
Oberg, B. (2012, March 20). Does Borderline Personality Disorder Make You Codependent?, HealthyPlace. Retrieved on 2019, October 21 from https://www.healthyplace.com/blogs/borderline/2012/03/the-family-secret-bpd-and-codependency
Author: Becky Oberg
I didn't realize other people had these two things going on as well. I am 28, and my attitude and willingness to believe that this chaos is not my fate as I will do whatever it takes to understand it - similar to yours. Though you are at a better place. I feel I am on my journey of recovery and hearing your story gives me hope. I would love to have friends again . I'm at the stage where I realize what's going on with me, I'm dealing with the repercussions of my past poor choices and lots of embarrassment because of this. When bpd was at full strength around 20-26 I was so confident and didn't care about my destructive ways and even felt empowered. Now I have values coming to the service and I am a little shameful. It's a crazy thing! Looking forward to being content and working as a functioning adult with less of these symptoms and better relationships:)
First step> Stop helping others while you're in need of help your self.

Second step> Buy a whiteboard and write down all your daily and weekly "TO DO LIST" Also write down some good mantras on your whiteboard to remind you of some important things!
First quote/mantra on your whiteboard should be:
"Stop feeling sorry for your self and stop blaming the world for your own misery" - (you have the power to take control of your life and not feel offended by trolls/haters so please TAKE control of your own life and stop being a snowflake/drama queen on a pedestal that demands special treatment - some tips below)

Third step > Start to plan daily routines > Fitness / gym / run 30 min / long 60-90min walks (3-5) timers a week - Start out very easy, the importance is to have it as daily/weekly routines, to get out, be around other people and strangers without feeling weird/awkwards about it, and feel how you start to feel confident and pleased by your self.

Forth step > Clean your room / apartment - Organize everything and make it neat so you feel relaxed, safe and at home when you're home.

Fifth step > Make your food and snacks from bottom, basically eat healthy, even snacks can be healthy eating nuts and fruits (don't listen to people saying fruits also fattens you, it's bullshit).

Sixth step > Try to be more social, invite friends over (do activities with them, show them how neat your home has become, make food together, go to the gym together, play games together, go out and meet other people together)

Your identity is fragile with BPD, so you want stable and reliable relationships with other people - All identities are build and validated in your relationships, this is why being social and having relationships are important.

These simple steps can help you get started towards feelings better about your self, a stable self-perception/identity and having confidence regarding who you are setting boundaries in a normal civil way that people will respect.

Try it out.

Leave a reply