Healing Power of Service: What I Learned from Hurricane Katrina
I am a firm believer in the healing power of service; I've found it helps with my borderline personality disorder symptoms. In the years that I've done service, I've learned many things--for example, the week I spent in Haiti straight out of high school taught me I didn't know jack about how American foreign policy affects the poor, but I digress. Three lessons I've learned are: you get back what you give, someone always has it worse than you, and helping others brings us closer to our Higher Power.
Service Lesson: You Get Back what you Give
I had a major crisis of faith when Hurricane Katrina hit. The suffering of so many innocent people broke my heart and motivated me to do something. A misdirected email landed in my box with information about a trip to Biloxi, Mississippi, which was 90 percent levelled. So on three days' notice, I caught a ride to the Gulf Coast, where I spent a week looking for God with all my heart. I threw my whole self into service.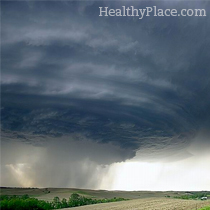 Jeremiah 29:13 reads: "If you seek me you will find me when you search with all your heart." And yes, I found God down there. I worked hard alongside many other people motivated to take action. One couple--I never got their name--cashed in a trip to Las Vegas to come serve on a food distribution line. A caterer set up a food line at a shelter where internal politics resulted in people not eating for three days. People shared with each other even when they barely had enough for themselves. I found God in Mississippi thanks to Hurricane Katrina.
I got what I went looking for. And so will you. If you serve with a hard attitude, you'll find service draining and want to do something else. But if you serve with an attitude of love, you'll find you receive much more than you feel you give.
Service Lesson: Someone Always has it Worse than You
Katrina revealed that the United States has many areas with Third World conditions. Mississippi was 50th in income before she hit, and Katrina made everything worse. It reminded me of my time in Haiti without the French Creole.
But Mississippi was also 1st in giving. Why is that? My mind goes back to my time as a bell ringer for the Salvation Army--the rich donated more money, but the poor donated more frequently. Maybe it's because the poor know what it's like to do without.
One little boy was offered a toy by one of my teammates. He was hesitant to take it. "But we didn't lose our house," he said at first, then, "We still have electricity." He got it--he knew that there were people worse off than him and he wanted to help. That was something I encountered again and again while I was in Mississippi. One woman used a grill that washed up on her porch to cook for the neighborhood. Several people donated items in their care packages that they didn't need. They all knew there was someone worse off, even when they were in what seemed to be a hopeless situation. This helped many of them to cope with the tragedy.
Service Lesson: Service Brings you Closer to your Higher Power
When I first saw the damage from Katrina, I quoted the Bhagavad Gita, "I am become death, Shatterer of Worlds." Everywhere I looked there was suffering. People were dying left and right due to exposure and the various diseases resulting from poor sanitation. Some people had no food because it was unclear if the Red Cross or local grassroots groups were in charge of the shelters. The military was everywhere; many on high alert. It could have been overwhelming, but the fact I was down there doing what I could to help kept me from burning out and brought me closer to God.
Service can bring you closer to your Higher Power, too. We're all on this Earth to help each other.
APA Reference
Oberg, B. (2014, May 6). Healing Power of Service: What I Learned from Hurricane Katrina, HealthyPlace. Retrieved on 2023, December 9 from https://www.healthyplace.com/blogs/borderline/2014/05/the-healing-power-of-service-what-i-learned-from-hurricane-katrina
Author: Becky Oberg
[…] yourself (Volunteering To Build Self-Esteem). Community service affects psychiatric symptoms with a healing power that should not be overlooked. Community service affects psychiatric symptoms by helping a person […]
Leave a reply