About Dan Hoeweler, Author of Creative Schizophrenia Blog
Hello, my name is Dan Hoeweler, and thank you for visiting my blog, Creative Schizophrenia. The purpose of this blog is to help bring hope to those whose lives have been touched by schizophrenia and create a further understanding of one of the most stigmatized and misunderstood of all mental illnesses.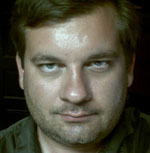 Despite having schizoaffective disorder, I have gone on to write for street papers, literary journals and horror magazines nationwide. I use my illness in a positive way - in my writings and through painting my characters within the same paranoid delusional landscape that I had endured for years before getting proper treatment.
I hope to share some of my poetry with you periodically through audio and video recordings on my blog. I would also like to keep you up to date on any of my future book signings, poetry readings and additional publications that may come out. If you are interested in exploring my writings, I have a professionally made website entitled The Schizophrenic Writer where they are featured.
Creative Schizophrenia Blog Welcome Video
Like some people suffering from Schizophrenia, I have been homeless, I have abused alcohol and have slept on people's porches and couches for extensive periods of time while suffering the incredible pain and horror behind this mental illness. I am here today to bring hope to those who have none. To say that even a life with great pain can have great meaning, and that even a homeless alcoholic schizophrenic can become a much better person.
APA Reference
Hoeweler, D. (2011, October 24). About Dan Hoeweler, Author of Creative Schizophrenia Blog, HealthyPlace. Retrieved on 2019, September 19 from https://www.healthyplace.com/blogs/creativeschizophrenia/2011/10/about-dan-hoeweler
Author: Dan Hoeweler