The Poetry and Publications Behind My Schizophrenia
I began writing neither for money nor fame, but simply because I thought I had a message to send to the world. I believed that many of the horrible events that had transpired in my life, were not without purpose. That my experiences with schizophrenia and homelessness were not in vain, but brought about with reason. This is what brings me here to you now, as a writer and advocate, who knows what it is like to be neither here nor there, both materially and mentally. What follows is the path I took to send this message. Here are the publications I have written and my inspiration behind them.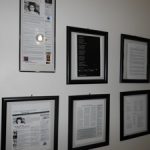 The story "Homeless Sam" was written while homeless, wrought from the anger and frustration I was feeling at the time. It was my first story which was published in a Street Paper entitled "Street Vibes" and can be found here on page 14. "Sam" in real life was a well known paranoid Schizophrenic who wandered the streets of Cincinnati homeless. The story is entirely fictionalized however, and is not based on Sam's real life.
After this initial release, I continued further by taking the reader deep inside the confines of a psychotic episode. I began to write horror stories that were similar to the story lines of psychotic breaks that I had experienced in the past. The villains of these stories were littered with C.I.A. agents, thought control devices and nefarious aliens. The imagery in them were as horrible and graphic as psychotic episodes can be. One of the milder and more widely recognized stories "Code Yellow" appeared in Black Heart Magazine. You can read it here on their website.
Lately, I have been concentrating more on my poetry. Like many of my former tales, they are primarily based upon my past experiences with Schizophrenia. One of them ended up inside "The Contributor", which is a Nashville based street paper. It was based upon a time when I disguised myself, thinking that there were spies lurking every corner. I did this in an attempt to elude those clever CIA agents that were following me at the time. It went like this:
The Disguise
I wear a hat
Low to the brow
My mustache lies
On my skin
I change my clothes
Again and again
I dye my hair
And cover myself
With a lotion
On my skin
They won't find me
This I swear
I will elude them
And hide everyday
From their traps
And their ways
From their Cameras
That I fight everyday
APA Reference
Hoeweler, D. (2012, January 12). The Poetry and Publications Behind My Schizophrenia, HealthyPlace. Retrieved on 2023, September 26 from https://www.healthyplace.com/blogs/creativeschizophrenia/2012/01/the-poetry-and-publications-behind-my-schizophrenia
Author: Dan Hoeweler