Alcohol, Drugs and Schizophrenia Recovery
Schizophrenia is an illness that causes intense pain and distress for its victims. In our suffering, we can seek solace and relief in ways that can worsen our symptoms. Some of us will turn towards drugs and alcohol in a desperate attempt to dull our pain. I, myself, was one of those individuals. Initially, I used alcohol as a way to cope with the pain that I experienced due to my schizophrenia symptoms. This temporary relief came at a great cost, however. Inevitably my illness worsened and my path towards recovery became more difficult.
There are recent studies that indicate the crime associated with schizophrenia is due to our elevated rate of drug abuse rather than the illness itself. According to such studies, a sober person with schizophrenia is no more likely to commit a crime than your everyday, healthy individual. This is one of many reasons why sobriety should be a goal for anyone suffering from schizophrenia.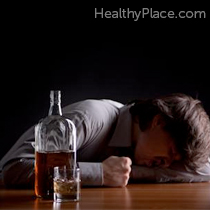 When I first became ill with schizophrenia, I found refuge in drinking alcohol. I did not understand that I was making my illness worse and recovery less likely. One of the greatest strides I made in my recovery was learning to abstain from alcohol and drug usage. To this day, I do not feel as if my recovery would be possible if I were still drinking and smoking marijuana. For many people with schizophrenia, sobriety will be the first step that they take towards recovery.
I understand the temptations of drugs and alcohol, as I, myself, have used them as a coping mechanism. At one point I was drinking every day to cope with the depression and delusions that I was suffering from. During this time it seemed to be the only escape that I had from the strange symptoms that I was experiencing.
It is hard to stop drinking if you suffer from schizophrenia, and initially abstaining from drugs felt uncomfortable for me. Eventually, I was able to overcome my alcohol abuse. In the end I believe sobriety helped me get onto the path of recovery towards a much healthier lifestyle. Hopefully one day we will all be there together.
APA Reference
Hoeweler, D. (2014, August 20). Alcohol, Drugs and Schizophrenia Recovery, HealthyPlace. Retrieved on 2019, October 18 from https://www.healthyplace.com/blogs/creativeschizophrenia/2014/08/schizophrenia-alcohol-and-drugs
Author: Dan Hoeweler