Staying Smoke Free With Schizophrenia, Schizoaffective Disorder
So many people with schizophrenia or schizoaffective disorder smoke cigarettes, it seems hard to imagine that they could not only quit smoking but stay smoke-free. But I did it – after several tries – even though I felt hopelessly addicted to cigarettes. So I firmly believe that if I did it, anyone can do it. Here's how I, one of the many people with schizophrenia or schizoaffective disorder who smoked, quit and stay smoke-free.
I Stay Smoke-Free by Rewarding Myself
My husband bought me a bracelet that I add to with individual charms. I put charms on it to reward myself for not smoking. It's getting filled up fast, though. So I'll have to think of a new way to reward myself.
My great Aunt Elsie, who was what I call "a born-again nonsmoker," gave me a pink ring for pink lungs. I wear that ring when I find myself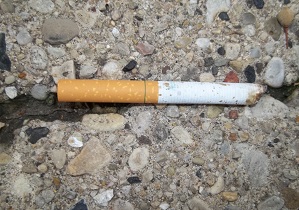 really craving cigarettes. Plus, I get to keep my great aunt's memory alive by wearing it since she passed away two years ago. I also have a green ring from Aunt Elsie that reminds me of how hard I worked when I was quitting smoking. I wore it all the time when I first quit. I call the pink ring the "official" quitting smoking ring and the green ring the "unofficial" quitting smoking ring. I know it sounds silly, but it works. Finally, I also let myself brag about staying smoke-free. Most people don't mind.
It's Hard to Stay Smoke-Free With Schizophrenia or Schizoaffective Disorder
I wouldn't have to use all these tricks if staying off cigarettes wasn't so hard. A lot of people are surprised it's still so hard for me after nearly five years. But I started smoking at age 15, and I quit when I was 32, so when I quit I had spent most of my adolescence and all of my adult life dealing with everything, good or bad, by lighting a cigarette (Mourning the Loss of a Negative Coping Skill). However, I am prepared to spend the rest of my life fighting off urges to smoke. I am not going back.
I'm on medication for my schizoaffective disorder that raises my blood sugar. Smoking cigarettes also raises blood sugar, not to mention the risk of lung cancer. I already have to worry about my health without having cigarettes in the mix. But when I really feel like smoking, or when I'm going through a medication change, I let myself indulge in sweets. It may not be good for me, but it's better than smoking.
It's like they say: urges come and urges go. That's the most important thing to remember when I get urges to smoke. No nicotine buzz is worth giving up the empowerment I gained by quitting smoking.
How I Stay Smoke-Free Even With Schizoaffective Disorder
Photo by Elizabeth Caudy. Find Elizabeth on Twitter, Google+, Facebook, and her personal blog.
APA Reference
Caudy, E. (2016, October 20). Staying Smoke Free With Schizophrenia, Schizoaffective Disorder, HealthyPlace. Retrieved on 2023, December 1 from https://www.healthyplace.com/blogs/creativeschizophrenia/2016/10/schizophrenic-schizoaffective-and-staying-quit-smoking
Author: Elizabeth Caudy