Telling Others About Your Schizoaffective Disorder
Telling others about your schizoaffective disorder or schizophrenia can be tricky, often because of the stigma surrounding these illnesses (Telling Someone You Have a Mental Illness). Other people may have incorrect preconceived notions about these illnesses, such as the myth that a person with schizophrenia or schizoaffective disorder is violent. Here's how I approach telling other people about my schizoaffective disorder.
Choose Who to Tell About Schizoaffective Disorder, Schizophrenia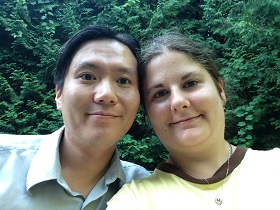 First of all, I don't tell everyone I know about my schizoaffective disorder. The people at work don't know about it – unless they follow this blog. They know that I have an anxiety disorder, which is not as stigmatized as schizophrenia or schizoaffective disorder, although it is very painful as well.
The truth is that I haven't had to tell someone about my schizoaffective disorder in a long time. I've been in a monogamous marriage for almost nine years, so I haven't been dating, and my family and long-time friends already know. Unfortunately, my generalized anxiety disorder makes it hard for me to make new friends. But when I do need to fill someone in, I am matter-of-fact and explain how I keep my illness under control with medication, therapy, and my close-knit support network.
Decide When to Tell Someone You Experience Psychosis
I don't remember just when I first told my husband about my schizoaffective disorder and my major breakthrough symptom -- that I sometimes hear voices. We were dating and I told him that I thought they were faeries when I first heard them -- so he refers to the voices as faeries. It doesn't faze my husband that I hear voices. When I tell him they have returned, he just says, "Well, then, do what you know you have to do when they come on."
I usually take a tranquilizer and put on relaxing music, like some of Tori Amos' more recent music, or I watch a soothing movie like Yellow Submarine. My husband can't understand why I find Yellow Submarine soothing. I think one of the reasons is that a lot of it is music. And there's just something reassuring about the Beatles as a team, probably because I liked them a lot as a kid so they remind me of the safety of childhood.
After I'm more relaxed, my husband will ask me, "Are the faeries still talking to you?"
Sometimes he'll ask me what they're saying, or I'll just tell him what they're saying even if he doesn't ask. I never used to tell people who know I hear voices what they were actually saying. They say things that don't make sense, like "smoking is bad for your weekend." I quit smoking almost five years ago. But I guess that's entirely beside the point.
How to Tell Someone About Your Schizophrenia or Schizoaffective Disorder
Having that network of close people who know I have schizoaffective disorder and who know I hear voices is really helpful. I recommend telling only people with whom you want to have a close relationship or friendship and waiting until you're already sort of close before you tell them. One person told me it was helpful that I told him while my manner was really calm and down to earth, and that he didn't find out while I was in the throes of freaking out. (It's worth mentioning that I never freaked out around him, though.) So I recommend making a plan when you're going to tell someone about your illness. That way, the person won't just find out because you're having an episode, and the news will be part of a calm conversation and easier to hear and relate to.
I lost a friend after I told her about my psychotic episode. However, I've told a lot of people about my mental illness, and she's the only friend have I lost. I wish you the same luck.
Photo by Elizabeth Caudy. Find Elizabeth on Twitter, Google+, Facebook, and her personal blog.
APA Reference
Caudy, E. (2016, December 29). Telling Others About Your Schizoaffective Disorder, HealthyPlace. Retrieved on 2023, December 4 from https://www.healthyplace.com/blogs/creativeschizophrenia/2016/12/telling-others-about-schizophrenia-schizoaffective-disorder
Author: Elizabeth Caudy
Thanks for this blog post. It makes me feel less alone. I live mostly in the closet with Schizoeffective disorder. Man it's been a rough ride since I was diagnosed in 2002.
Thanks for your comment. I was diagnosed with schizoaffective disorder, bipolar type in 2002 after being misdiagnosed as schizophrenic in 1998. I'm sorry that you've had a tough time since your diagnosis, Patrick--I have too. I guess we both just have to hang in there! And please remember you are never alone. Have you tried going to a support group? Google NAMI (National Alliance on Mental Illness) to find a support group near you. Take care, Elizabeth
I'm schizo affective,bipolar type also. Been in a relationship for 23 yrs.
Very difficult at times,my S/O has Depression. Doesn't like to hear my stories about my years I was in the service,tired of hearing it. Told her if you won't listen,someone else will. I converse only when needed and am becoming quite Comfortably Numb! My shih-Tzu is quite a comfort to me. I've been in too many relationships over the yrs. We spend too damn much time together, I get into my Improvisational music recording, that's what mellows me out,that and my time with my dog.
Think I'm done venting for now! from frigid N. Idaho
Hi! I'd like to know when I should tell men I date, I'm 53, that I have a 12-year-old with schizo-affective, bipolar type, oppositional defiance and ADHD (or Disruptive Mood Disregulation). My life is largely about her life (she can be aggressive). I don't want to seem misleading. I am very glad to hear your thoughts on your life. Thank you so much Elizabeth. Thoughts, anybody?
I have a wonderful treatment program but when asked at every appointment if I am suicdal, I lie. I am not suicidal all day, everyday...but at least once a day and its been that way since first symptoms at age 9.
I have scitzoaffective along with personality disorder & ADHD.
I have A story to tell...
I am new, how do I blog?
You can set up a blog at a lot of different blogging sites. There are so many blogging sites out there where you can easily set up a blog, like Blogger, LiveJournal and WordPress, to name just a few. Good luck!
Leave a reply