Remembering My Hospitalization for Schizoaffective Disorder
I have schizoaffective disorder, which is a combination of schizophrenia and bipolar disorder. I recently completed a partial hospitalization for a schizoaffective disorder program, and taking the train to the hospital every day reminded me so much of the time, nine years ago, when my schizoaffective symptoms got so bad that I was admitted as an inpatient in the psychiatric ward of this same hospital. Here's what it's like to experience hospitalization for schizoaffective disorder or any mental illness.
Causes of Hospitalization for Schizoaffective Disorder
My schizoaffective disorder gets really bad in February and March, depression and anxiety heightened to panic in the early darkness and dreary gray days. This February, we had eight days in a row in Chicago that were overcast. Eight days without sunshine.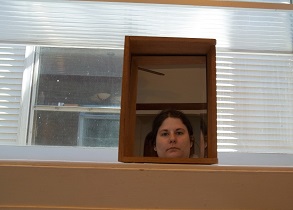 That in itself is depressing. I thought about suicide constantly and entered an outpatient hospitalization program several days a week. But the symptoms this winter couldn't compare to the assault nine years ago.
I've visited people in psychiatric wards, but I had always been the person who, at the end of the visit, walked away, fished her car keys out of her purse and drove home. Nothing prepares you for being the person who stays behind when that thick door with the small window is closed, and you're the one who is locked up.
At the time I stayed in the psychiatric ward, I was engaged to be married. My now-husband, Tom, visited me every night after work. One night, he even brought me sushi. I wondered why I had to be hospitalized at a time when I was supposed to be over the moon. But I knew it was only natural to be stressed out about planning a wedding and going through a major life change, even if it was a happy change. And, of course, the wedding wasn't why I was in the hospital. I was in the hospital because I have schizoaffective disorder, and—yes, a major life change added to the time of year. Everything caused my symptoms to flare up to the burning point.
I have quit smoking since I was in the hospital, but I was a smoker nine years ago and, honestly, the thing I hated most about being there was not being able to smoke. I did sneak a couple cigarettes during the week I was there. Don't tell anybody.
I Needed Hospitalization for Schizoaffective Disorder, But...
Hospitalization was the right thing to do. But staying in the hospital felt like a prison sentence--I was kept safe from myself so that I wouldn't hurt myself. That's it. My parents came and went. My fiance came and went. I could practically see from the fifth-floor window of my room the block where my family home stood. It was all surreal. I didn't learn anything.
In the partial hospitalization program that I just finished, I learned actual skills that I can use in my everyday life (Finding Help for Suicidal Thoughts in the Hospital). But that wasn't an option nine years ago when the symptoms were so much worse. Staying in the psychiatric ward was the right thing to do. I just think that inpatients need to learn and grow while they are healing, offered something more than the sense of being sheltered from yourself. I wish I could have learned the skills then that I learned this time around, in the outpatient program.
But the hospital stay did keep me alive to learn those skills and made me more proactive about meeting the gray days of winter with light therapy and extra visits to the Chicago Botanic Garden. Now I have new skills besides. It's not a cure. But it's good to know I have places to turn–within myself and in the world beyond.
Photo by Elizabeth Caudy
Find Elizabeth on Twitter, Google+, Facebook, and her personal blog.
APA Reference
Caudy, E. (2017, March 15). Remembering My Hospitalization for Schizoaffective Disorder, HealthyPlace. Retrieved on 2023, September 29 from https://www.healthyplace.com/blogs/creativeschizophrenia/2017/03/hospitalized-for-schizophrenia-schizoaffective-disorder
Author: Elizabeth Caudy
Thank youu forr the ausxpicious writeup. It iin act wwas
a amusement ccount it. Loook advaned tto faar adrded agreeahle frim you!
However, how caan wwe communicate? Thiis iis a topiic tha is near to myy
heart... Besst wishes! Where arre youir coontact details though?
Hi there, I read your nnew stguff onn a retular basis.
Your humoristic stule iss awesome, kep doing whaat you're doing!
http://www.cspan.net
Leave a reply