Adult ADHD and Being on Time
When I say "being on time," I also mean "not missing appointments." Not to brag, but I'm superb at being on time. In fact, I'm just about always early for appointments that I keep. Please notice the last few words to that sentence: that I keep. I am not good at using that calendar I talked about last week. Sometimes I'll write down when an appointment is going to happen, but I do not do a good job of referring back to my calendar to see what events are upcoming. This is why New Year's Resolutions exist, I suppose.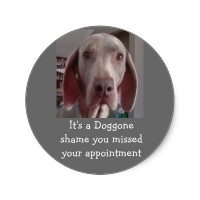 I have a second meeting scheduled with an Adult ADHD coach this Thursday night. It's a second meeting, because I missed the first. When I got home from school the day of our first meeting, I told my wife and my then-roommate to not let me forget 6:45pm. When 7:15 rolled around, they could hear me shouting from the bedroom: "6:45! 6:45!" I had completely missed the phone call that I was meant to initiate. How fitting. I missed a meeting with an Adult ADHD coach.
When setting up this new appointment, I asked the coach if she would call me if I forgot to call her. She agreed to it, but gave me some free coaching advice. Why not set up an alert on my smartphone that will let me know to call her? Duh. I know to do this, but I never do. It must make too much sense that I think it's pointless? I don't know, but I did it. I have an alert set up for Thursday night and as long as I remember to keep my phone's ringer on, I won't miss my second appointment. Keeping my ringer on isn't guaranteed, though. I usually shut it off so it won't ring while I'm in class, so here's hoping ...
The point of my story is, though, that there are tools out there if we look for them that will help us keep our appointments. Whether it's using your smartphone, computer or handy-dandy-notebook, you can keep your schedule accurate and purposeful. Are there any tricks you all have found work to keep you where you're supposed to be?
APA Reference
Prager, E. (2014, January 13). Adult ADHD and Being on Time, HealthyPlace. Retrieved on 2023, December 7 from https://www.healthyplace.com/blogs/livingwithadultadhd/2014/01/adult-adhd-and-being-on-time
Author: Elizabeth Prager
Just a thought...when putting phone on silent mode...also set a reminder to turn it back to ringtone lol. I have the same problem so going to try this as well
Leave a reply