Financial Burdens of Mental Health and Addiction Treatment
Not only is it difficult to make the decision to enter a mental health or addiction treatment program, but the financial aspects of seeking care can cause some roadblocks for a large number of individuals. Even for those who have mental health insurance coverage, it can be a daunting task to determine how you are going to pay for a mental health treatment program.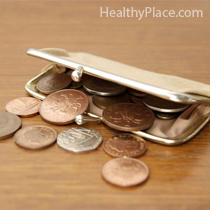 Due to a lack of financial resources, many individuals are unable to receive the treatment that they desperately need. Some individuals may not have health insurance coverage, or if they do have insurance, the amount that is owed by the patient is too much for them to be able to afford. Many treatment programs can cost thousands of dollars per month, which can cause a significant amount of anxiety about the whole treatment process. More often than not, the financial responsibility of mental health care is the main reason many do not seek out professional help. However, the financial aspects of a recovery program should not prevent you from getting the help that you need.
---
Treatment Program:
Lauren Hardy M.A., writes on the behalf of
Timberline Knolls
, which is a residential treatment center for women that focuses on healing the entire self by addressing each woman's physical, mental, spiritual, emotional, and social needs.
APA Reference
Hardy, L. (2014, April 25). Financial Burdens of Mental Health and Addiction Treatment, HealthyPlace. Retrieved on 2023, December 4 from https://www.healthyplace.com/blogs/mentalhealthtreatmentcircle/2014/04/financial-burdens-of-mental-health-and-addiction-treatment
Author: Lauren Hardy, MA
I am inquiring about free services for binge alcohol addiction recovery for my 24 year old grandson! Where in Albuquerque, New Mexico can you suggest for free treatment for this behavior?
I have some information that might be helpful. The only thing that I have seen change when it comes to treatment centers are that some of them accept health insurance including Tri-Care. And if anyone knows Tri-Care they are going to be the last to pay. I have been doing this for 20 years for free (pro bono) and my mother who's an RN assists me when needed. For some reason getting costs covered for addictions is a lot easier than eating disorders, etc. You have look at everything and make a list of Pro & Cons, ask questions, etc. If I can help anyone, please let me know. Best wishes. Erika
My daughter was severely traumatized by her father and began to disclose at the age of two and a half. At that time, I was able to keep her in therapy for 1-2 years, which was very helpful. Although, we exhausted all legal means (over 4 years of litigation) to keep her safe,the abuse has been ongoing. She is now 24 and suffers from untreated complex PTSD and/or DID, as well as substance and alcohol addiction. Her abuser (father) is still very much a part of her life. Although, she has periodically sought help, he has managed to quickly end any therapy. Currently, it is hard to see where he stops and she begins. She was recently charged with a felony and is incarcerated, awaiting trial. All this aside, if treatment can somehow be included as a part of her sentence, I'd like to have information on possible dual treatment facilities, certified, licensed and recognized for their work with trauma victims. I am, disabled and on a fixed income. My daughter has not been able to work for several years and is no longer able to care for herself. Can you inform me of possible resources to pursue for (treatment) financial assistance? She was approved for "lifetime" victims compensation assistance which I believe ended when she turned 18. Thank you.
I have an adult daughter who desperately wants treatment and needs inpatient care for co-ocurring mental illness and subsequent drug addiction. She has no insurance and can't even keep a job. I live paycheck to paycheck and I'm struggling very hard to keep my home and provide a decent life for my other (minor) daughter. What kind options does my adult daughter have? I feel it is only a matter of time before she ends her life out of desperation and lack of services appropriate to her serious mental illness. And I don't know what to do.
I'm not financial expert, but everything in this word has got one's own price. So, mental health care has got also peculiar visible and non-visible financial charge; direct and indirect expenditure. As to belong to arrangement of mental health security, with many financial burdens, it might to say that these administrative impediments indicate numerous non-humane and restrictive measures. Mental health service should be accessible, continuous, systematic and obligatory activity, in whichever community. Fragmentary and ad-hoc mental care system would be of temporary and of mutilated character. Mental health statement isn't only personal difficulty, it is universal social problem in current society, with many conflicts and disagreements, as well. The main reason for these interpersonal divergence is our eclipse mind, which one seek adequate and integral psychiatric treatment and management. Improvisations on mental health care due to official national sentences are in collision with nature of mental health pathology. Additional mental health resources, that you mention are useful, but they cannot provide satisfying and comprehensive mental health care. Mental health care is complex and multidimensional psychiatric approaching, which one forbid any restriction and wants of psychosocial providence. If we as homo sapiens continue to ignore these postulate of mental health service, then our global perspective would be more obscure, with fatal repercussion on our welfare.
Leave a reply