Families with Mental Illness: Plan Summer Fun on a Budget
Families with mental illness can have fun this summer, even on a budget. Many families with mental illness cannot go on an expensive vacation this summer. Even if families do have the funds, their mentally ill family member may not be well enough for an entire week of family togetherness (When Bipolar Ruins Your Vacation). But if you're like my family, you still want to share special time together. Here are some great ways to spend time together this summer, even if your family is balancing a tight budget and mental illness.

Families with Mental Illness: Find Local Family Fun on a Budget
Families can find great resources online for summer fun on a budget. In our neighborhood, we can see a movie with the kids during the week for only $1.00, take them bowling for free, explore beaches with marine scientists on specific low-tide days, and even go to the flight museum one night a month for free.
An evening together with a picnic dinner at a local park can feel like a huge break from cooking in a hot kitchen. Add a swim in the lake, run through a splash park, or watch an outdoor movie in many parks across America this summer. (Check out RedTricycle's local pages for extensive lists of parks around your city featuring outdoor family fun.)
Families with Mental Illness: Make Your Backyard an Oasis for Family Fun on a Budget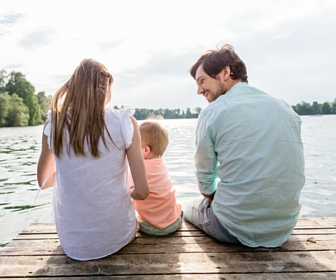 Simply making the decision to set aside space and time for quality family time can create the mental space to make it happen. If money is really tight, you don't have to go anywhere to make your summer memories. Digging out a fire pit in your own back yard and sleeping under the stars can feel like a vacation. My family often camps in our living room and pretends the fireplace is an outdoor fire pit.
This year, we splurged on an easy-set pool to help the kids become stronger swimmers. Even though it was incredibly affordable and only holds 36 inches of water, it has been so fun to swim and float in. It's so relaxing to grab a root beer at the end of the day and float in the pool while the kids swim. Because of this little addition to our back yard, we don't feel like we need to leave the house to get a great afternoon of fun with our kids.
Families with Mental Illness: Get Creative with Paying for Your Vacation on a Budget
You might assume you have to pay cash for a vacation. But do you? Before assuming you can't afford a vacation, ask yourself these questions:
Do you possess a trade or skill you could exchange for your vacation? Could you watch a friend's children during summer vacation or service their home or yard, in exchange for a week at their cabin with your family?
Have you accrued mileage on credit cards or through work travel that you could swap for a week in a friend's timeshare? Learn how to swap travel miles and more at UnRoadWarrior.
Can you set aside time to plan a camping trip to a national park? If you want to get out of town on a tight budget, finding a campsite, cabin, or yurt in a national park could be the cheapest way to treat your family to a vacation.
Families with Mental Illness: Summer Fun Can Bring Family Together
Whatever your budget, family fun and vacations become the memories of a lifetime. More than going to the expensive resort or to the trendy new roller coaster, these memories involve the time we spend with our loved ones. Time together around a campfire or floating in a pool in the backyard may prove more memorable than a trip far away. Focus on finding the activities your family can succeed at together financially and relationally, especially if you're trying to include mentally ill loved ones. Take the time to enjoy your family this summer, and you'll be making memories before you know it.
For more information on summer family fun, vacation planning, and summer survival tips, read:
Connect with Taylor on Facebook, Twitter, Pinterest, Google+, and her blog.
APA Reference
Arthur, T. (2016, June 22). Families with Mental Illness: Plan Summer Fun on a Budget, HealthyPlace. Retrieved on 2023, October 4 from https://www.healthyplace.com/blogs/mentalillnessinthefamily/2016/06/families-with-mental-illness-plan-summer-fun-on-a-budget
Author: Taylor Arthur